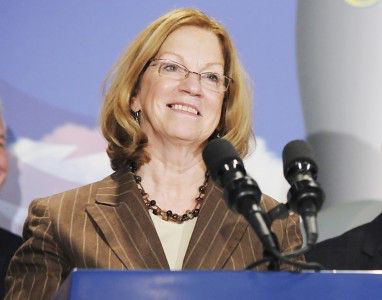 Gubernatorial candidates Mass. Attorney Gen. Martha Coakley and Mass. Treasurer Steven Grossman are starting to rack up endorsements, bolstering support in their upcoming election bids.
Mass. Senate President Therese Murray officially endorsed Coakley in the gubernatorial race on Wednesday and on Sunday, former Vermont Gov. Howard Dean endorsed Grossman due to Grossman's lifelong commitment to progressive policy and social and economic justice, according to a Sunday press release.
In the most recent poll conducted by Public Policy Polling, Coakley is the current Democratic favorite in the election, as she amassed 41 percent of the vote in the poll.  Behind her was U.S. representative Michael Capuano who has since declined to run in the race. In third was Grossman, who also received support this past week.
Murray said it is because of her values, compassion and spirit that she chose to support Coakley for governor.
"Whether it has been standing up for women's safe access to health services, a decent wage for workers, protecting children in harms way or fighting for equality for all, she has been a trailblazer and a true leader … I am proud to support her for Governor and help Massachusetts make history again," said Murray in a Wednesday press release.
Coakley and Murray have worked together before as politicians and friends, and Coakley was just as grateful about the endorsement as Murray was enthusiastic to show her support.
"She has been a strong, dedicated leader in the legislature, and a constant partner for positive and lasting change through common-sense legislation," Coakley said in a press release. "I am honored to have worked so closely with her and I am very grateful for her support in my run for Governor of Massachusetts."
State Senator Stan Rosenberg endorsed Grossman, who was also grateful for the support, and optimistic as the Democratic primary lies ahead.
"I'm honored to have his friendship and endorsement as we continue to build momentum in this campaign," said Grossman. "When I say building momentum, I'm talking about building the army of activists … who will ultimately make the difference when I win the democratic primary on September ninth."
Grossman and Rosenberg have been friends for 25 years, and Grossman expressed how he would like to work closely with Rosenberg again as governor.
"With the overwhelming likelihood that he will succeed the current Senate president when her term expires, it'd be a particular pleasure to have the opportunity to work with him as Governor and again with him as Senate president," said Grossman.
Several residents said what they wanted to see addressed in the coming 2014 gubernatorial election and were hopeful that the candidates would speak to these issues.
"[The next governor] should focus on schools," said Laura Grealish, 24, of Boston. "My mom and I are strong advocates of schools, and my whole life I've been raised and backed by teachers … we need to pay our teachers properly, they need to be rewarded appropriately."
Aaron Beltzer, 23, of Mission Hill, said the next governor will have a massive impact on the state.
"Something that is important is that we need to have the fire department, police department and EMS come together and come up with a centralized safety department," he said. "Right now it's so scattered, and because the departments are so old … they don't want to change their ways, but it could be implemented throughout the whole state."
Joel Feinberg, 61, of Boston, said he has many ideas but that the governor may not always be the best person to carry them out.
"People diminished [current governor] Deval Patrick, saying that he talks a lot but he doesn't necessarily do a lot, but talking isn't a bad thing, and the fact that he knows how to express ideas was actually one of his better features," he said. "There's a limit to what the governor can do in the Commonwealth of Massachusetts."