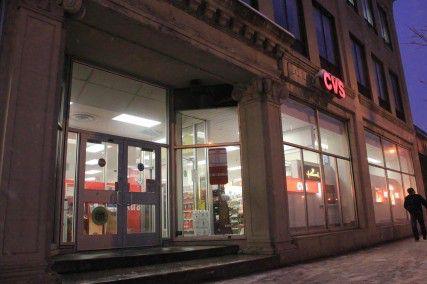 Because CVS Caremark wants to avoid selling tobacco products alongside healthcare products, the company announced Wednesday that all CVS stores in the United States will no longer sell tobacco products.
Each of the 7,600 CVS stores and pharmacies across the nation will discontinue selling cigarettes and tobacco products by Oct. 1. According to the press release, CVS is the first national pharmacy chain to take this action against smoking products.
"Ending the sale of cigarettes and tobacco products at CVS/pharmacy is the right thing for us to do for our customers and our company to help people on their path to better health," said President and CEO of CVS Caremark Larry Merlo in a Wednesday press release. "The significant action we're taking today by removing tobacco products from our retail shelves further distinguishes us in how we are serving our patients, clients and health care providers."
Although the pharmacy giant's actions are being applauded nationally, Boston and Needham have both had tobacco-free pharmacy laws since 2009.
Ronald Dunlap, president of Massachusetts Medical Society, said he wants this to cause other companies to follow CVS's lead and hopes it makes a difference with youth specifically because nearly all tobacco use begins in childhood or adolescence.
"We especially hope that young people recognize the significance of this decision," he said in a Wednesday statement. "Every day, more than 1,000 youth become daily cigarette smokers. [This] reinforces a powerful message that tobacco harms and kills and that tobacco has no place in a facility whose primary purpose is health care.  Most importantly, it will help to save lives, reduce illness and contain health care costs. We urge others to follow [CVS's] lead."
Cynthia Hallett, executive director of Americans for Nonsmokers' Rights, said this will make a significant difference with how many people smoke, and says previous experience with the tobacco-free pharmacy laws gives her confidence that CVS will still be successful.
"[We have] a little bit of experience to see that business can survive, despite that 20 percent of the U.S. adult population are smokers, but it's also clearly the right thing to do," she said. "The availability of cigarettes plants the seed that makes it easier for adults to continue to smoke and might make it more appealing for youth to try."
Casey Harvell, director of public policy at the American Lung Association in Massachusetts, said this will save millions of lives and is not only helpful for smokers but for all the public.
"Tobacco related diseases are still the primary cause of preventable death nation-wide, so anytime you make it harder to get tobacco is a good thing," she said.  "There is a bill in the statehouse that would make this a statewide law, and almost half of the population of Massachusetts lives in towns that have tobacco-free pharmacies already."
Some residents said this is a good idea on the part of CVS, but do not think it will help in terms of preventing people from smoking.
"It definitely doesn't make sense for a pharmacy to be selling something that is so harmful," said Carl Hall, 35, of Back Bay. "But they shouldn't expect it to make a difference in how many people smoke, they'll just get those products from somewhere else."
John Woods, 36, of Boston, said people should be able to decide where they buy cigarettes because it is a personal choice that is up to the individual who choses to smoke.
"It should be our decision if we want to buy it while also buying our other health products," he said. "Just because a person smokes doesn't mean they're not healthy in other ways. It's the company's decision what they sell in their store, but they shouldn't try to make us quit smoking by making tobacco products inconvenient [to purchase]. That's not their responsibility — it's our choice."
Michael Murphy, 55, of South Boston, said this would make a huge difference with smokers because CVS is such a frequented store for tobacco products.
"CVS has so many locations, it's a very popular place to buy things like that," he said. "If that option is taken away, it could make buying tobacco products a lot more inconvenient for a lot of people."