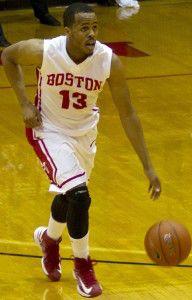 Coming off of a bounce-back win against the U.S. Naval Academy, the Boston University men's basketball team continued to build momentum Saturday with an 88-54 victory over Lafayette College.
The Terriers (17-8, 10-2 Patriot League) entered the game ranked second in the Patriot League behind American University. A win against the Leopards (6-17, 2-10 Patriot League), would give the Terriers a chance for a share of first place.
Though the cellar-dwellers of the Patriot League this season, the Leopards came into Saturday's matchup with two consecutive conference victories over Colgate University and Lehigh University. Lafayette has played the majority of the season without leading scorer, junior Seth Hinrichs. Without Hinrich in the lineup, the Leopards have gone 0-10.
"They had been doing a good job their last two games in holding Bucknell [University] and Navy (8-15, 3-9 Patriot League) to under 40 percent shooting," said BU coach Joe Jones. "When they got Hinrich back, that gave them an extra body. Lafayette runs a great offense and I thought if we could defend them it would give us a good chance to have some success."
Even with Hinrich back in the lineup, BU started the game on a 31-8 run. The Terrier defense held Leopards to just 17 percent from the field and 0-for-6 from beyond the arc. Meanwhile, on the offensive end, BU shot over 60 percent through 13 minutes of play.
The Terriers continued to attack, taking a 42-23 advantage into the half. With senior forward Dom Morris out for much of the half due to early foul trouble, BU relied on its bench to pick up the slack, namely sophomore forward Justin Alston. The sophomore, whose minutes have increased steadily throughout the season, put up 10 points in the first half on his way to a career-best 17.
Going into the second half, some doubt surrounded Agganis Arena. The Terriers have been known to give up large second half leads, most notably in the overtime loss against Lehigh (13-12, 6-6 Patriot League) last Saturday.
"One of things we started to do when we saw that we were struggling in the second half was to have more competitive practices," Jones said. "I've taken away a lot of the stuff that I would normally do to help our guys maintain their focus."
Dispelling all concerns, the Terriers jumped out on a 13-4 run and never looked back. BU scored 12-straight points after the Leopards cut the lead to 19 points, capped off by an Alston one-hand slam.
"I was very pleased with our team effort tonight," Jones said. "We had talked about trying to put together two halves and play consistently well for 40 minutes. We've struggled with that at times, so tonight it was great to see us play a complete game from start to finish."
With a little more than three minutes left and a 79-48 lead in hand, Jones looked to his bench for relief. Freshman guard Cameron Curry, junior guard Dylan Brossman, freshman guard Braiten Madrigal and freshman center Dylan Haines all got to see game action.
Brossman and Curry each hit 3-pointers as the clock wound down. The shots marked Brossman's and Curry's first career makes from downtown.
"It was definitely fun to see those guys get some time and some baskets because those guys come in every day to practice just like us to work hard," said senior guard D.J. Irving. "They push us to become better every day and I was happy to see those guys succeed."
Continuing his recent dominance, Irving gave a great all-around effort with 16 points, five assists and three steals. Sophomore guard Maurice Watson Jr. also had a strong game, playing mistake-free basketball with eight assists and no turnovers.
"Both of those guys [Irving and Watson] are terrific guards," Jones said. "So we can have the ball in their hands and they can make plays for themselves and other people, which makes it easier on everyone else.
"We have to continue to do two things: defend and take care of the basketball. In the Navy game, we had 12 turnovers at halftime and then we only had three in the second half. We had been doing a better job of [taking care of the ball] earlier in the year and that was one of the things that gave us the chance to win."
With the win on Saturday and an American (14-9, 10-2 Patriot League) loss to Colgate (9-14, 3-9 Patriot League), the Terriers moved up in the conference rankings and now hold a share of first place in the conference.
The Terriers next face the Eagles at home Feb. 19, in a match that could prove crucial in terms of determining home-court advantage for the Patriot League Tournament.
"We know if we have home court it's going to be bad for the rest of the [Patriot] League," Irving said. "But we just try and take it one day at a time and one practice at a time."