While the Boston University women's hockey goes into Tuesday night's matchup against No. 6 Harvard University with a no chance of raising the Beanpot trophy, the team is not letting up.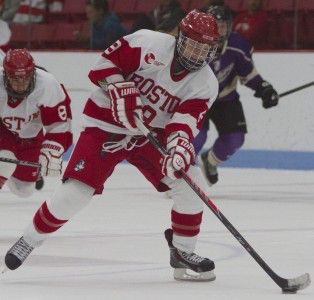 A win over the Crimson (18-3-3) would not only be a major step toward getting back into the NCAA top-10 rankings, but it would also be the Terriers' 20th win of the season.
Following a 7-4 victory over the University of New Hampshire, the Terriers (19-9-1, 12-5-0 Hockey East) are riding momentum after struggling in the month of January. Sophomore forward Jordan Juron said she feels that the team has a new mindset following a solid win over the Wildcats (9-18-2, 4-11-2).
"We came off those two losses to [the University of Vermont] and we realized that we really had to regroup and start playing for each other, rather than whatever else was happening," Juron said after that game. "Yeah, we have the Beanpot loss and we're not competing to win something anymore, but playing a top-10 team like Harvard, it's very important that we come out as fast we did at the start of this game and keep this streak going, especially with the playoffs coming up."
The Terriers are looking to avenge their 3-1 loss in Cambridge from late December. Led by the strong goaltending of Emerance Maschmeyer, the Crimson are hoping to provide a formidable challenge to BU coach Brian Durocher's squad.
"Harvard is a real good skating team that's gotten fantastic goaltending all year," Durocher said. "Last week, there were a couple of funny pucks that went in the net that probably didn't help their cause, but we know we are going to get a real well-rounded, solid team that skates well. We're going to have to work hard to get a puck past their goaltender."
Offensively, forward Miye D'Oench, who has 14 goals and 10 assists on the season with a plus- 19, leads the Crimson. Between the pipes, Maschmeyer has allowed 1.48 goals per game and has stopped .949 percent of shots on net. Her save percentage puts her in the third spot in the NCAA.
Durocher stresses that despite the fact that the team does not have a chance to win the program's first Beanpot title, a win against Harvard does have significance for the rest of the year.
"You talk about the fact that it's win number 20 if we get the win," Durocher said. "It's a top-10 win. It's feathers in our cap, being a game that is a little harder to get up for. Those are some of the things we're going to focus on, getting win number 20, which is a great number to have every year and keep pushing forward with a quality win."
Last game, the Terriers implemented line changes with senior captain Louise Warren and freshman forward Maddie Elia during Saturday's win over the Wildcats, with Elia moving up to the first line and Warren centering the second line. Durocher said he hopes this will provide a spark for the offense, which struggled during the team's losing streak.
"Obviously, the first line with [freshman forward] Sam [Sutherland] and Louise [Warren] and [sophomore forward] Sarah [Lefort] was doing a nice job, but our other two lines were in this negative spiral," Durocher said. "As hard as they were playing, they were coming out even more in the minus every game, or most games. I just felt that we had too much talent to have that happen. Your two strongest and biggest players are Louise and Sarah.
"Having them together is great for each other, but I felt like we could get two or three goals with those kids on different lines and we hopefully jumpstarted some other players but also get the puck out of our zone a little quicker."
Lefort, who leads the Terriers and all Division I hockey with 26 goals, said she thinks the team is ready to go for Tuesday's Beanpot consolation game.
"We just have to look forward to it," Lefort said. "It's our next game and it's a top-10 team so we're ready to go. We're going to do everything we can to get that 'W' on Tuesday."