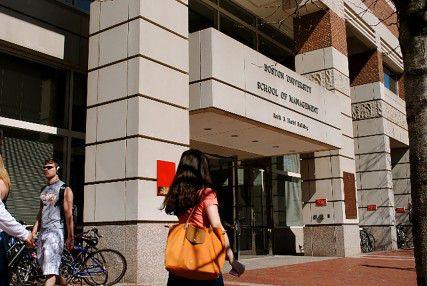 Boston University's School of Management has partnered with brand consultancy firm Interbrand to revamp the college's image.
SMG's revitalized brand will emphasizes bold, ethical decision-making and taking responsible risks, SMG Marketing and Communications Director Midge Wilcke said.
"The goal for the brand was to have key stakeholders in the building participating in conversation that, coupled with research, would help us really understand where we fit in today's world as a business school," she said.
SMG's decision to revamp their brand coincided with the school's 100-year anniversary, Wilcke said. Interbrand announced the SMG initiative in a Thursday press release.
"Our goal was to create a compelling brand experience that would uniquely engage and inspire each of these different audiences and propel BU SMG on a path to excel in today's — and tomorrow's increasingly competitive market," said Interbrand Toronto Managing Director Alfred DuPuy in the release.
Wilcke said ethical business leadership is integral to SMG's curriculum and the values it attempts to instill in SMG students, Wilcke said.
"If you're not doing this with the best possible intentions, with ethics, with values, then what's the point?" she said. "We feel that's one thing that distinguishes us from certain of our competitors, that the human element is very critical for us."
Associate Director of Marketing and Communications Adriane Dean, who worked closely with Interbrand, said SMG's brand was largely rooted in authenticity.
"It was extremely important that we weren't just defining a story or a brand for SMG that was what we assumed," she said. "We did an extensive research process."
SMG faculty and staff partnered with Interbrand to interview current and prospective students, alumni, and recruiters to determine stakeholders' perceptions of the school and how they felt SMG could improve, Dean said.
Wilcke said research found students, faculty and staff wanted SMG to avoid the cookie-cutter image of a typical business school.
"We're connecting with the real world," Wilcke said. "Our curriculum is becoming more and more experiential. We are not in an ivory tower just looking at the past. We are aspiring to do great things both today and in the future."
SMG's revamped brand aligns with the school's goal of becoming one of the top 10 business schools in the world, Dean said.
"While the brand is important in helping everyone achieve the ultimate goal of becoming an elite business school, it's not the game-changer," Dean said. "It's going to help tell the story of the school, but the promotion of the brand is not meant to disproportionately pull any of the effort away from bettering the school."
SMG students said the school's curriculum reflected its brand and that students exhibited the qualities central to the brand.
"People are becoming more bold, adaptive, taking risks," said Veron Wong, an SMG junior concentrating in finance.
Wong said SMG students are becoming less focused on working at large corporate firms.
"A lot more people are moving from that to coming here to work at a startup or a tech company, or what [they're] interested in," he said."That's not how it used to be."
SMG freshman Garrett Brower, who is concentrating in operational management and finance, said SMG's emphasis on socially responsible business decisions was a result of the school's attempt to remain current.
"The point of SMG is to prepare us for the corporate world," Brower said. "If the corporate world is putting this emphasis on ethics, then SMG is going to follow, along with the other top-tier business schools."
Evelyn Ling, a SMG senior concentrating in marketing and finance, said she found SMG's stress on adaptability a central component of her education.
"The culture here makes you feel like you need to be on top of things, and you need to be quicker than everyone else," she said. "People are impressed because you're learning faster than everyone else, because you've already done the research. That's something they instill in you as a freshman, and it stays with you."