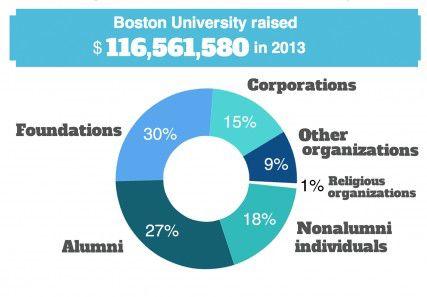 Boston University received more than $116.5 million in donations in the 2013 fiscal year, a record increase consistent with a similar upward trend nationwide.
The 35 percent surge in donations to Boston University from 2012 to 2013 surpassed the 9 percent overall rise in donations to colleges in the United States and Canada, a figure reported in the Council for Aid to Education's annual Voluntary Support of Education survey released Wednesday.
"We are on track to produce another record year for 2014," said BU Senior Vice President of Development & Alumni Relations Scott Nichols.
The $30.3 million increase in donations from 2012 to 2013 is a result of improved economic conditions and greater efforts by Boston University to reach out to donors, Nichols said.
On the national level, improved economic conditions likely caused increased donations in 2013, said director of the CAE's survey Ann Kaplan.
"The stock market was performing very well during the academic fiscal year that we studied," she said. "A lot of the giving this year was capital purpose giving, which is usually major gifts from wealthy individuals. Those individuals' wealth is tied very closely to the stock market, and when it improves, that makes a difference."
Nationally, there were slightly fewer alumni donors in 2013 than the year before, but they tended to give more on average, Kaplan said.
"The thing that is really astonishing is that the average gift was up so much of the alumni who gave," she said.
Alumni donations have accounted for about 35 percent of total donations to BU in the past few years, Nichols said.
Revenue from corporations and foundations constitutes about 20 percent of donations, he said.
"Our alumni participation rate has increased nicely in the past three years and is on track to exceed the national average this year, at a time when alumni participation rates for most colleges and universities are declining," he said.
Nichols attributed the rate of alumni donation to efforts by the Campaign for Boston University, launched in September 2012.
"The unprecedented levels of giving have been catalyzed by heightened alumni engagement, cultivation and stewardship through the Campaign," he said.
The five-year public campaign, focused on increasing resources allocated to programs such as financial aid, research support and facilities, has raised more than $620 million in commitments, Nichols said.
"The progress under President Brown and our trustees has been nothing short of amazing, considering that this is the University's first formal campaign in history," Nichols said. "No university ever attempted its first campaign at the staggering number of $1 billion."
Revenues for BU were the third-highest in Massachusetts, behind Harvard University and Massachusetts Institute of Technology, the sixth highest in New England and the 54th highest in the country, Nichols said.
Kaplan said that a study like the CAE's survey serves several important functions.
"On the broad level where we do annual estimates, it creates a national statistic which people will refer back to when analyzing policy and studying other kinds of phenomena," she said.
Many institutions that were part of the survey have access to the database, which they can consult to look at peers that are performing slightly better at fundraising, Kaplan said. These institutions use the data to make strategic investment decisions, she said.
Nichols said donations to BU stem from a variety of sources other than alumni.
"Numerous other organizations, societies, associations, parents and other friends of the university also contribute millions each year," he said.