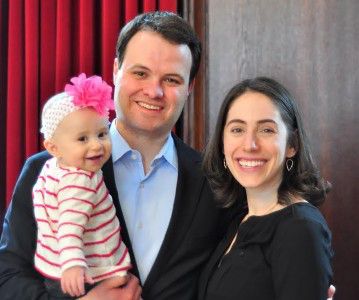 Eric Lesser, a former aide to U.S. President Barack Obama, announced Tuesday he is running for a State Senate seat in the First Hampden and Hampshire District.
Lesser, a Democrat from Longmeadow, has never served in an elected position. But he is no stranger to politics, and has served in various posts in the Obama administration. After graduating from Harvard College, Lesser worked as an assistant to David Axelrod, who was then Obama's senior advisor. He went on to work for the President's Council of Economic Advisers before returning to Harvard Law School, where he is now in his final year.
"I'm running because we deserve a strong, new voice to make sure we are never forgotten by Beacon Hill," he said in his announcement.
Lesser said he hopes to chart a path in politics that avoids partisanship in order to build a strong economy and improve job growth in the Commonwealth.
"We can create high-speed rail links to Boston and New York," Lesser said in his announcement." We can rebuild our manufacturing base, improve our infrastructure, strengthen ties with nearby universities, and ensure access to high-quality public education."
Together, we can build a vibrant economy based on innovation, small business and the new economy. We can fight back against cynicism and change our politics, too."
The vacancy in the western Massachusetts district arose after the current senator, Gale Candaras, announced her intention to step down after 17 years in office. Candaras said she plans to run for the position of Register of Probate Courts in Hamden.
Besides Lesser, five other candidates are running for the Candaras' seat.
The other Democratic candidates include Aaron Saunders, selectman from Ludlow; Tim Allen, Springfield city councilor; Chip Harrington, former selectman and current school committee member from Ludlow; and Tom Lachiusa, member of the Longmeadow Democratic Town Committee.
The lone Republican challenger is East Longmeadow selectman Debra Boronski, the founder and president of the Massachusetts Chamber of Commerce.
Matt Fenlon, the executive director of the Massachusetts Democratic Party, said this disparity between candidates from both parties reflects the superiority of the Democratic Party platform, primarily with respect to economic growth.
"The Democrats are the ones who have the ideas," he said. "That's why voters in Massachusetts overwhelmingly elect Democratic candidates. That's why voters in the First Hampden and Hampshire District are going to select whoever our nominee is going to be because our nominee is going to have the better ideas as to creating jobs. Republican ideas have been rejected in this Commonwealth time and again over the past few years."
Any potential Democratic state senator will need to focus on what Fenlon called the "bread and butter issues of the Democratic Party — job creation, education, clean energy and the environment."
Republican State Senator Bruce Tarr, the Senate minority leader, said the Republican platform is superior, and is the only one that will ensure success in the state.
"I think it's important to understand that Massachusetts is often portrayed as a blue state but it certainly has elected folks, particularly on a state wide basis, who are Republicans, and [the state] has benefited from their leadership," he said.
Tarr also noted the Republican Party's emphasis on the economy and unemployment.
"Right now we're focused a lot on economic issues," he said. "We're trying to grow and emerge from one of the longest and most difficult recessions in the history of this nation."
State Representative Brian Ashe, who has known Lesser since high school when Lesser worked on his campaign, said Lesser's prerogative in office will be job creation.
"Eric is running [because] … he sees the concern [of] a lot of people who grow up here, go to school, and then look for jobs elsewhere because there aren't the opportunities in western Massachusetts that there are in other areas," he said. "He wants to be part of the solution and help make opportunities in western Massachusetts so that kids getting out of college don't have to go to other states to look for employment."
Ashe, who describes himself as focusing primarily on public safety and education, has endorsed Lesser for State Senate.
"When you look at all the candidates, we have some very good candidates," he said. "When you look at the whole package, I think [Eric Lesser] brings the most to the table based on his experience, what he's worked on, who's he worked with, his education, and his experience since high school with politics."