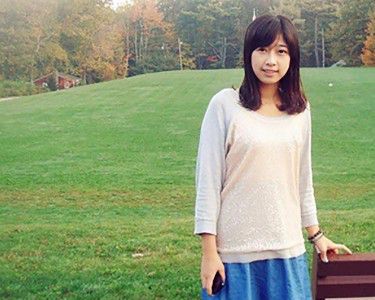 Seven members of the Boston University community have been selected to run the 2014 Boston Marathon in honor of Lu Lingzi, the BU graduate student killed in the 2013 Marathon bombings.
In late January, the Lu family allocated seven spots for members of the BU community to run in the Boston Marathon in Lingzi's memory. Her family worked with Boston University officials to select runners through an online application process.
"We worked with a variety of offices — Student Government, the Provost Office, Alumni Relations, Government and Community Affairs and the family itself — to select five people that were to dawn the bibs and run," said Dean of Students Kenneth Elmore. "The family saw two additional people that they wanted to also have be honored so they gave another two numbers. It started with five [runners], and ultimately it's seven who are going to be doing it."
More than 200 runners applied, Elmore said. Applicants were required to submit a written or video statement online by Feb. 7 explaining why they hoped to run in honor of Lu.
"The selection committee was made up of representatives from across the university from a variety of departments," said Assistant to the Dean of Students Katherine Cornetta. "The qualities they were looking for were people that would honor Lu's memory and who would best represent the qualities she demonstrated during her time at the university."
Having runners participate in the marathon in memory of Lu is one way the BU community will commemorate the lives lost in last year's tragedy, Cornetta said.
"This is just one facet of the things that the university [and individual students] are going to do to commemorate the first anniversary of the marathon attacks," she said. "The response shows how much we hold Lingzi in our memory and how much we want to pay tribute to her and the other people who either lost their lives or had their lives deeply affected."
Cornetta said although the winners are all part of the BU community, they all hail from different backgrounds. The seven winners include current students, alumni, faculty members and staff members.
One of the selected runners, Area Director of Kilachand Residences Jennifer Battaglino, had previously run the marathon and planned on running this year's race also prior to the tragedy.
"It is an honor to run, and I had actually planned on running in the Boston Marathon anyway to get back out there," Battaglino said. "When I heard that Lingzi's family had given numbers to BU, I thought it would be a perfect opportunity to represent her and her family."
Another chosen runner, School of Public Health fourth-year graduate student Baiyn Yao, said she wanted to learn more about Lu, especially since her personal connection to Lu inspired her to enter the contest.
"I didn't really know her directly but we share a lot of common friends," Yao said. "After this tragedy happened, a lot of our common friends were so sad. They were so depressed … and we shared common teachers and professors. I can feel the sadness from them, so that makes me feel a kind of connection with her also."
College of Arts and Sciences fifth-year graduate student Shuheng Lin, who was also selected to run in Lu's honor, said their common heritage motivated her to apply.
"When I saw the opportunity on BU Today, my immediate thought was I should apply because I am also an international student from China like Lingzi," said Lin.
Chosen runner Andrew Duffy, a physics professor at CAS, said he has also previously run the Boston Marathon.
"The marathon means a lot to me personally," Duffy said. "… The Lu family had a horrible experience last year, and, to me, the marathon is this wonderful thing which runners all around the world try to qualify for. [I] just wanted to be part of showing them the marathon is really a tremendous event … I'm not running it for myself, I'm running it for Lingzi."
Duffy said he anticipates a large turnout at this year's Boston Marathon, which demonstrates the resilience of the Boston community.
"The marathon is extra big this year," he said. "Usually there are 28,000 people — this year it's going to be about 36,000 people. And that's because there are so many runners who want to come to Boston this year, and say, 'terrorism isn't going to stop us from participating in an event like this.'"