The Boston University men's basketball team welcomes American University to Agganis Arena Wednesday night as the top two teams in the Patriot League battle for the second time this season.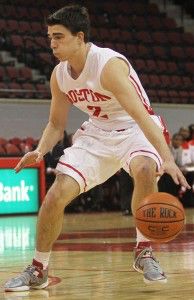 The Eagles (15-10, 11-3 Patriot League) have fallen to second place in the conference after losing three of their last four games. The Terriers (19-8, 12-2 Patriot League), now a game ahead of American, are looking to extend their four-game winning streak.
BU is also hoping to make up for the 30-point thrashing it suffered at the hands of the Eagles on Jan. 22. That contest, which ended 86-56 and was played at Bender Arena, got out of hand in the second half when American outscored the Terriers by 20.
The Eagles' strength in that game was their shooting, as they converted on 11-of-14 from 3-point range, and shot 71.4 percent from the floor overall. The top scorer in the game was guard Jesse Reed, who contributed 20 points, three rebounds and three assists.
However, BU coach Joe Jones said he does not see his team making a lot of adjustments for the rematch.
"I watched the [first] game a couple of times in the last few days," Jones said. "We did some good things in the game. I thought at times we got some good shots. It was just one of those days where we did not play well.
"You have to give American credit, they were terrific. We're going to go in with a similar game plan in terms of what we're trying to do and I know we'll play better. There's no doubt. You can't play much worse than we did that night."
American, though, has lost its winning ways as of late as it comes off a 74-62 loss at Lafayette College this past Saturday. The 74 points scored by the Leopards (8-17, 4-10 Patriot League) tied the most points the Eagles and their league-leading defense has allowed in a Patriot League game this season. Their defense has only allowed 60.3 points per game this season.
The Terriers, on the other hand, have excelled as of late and are returning to Boston after beating Loyola University-Maryland on the road 87-72 Saturday. BU was helped by brilliant play from freshman guard Cedric Hankerson and sophomore guard John Papale, who each managed career highs of 20 points.
Papale was particularly extraordinary, as he was perfect from the floor, making six 3-pointers. The Wallingford, Conn., native brought his energy to the defensive side as well, fighting for three steals.
"Papale has been terrific," Jones said. "In league play he's been outstanding and I knew that would come around. He's just too good of a player. We're trying to be consistent. John's play is important because he's able to help that consistency."
Hankerson was not much worse, shooting 5-for-6 from 3-point range in his 19 minutes off the bench.
With their recent tear, the Terriers are now second in the Patriot League in scoring, averaging 72.2 points per game. That may be their advantage over the Eagles in Wednesday's matchup, as American has dropped to ninth place in the league in scoring with 65.6 points per game.
The Eagles do, however, lead the conference in scoring margin, with an average difference of plus-5.3 points per game.
Going into this matchup, Jones said he is satisfied with the mental state of his players as they get set for the matchup.
"We're always a confident group, they're a talented group of kids," Jones said. "They've been able to accomplish some really nice things this year and we just want to finish the year strong.
"We just have to be concerned with just going in and making the right plays and playing the games the right way, without worrying about the magnitude of the game."