The Boston University women's basketball team will be looking for its fourth straight win when the team takes on second-place American University Wednesday night in Washington, D.C.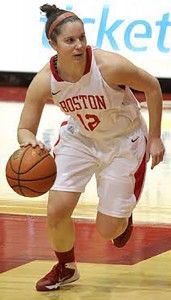 The Terriers (11-16, 6-8 Patriot League) have gotten some much-needed conference wins, beating Lafayette College, Colgate University and Loyola University-Maryland. BU is looking to gain a higher spot in the standings as the playoffs loom larger, and this is emphasized more as the regular season nears its end.
BU will be facing a stiff challenge when it goes up against the Eagles (18-7, 11-3 Patriot League) who are riding a five-game win streak. The Eagles lead the Patriot League in scoring defense, as they have only allowed 54.7 points per game. The team also holds the top scoring and turnover margins in the conference at plus-10.4 and plus 2.20, respectively.
"We're not going to do anything different with our offense," said BU coach Kelly Greenberg about the team's approach against American's stingy defense. "We feel like the first time we played them we got a lot of really good shots and they play mainly man-to-man. If we just run our stuff then we'll get good looks."
This means BU needs to shoot efficiently and have a secondary scorer step up to aid senior forward Rashidat Agboola on offense. Agboola has scored 19 points or more in each of the last four games, including a 25-point outburst against Colgate (5-20, 1-13 Patriot League).
Senior guard Danielle Callahan and sophomore guard Clodagh Scannell have also been big contributors to the offense of late. Scannell chipped in a career-high 21 points in the win over Colgate and Callahan dropped 20 of her own against Loyola (5-20, 2-12 Patriot League).
"I'm just happy that Rashidat is the primary scorer right now," Greenberg said. "After that, it's about getting quality shots and if it just so happens its Danielle one night or Clodagh or [junior forward] Mollie [McKendrick] it doesn't matter as long as we're ready to shoot."
It is not the first time these two teams have met this season, as the Eagles topped the Terriers 63-56 on Jan. 22 at Case Gymnasium.
That game featured double-double efforts from both Scannell (10 points, 12 rebounds) and McKendrick (18 points, 11 rebounds), but those two scored exactly half of the team's total points that night.
The Terriers had a rough start to the game and were down by 11 points within five minutes of tip-off. BU pulled closer later in the half and took a 31-28 lead early in the second half thanks to a Callahan 3-pointer with 18:04 left.
The teams went back-and-forth throughout the half, but an Agboola jumper with 4:20 remaining put BU up 52-51. It was also the last time they would score until there was 17 seconds left, and by that point American was up by eight points. Dobbs had 22 points, eight rebounds and five assists in the win.
"Their point guard [Alexis Dobbs] is very good, she's quick and she tries to push the ball," Greenberg said. "In the first game at our place she did a great job and put us down early. We're not going to stop her, we're just looking to contain her early."
While BU lost that first contest, the team has looked stronger of late and is bringing in some momentum. For Greenberg, playing that first game has given the Terriers some much-needed information on how to plan for this second contest.
"It's definitely an advantage," Greenberg said on playing the Eagles again. "I'm a scout coach and I like to prepare for each team differently. We'll tweak some things defensively and one of their best players didn't play last game so this is the first time that we'll be seeing [junior Arron] Zimmerman."
The key to the game and the win may simply be the Terriers' ability to stop the speedy Eagles from scoring in transition.
"We feel like if we can stop them from getting into their transition offense early, then we have a great shot of coming out of the game with a win," Greenberg said.