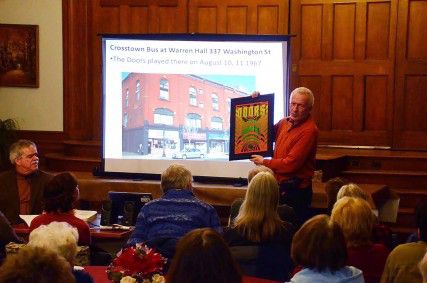 The vibrant music scene of Allston-Brighton was relived through a presentation Monday by the Brighton-Allston Historical Society  in an ongoing attempt to keep the musical history of the neighborhood alive.
Allston-Brighton has been home to many popular clubs and music venues, featuring some of the best acts in the business. John Broderick and Nick Racheotes, board members of the BAHS, co-led a presentation about this history at the Congregational Church in Brighton Center.
"Brighton and Allston can so easily be overlooked because the history of Boston Proper is so overwhelming," Racheotes said. "John and I grew up together, both drummers and we always talked about doing this. When we were little kids in the 1950s we used to [pretend to be] DJs. So this is the mature version of what we did when we were little kids. A lot of this is things we actually lived, bands we saw, venues where we played … it's very personal."
The pair began the presentation by remembering the culture of the past decades, which was popular among the guests who had lived during the 1950s, bringing them back in time. It also made younger attendees wish they had been born in a different era.
"If you think back to the '60s, those revealing fashions, those Levi pants, those hush puppy shoes … we were winning the Cold War with various spies on television before we won it in reality," Racheotes said. "And rock was fragmenting: folk, jazz, soul, blues, lounge and good old dirty rock 'n' roll, which you'll get a liberal dose of this evening. Our taste was varied, from FM radios to high-tech turn tables … classical music had been forsaken."
The presentation also included audio clips from many everlasting hits that had either come to Allston-Brighton or originated there. They reminisced about the Boston Summerthing Concerts, which had about 1,500 acts per summer, hosting some of the greats for "just $3!" In 1970, Summerthing included Jimi Hendrix, the Rascals, Van Morrison, Ray Charles and Janis Joplin's last concert before she died, in addition to many others.
The duo also mentioned many of the local clubs such as Bunratty's, which had been the starting point for Aerosmith and Bruce Springsteen, and Paradise Rock Club, which hosted U2 on their first United States tour in 1980, Billy Joel who recorded "She's Got a Way" there, and Barry and the Remains, a Boston University band, in 1999.
Charlie Vasiliades, vice president of the BAHS, said keeping history alive is vital to all communities.
"It's preserving history in the physical sense and also about educational historical programs," he said. "It's always valuable for any society to preserve its history … it gives a community a sense of itself. Places that just tear down everything and have no sense of it are poor in the larger sense of the word. History is a vital part of the future in remembering it and reusing it."
Racheotes concluded the presentation by noting that future phenomenal artists could still be hidden within the walls of the community.
"We don't know down which street, in which garage or in which basement is someone sitting behind a keyboard fashioning the next big thing," he said.
Some residents who frequently attend the BAHS's gatherings said this was one of the best and most highly attended.
"I thought this one was excellent, one of the best," said Pat Geary, 75, of Brighton. "All the music is familiar because it's what we grew up to. We knew everybody and all the songs that were coming out … I skipped school, the only time in my life, to go down and see Elvis, which was opening in Boston."
Anne Mahoney, 75, of Allston, said the presentation was fun and also interesting because as she was growing up to the music, she had no idea it would one day be the classics.
"I didn't attend these concerts, it's weird to think that this is what's thought of as rock 'n' roll and classics," she said. "I never went to see these people … it was just the music of the time. Now I wish I had."
Karen Fritz, 64, of Brighton, reverend of the Congregational Church where many of Historical Society's gatherings are held, says the society is important for connecting people with each other and with the community's past.
"It's great because it gets folks together just there to learn something, feel rooted together and feel what the history of this place is, what we're soaking in to our feet when we walk on the ground here," she said. "Also, this church opened in 1827, so it's a historical place, and it's nice to meet in a historical place."