Still in search of its first win, the Boston University men's lacrosse team will welcome Providence College to Nickerson Field Tuesday at 6 p.m.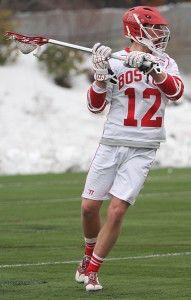 The game will be the Terriers' (0-3, 0-1 Patriot League) third home event of the season. After two crushing defeats to start off its inaugural season, BU came much closer in a 10-7 loss to No. 14 Lehigh University last Saturday afternoon.
The Terriers will start a two-game break from its conference play as it hosts the Friars (1-0).
In the effort against the Mountain Hawks (4-0, 1-0 Patriot League), BU started the game with strong, aggressive offensive play. The Terriers earned the first lead of the game on an unassisted goal from freshman attack Pat Myers, his third of the season, and even held a 4-2 advantage early in the second quarter.
BU saw its lead disappear in a flash, as Lehigh responded with six unanswered goals before halftime.
Yet the Terriers managed to end the game on a positive note, outscoring the Mountain Hawks 3-2 in the second half. BU saw another resilient performance from freshman goalkeeper Christian Carson-Banister, who recorded a season and game-high 16 saves.
"We scored seven goals against a good team — a great goalie — and we had more opportunities, too," said BU coach Ryan Polley after the game on Saturday. "I was just really proud of how we battled. We played for four quarters … We battled for four quarters, and we talked about playing tough and battling and they did that and I was really proud of the guys."
This was the second consecutive game in which Carson-Banister saved more shots than his counterpart.
"[Carson-Banister]'s had this confidence to him since he stepped onto campus," Polley said.
Although he has already allowed 34 goals this season, Carson-Banister is second in the Patriot League with 11.67 saves per game, and third in total saves with 35.
For the Friars, they played their first game of the season this past Saturday, coming out with an 8-6 victory over the University of Vermont. Their offense was powered by freshman Alex Corboy, who earned his first collegiate hat trick on three unassisted goals.
Providence is hoping that the victory will spark fresh start after the team ended its 2012-13 campaign losing five of its last six games and an 8-8 overall record.
"We have film on them [from Saturday]," Polley said about his team's preparation for Tuesday's game. "Then we have film on them from last year that we watched to get a feel for their personnel and what they like to do offensively and defensively. That's how we prepare.
"We want to bring that same type of energy [to the game against Providence]."
BU will look no further than to Myers to continue his success against the Friars. Myers, with his lanky physique and spry feet, has been able to dart around opposing defenses and leads the Terriers in goals (three), assists (four) and points (seven). His average of 1.33 assists per game this season is good for fifth in the Patriot League.
One area of vulnerability for the Terriers may come with maintaining possession, as they are last in the Patriot League in turnovers with 20.67 per game. BU's overall offense has struggled as well, with its 5.33 goals per game being last in the conference, but did beat this average when the team tallied seven goals versus Lehigh.
Providence, on the other hand, will try to bring back its steady offense from last season. The Friars averaged 23.94 shots on goal per game, which was first in the Big East Conference in 2012-13.
This contest will be the Terriers' third straight game at Nickerson Field, and BU will have two more home games before traveling on the road to play Lafayette College March 15.
"It's definitely nice being in a familiar environment," Polley said.