The regular season is over for the Boston University women's hockey team and the postseason is finally here. One mistake, any mistake, could lead to the end of the year. The Terriers prepare to face the single elimination realities of the Hockey East playoffs when they take on Providence College this Saturday Walter Brown Arena at 3 p.m.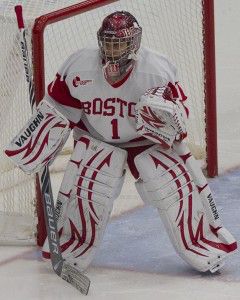 BU (21-12-1, 14-7 Hockey East), which started off the season with an impressive 14-3-1 record, have faltered in 2014, ending the regular season with a 7-9-1 record in the new year. BU has struggled on the defensive end, exposing senior goalie Kerrin Sperry to an overwhelming number of shots.
BU coach Brian Durocher said the playoffs are a whole new season for the Terriers to start fresh.
"It's one-and-done and there is always pressure on both teams," Durocher said. "There is a whisker of more pressure on the home team because you are at home and you are the higher seed and we are a handful of points above Providence. Everybody who has participated in the games this year though that all three games were right down to the wire and we're probably going to have a one goal game, a real knock down, drag out game, and you're going to have to find a way to win."
Despite the new found pressures of the postseason, Durocher is not treating practice any differently than he would in the regular season.
"We try to treat the week the same as we always would," he said. "We are going to do a little bit of a light skate [on Monday], maybe just 20 minutes, and mostly just kind of a skating warm up. Skate around and then doing a little bit of stretching and all of the maintenance stuff you do. We have a day off on [Tuesday] and then we have three practices going into the game."
Puck possession needs improvement
Heading into the Hockey East tournament, Durocher said there is no particular area of the Terriers' game that needs massive improvement, although he would like to see an improvement in the team's defense.
"There is not one area that we have to be significantly better on but we're always going to need defense," Durocher said. "You control defense, you can do a little more offense but we want to make sure that we're hanging onto the puck more offensively, making a few more plays. The Providence defense will work hard to stop us and ultimately that will help out on the back end because you're not spending as much time in your zone but we've got to get good in all three zones and be ready to go."
The area that Durocher said he would focus on most in practice is puck possession, something that the team has struggled in 2014. Sundayagainst No. 4/5 Boston College, BU had trouble containing the attack and did not have much flow in the offensive zone, leading to five goals and 37 shots on the other end, leading to a weekend total of eight goals and 87 shots allowed.
"We've given up a few too many goals so we need to start with that as a real important thing, not giving up goals and then secondly, we've got to do a little better job with puck possession," Durocher said. "It's amazing that if you make it hard on the other team that defend you, and I'm talking individually, and just throwing toward the back of the net or the front of the net."
In order to improve puck possession, Durocher drills the team in a move coined by Wayne Gretzky.
"They're hanging back on plays, what we kind of call a 'Wayne Gretzky' turn where you turn toward the boards, somebody comes down the wall and you make a little bit of an exchange or a scissor and now two people have had the puck," Durocher said. "It's a way of creating puck possession and making life a little bit easier for you defensively."
Durocher believes women's hockey league will be hard to finance
Following a thrilling Olympic Gold Medal Game in Sochi, Russia, many fans of women's hockey have clamored for the formation of a major professional women's hockey league. While there is a Canadian Women's Hockey League, there are currently only five teams in the league, with the Boston Blades as the only team based out of the United States.
While Durocher said a WNHL would be great for the sport, he believes that financing the league and establishing a core fanbase would be hard to do.
"Unfortunately one of those decisions that has to have a lot of money behind it and ultimately, it's got to generate a fan base and that would be the toughest part," Durocher said. "There have been many attempts over the last 10-to-12 years to put leagues together and they focused on 'hockey-crazy Canada,' and unfortunately they haven't been able to generate the crowds that would allow it to move forward.
"So I would love to see it, it would be a great thing for the kids to have something to play for afterwards, but for now, it unfortunately it still seems to be a ways away from generating the fan base."