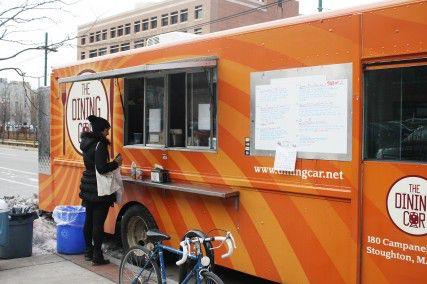 Following Boston Mayor Martin Walsh's second Twitter Q&A, a Change.org petition requesting more allocated space for city food trucks picked up speed, collecting over 200 signatures through Wednesday.
Launched on Feb. 20 by Steven Leibowitz, a Boston resident and senior applications trainer at Northeastern University, the petition requests an expansion of operating food trucks in Boston, especially in neighborhoods that are currently not served by food truck programs.
"I have been pretty active and engaged in promoting the food trucks for a period of time," he said. "You have this situation where there are a lot of trucks coming in and it's really competitive to get a spot in Boston. So having seen that and having seen how popular they are, I thought there's a lot of opportunities still in the city to grow the program."
Leibowitz, who runs a website about food trucks, said the program has become more competitive since its launch in 2011, largely due to the increase in interested food trucks and the stagnant growth of available food truck spaces.
"We started out with a few trucks, a dozen or so trucks the first year and we're up to the point now where there's like 60 or 70 trucks that are vying for spaces in Boston," he said. "On the flip side of that, we haven't had a significant increase in the number of spaces available for trucks."
Taking advantage of the public's focus on Walsh's Twitter chat, Leibowitz tweeted his petition to @marty_walsh, hoping to attract attention to his petition. The Boston Redevelopment Authority tweeted back at Leibowitz, citing a need to keep in mind a balance between restaurants and food trucks, Leibowitz said.
Edith Murnane, director of the Office of Food Initiatives, said a balance must be found between all parties affected before adding food trucks to the city's streets. Each year, the number of available spaces for food trucks is increased by 15 to 18 percent.
"Each year we do that and each year there are more and more spots available," Murnane said. "We have to balance everyone's needs. We have to balance neighborhood businesses, business owners, residents, as well as food truck operators and food truck loving and eating population."
Frank Shear, owner of Paris Creperie, a crepe food truck that operates in the Seaport District in South Boston and Harvard University in Cambridge, said food trucks promote economic growth and innovation.
"Because of the density of people, a city makes the best place," he said. "Entrepreneurship is perhaps the best outgrowth of expanding the availability of food trucks. There are so many manufacturing jobs in this country that have been lost, and you could consider food trucks either a blue collar or white collar industry. However, food trucks, in a way, can help overcome the loss of jobs."
Ian So, owner of a food truck called Chicken and Rice Guys, said the core value of food trucks is its unique offerings to consumers.
"With a food truck, you can start with any unique concept," he said. "There's a lot of niche stuff you can do that you may not want to take a risk when starting a large restaurant, but with a truck, you are more able to do that."
So said he has shown support for the petition, and he is optimistic it will help grow the food truck industry in Boston.
"I've been watching it and promoting it on our own social media," he said. "It's been amazing. It has gone from zero signatures to past 200. It's definitely feasible [to create change with this petition]. The government doesn't see the value in trucks as much as the public does."
Several residents said food trucks bring a variety of social and economic benefits to the city, but careful consideration should be done before adding more.
Jack Byrne, 27, of Brighton, said he has never tried a food truck, but it promotes a diversification of food that creates character in the city.
"It sounds like a convenient idea," he said. "It brings local food and local businesses to different parts of the city."
Anthony Veras, 42, of Jamaica Plain, said food trucks can create economic growth in the city, but they can also have negative implications.
"It creates more traffic in the city, and it will be more congested," he said. "It should have a specific route, but I believe it will [still] create a problem."
Moaraj Hasan, 21, of Kenmore, said food trucks have become a new novelty, especially among young people.
"I know foods trucks have been around for a pretty long time, but they are really coming back as sort of this new, hipster thing," he said. "It's just a novel place to get food. It sort of enhances the culture."