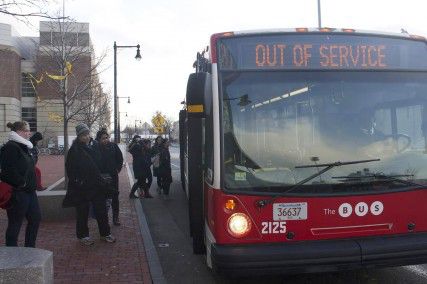 Several Boston University students are concerned with the effectiveness of the BU Shuttle, one of the primary transportation services students utilize on campus.
Though students said they were glad the resource existed at BU, many said they were frustrated with the shuttle's shortcomings.
"On a busy day, it can be pretty overcrowded," said Jonathan Smith, a College of General Studies freshman. "I've actually seen some kids have to be turned away from the bus because they can't fit on."
Kiersten Utegg, a sophomore in the College of Communication, has garnered over 500 signatures for a petition on Change.org advocating the BUS double the buses running at peak hours to ensure that the BUS commute is "more safe, more accessible, and more efficient" for BU students.
Smith also said the BUS should expand the range of services it offers.
"There are many times during the week where I feel like there are many people who would benefit from taking the bus but the bus isn't running, such as weekends during the day," he said.
Gabriela Lopez, a senior in Sargent College of Health and Rehabilitation Sciences, said she found the BU app that tracks the buses problematic.
"The app doesn't work very well so you never know when it's going to come," she said. "It always updates at random times. I feel like I'm always waiting more than I should, because it should come every 10 or 20 minutes."
Students also said there was a discrepancy between the officially stated purpose of the BU Shuttle and the role students expect it to play.
"The primary purpose of the weekday BU Shuttle is to provide a convenient form of transportation to and from the Charles River and Medical campuses," said William Hajjar, the director of BU Parking and Transportation Services. "Its secondary or ancillary purpose is to provide intra-campus transportation service on the Charles River campus to those students living in university residence halls at the extreme ends of campus."
Students expressed some confusion about the BU Shuttle's role on campus.
"Most students use it for Commonwealth Avenue," said Nabeel Nissar, a CGS freshman. "It takes more than 30 minutes to walk from one end of campus to the other. The distances are so long on Commonwealth Avenue, you always have to judge whether or not to wait. There's always that unexpected uncertainty."
Students said they were concerned about the shuttle arriving on time.
"There are a number of factors within an urban environment that may delay shuttles from being timely at any point in the day," Hajjar said. "These factors range from construction projects, inclement weather, accidents or other issues which create traffic along the shuttle routes."
Student Body President Dexter McCoy said the bus' tendency to arrive behind schedule is a relatively unavoidable problem.
"The bigger issue is that buses are overcrowded when students get on in the morning to go to class," McCoy, a College of Communication senior, said. "We desperately need more extra-long buses during the morning commute to alleviate the congestion students experience."
Hajjar said the BUS sees a large volume of riders on weekday mornings.
"There are more than 130 classes that start at 8 a.m., during our peak service times," he said. "There are more than 5,000 students in those classes, and other students, faculty and staff may be attempting to get on the shuttle at this time as well from West campus."
McCoy said some issues students have with the BUS are inevitable.
"I do believe there are problems with the BU Shuttle, but not all of them are problems that can necessarily be solved," McCoy said. "These include buses that are late because of traffic and accidents."
Students said they understood that some of the difficulties the BUS faces are largely inescapable.
"I know [delays] have to do a lot with traffic," said Maria Gonzalez, a College of Arts and Sciences senior. "You can't do much about it."