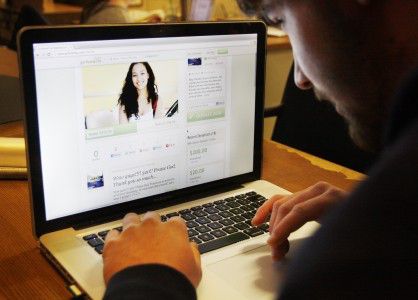 Alexis-Brianna Felix didn't know what to do when her bill for the Spring 2014 semester at Boston University was due. The College of Arts and Sciences sophomore studying public policy and sociology was working two jobs and couldn't come up with the extra $5,000 she owed BU. With few options left, Felix turned to the crowdfunding platform GoFundMe.
"I absolutely hated the idea of being a charity case," Felix said. "When I first found out about the site, I was really hesitant to use it because I come from a very proud, private family. I didn't want to feel like I was begging for money and I was worried that people would say I was asking for something I didn't deserve."
Within 27 hours of the page going live, Felix had received more than $5,000 from friends, family and strangers. And while her goal was met, donations kept pouring in. Felix raised $9,611 from 221 people in three months.
With online communities growing, many students are turning to crowdfunding platforms to help finance everything from tuition to semesters abroad. Education is now the second-most popular category on GoFundMe, according to the site, falling below medical campaigns.
Boston University's total cost will be more than $59,000 in the 2014-15 academic year, a 3.7 percent increase from the current price. BU President Robert Brown said in his email announcing the tuition hike that the university is expected to provide financial aid to 51 percent of BU students in the coming academic year, and that building endowment to support financial aid is a major objective of the BU Campaign, designed to raise over $1 billion for the university.
But still, some students are turning to alternative funding methods for tuition and other activities. In fact, Felix found her inspiration from another BU student in her social network who was trying to fund a semester abroad.
GoFundMe has raised $175 million from 1.4 million donors to more than 350,000 campaigns, according to the site. GoFundMe takes a 5 percent deduction from every donation to cover operating expenses such as technology, infrastructure, payroll and benefits for employees.
A representative from GoFundMe could not be reached by press time.
"I think GoFundMe is a good option if you have a compelling story, a genuine personality and a strong network," Felix said. "I would definitely say that my experience isn't typical, and I wouldn't tell anyone seeking advice about GoFundMe to expect to have the same speed of success that I did. I'm still in shock."
School of Public Health graduate student Chelsea Desrochers started a GoFundMe campaign for her Alternative Spring Break trip to Guatemala, but did not see much success. The campaign only raised $190 of its $1,500 goal in time for the trip. Some of that money came from Dersrochers' own pocket.
"It is not as effective as I thought it was going to be, but I keep on sharing it so hopefully more and more people will see it," she said. "I also donate money myself every once in a while because people are more likely to donate when they see others contributing."
Despite the sluggish success, Desrochers said she would consider crowdfunding other expenses in the future, and especially for other philanthropic groups.
"I think it is a great way to reach out to people rather than sending ask letters in snail mail it is faster and reaches out to a larger community," she said. "It is also an option to donate for those that never have cash on them."
Felix, though, said she isn't going to try her luck a second time.
"I wouldn't want to ask people for more help than I already have," she said. "I have been so lucky and blessed to have had so many people believe in me that I think I can take it from here."
Storm Dolan, a CAS freshman, said she worries often about how to pay her tuition.
"It's just going to go up from here," she said.
Dolan said she has not been involved in any crowdfunding projects because she doesn't have the cash to spare on a cause. However, she said looking into alternatives to loans or help with loan repayment sounded like a good idea.
Crowdfunding has far from converted every student, however.
"I probably wouldn't be comfortable [asking for money on the internet]," said Emily Ubik, a CAS and College of Engineering junior. "I mean, it would be great if they donated, but I probably wouldn't think of that. I'd probably — well, I already have an internship and things to help me, but I'd probably get a job instead … If it works go for it, I guess."
Much like Felix and Desrochers discovered, Sargent College of Health and Rehabilitation Sciences senior Chelsea Papa said she doesn't understand howsome projects end up receiving more attention and revenue than others.
"Some things, for whatever reason, get a lot of attention and others don't," Papa said. "For whatever reasons I don't know why some gain so much popularity and others don't when they're both good causes. I don't know what it is that attracts people to things like that or repels them."
While Papa said she has never used crowdfunding for any purpose, she would consider it, especially since she "owes BU a lot of money."
"It kind of is [asking for charity], but at the same time college is so expensive and I would take anything I can get," she said. "I don't feel that ashamed. It's just a website. Some people won't even know who I am."