Riding a four-game winning streak, the Boston University women's lacrosse team will take on former America East Conference rival in the University of New Hampshire at Nickerson Field Wednesday afternoon.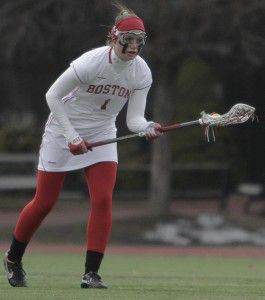 After losing five out of their first six games, the Terriers (5-5, 4-0 Patriot League) have come into their own. This season, all but one loss came against a nationally ranked team, including defeats coming at the hands of No. 1 University of North Carolina, No. 2 University of Maryland and No. 10 University of Massachusetts-Amherst.
During  BU's winning streak, the team's defense has been at the forefront, as three of its four victories have been one-goal contests. The Terriers were able to limit opponents to an average of 6.75 goals per game and 21.1 shots during the successful stretch.
On the other hand, the Wildcats (5-6) have had an inconsistent start to their season. UNH started the season out on a positive note, taking its first game over Hofstra University. After that win the Wildcats had trouble getting into the win column, dropping four of their next five games on the schedule. The Wildcats fell in their latest game to the University of Vermont to fall back under the .500 mark.
The Terriers have held the advantage in head-to head meetings with the UNH, holding a 22-13 all-time record against the Wildcats. Last season, UNH narrowly edged BU by a score of 13-12.
UNH has won two of the last three meetings, but BU defeated the Wildcats 13-8 the last time the teams played at Nickerson Field in 2012, one of the eight consecutive losses the Wildcats have on the road in Boston.
"Just because we've won most of our games at home against them doesn't really mean anything," said BU coach Liz Robertshaw. "We're a different team and so are they. It's nice to play at home and not travel, so we're excited for that, but it doesn't add to our confidence. We like to create our own history."
The teams for the first time ever will be in different conferences because of BU's move to the Patriot League. Despite being in different conferences, Robertshaw said the intensity of the two teams would not change.
"It's a big historical rival regardless of the conference," Robertshaw said. "We're still rivals due to things like the proximity, the fact that we cross recruit and the fact that it's a very dear game to our alumni. It's still going to be a heated game that we're looking forward to.
Leading the Terriers on offense this year is senior midfielder Becca Church who tops the team with 16 points off of 14 goals and two assists. Sophomore midfielder Jill Horka and junior attack Lindsay Weiner are close behind with 15 points each. Horka has netted 12 goals and three assists and Weiner has put up four goals and 11 assists. Redshirt sophomore attack Mallory Collins has contributed 14 points off of 12 goals and two assists to round out the solid group.
The Patriot League recognized Horka for the second straight time as Midfielder of the Week. Horka potted the game-winning goal against Lafayette College this past Saturday and has a seven-game point streak.
"She [Horka] is playing great," Robertshaw said. "She's fearless, she takes risks whether its on offense or defense, she's shooting well and she's playing with a ton of confidence. She has confidence in herself and in her team and it shows."
UNH sophomore Laura McHoul helms the Wildcats with 40 points from 16 goals and a team-high 24 assists, while junior Laura Puccia owns a team-high of 27 goals. The only other two players to reach the double-digits in goals are junior Kayleigh Hinkle with 17 and sophomore Nicole Grote (12).
In goal, BU will look to freshman Caroline Meegan. She has played every game for the Terriers this season and has started in nine of them. The freshman has posted a 4-4 record and owns a 10.55 goals-against average and a .425 save percentage.
On the other end of the field, UNH will look to junior Taylor Hurwitz who has played every minute for the Wildcats this season. For 2014, she holds a 10.18 goals-against average and a .454 save percentage.
For Robertshaw though, the key for the Terriers in this game will be to work on stopping the potent Wildcat offense.
"UNH is a strong team offensively," Robertshaw said. "They have a lot of veteran players who are putting points up on the board. We need to slow that down and our defensive unit has to step up and play a good game against them."