The Boston University Softball team will finally begin the home portion of its season against the University of Connecticut this Wednesday.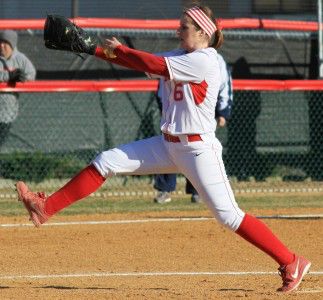 Uncooperative weather has wreaked havoc on the Terriers' (16-12, 2-1 Patriot League) schedule over the last few weeks, canceling the March 26 and 27 matchups against Bryant University and Providence College and postponing three more this past weekend against the U.S. Military Academy
BU Coach Kathryn Gleason said she can not wait to kick off the season in Boston after the long wait.
"We're really excited," Gleason said. "… After the heavy rain over the weekend our field just wasn't ready, so it'll be ready for us [Wednesday]. I know that after traveling for the first six weeks, this team is very excited to play at home.
"I saw 20 people in the office yesterday saying, 'Why aren't you playing? Why aren't you playing?'"
Despite Tuesday's wonderful 47-degree weather with plenty of sunshine, the game against UConn (7-20) was postponed due to difficult field conditions. A week of cancelations and postponements can stifle the momentum of any team, but Gleason remains optimistic that the team will not be hindered by the changes.
"I think this team the whole year has been about resiliency, and they've been really easy-going and flexible all year," Gleason said. "You know, we've had rain delays over Spring Break … we've had flight delays and bus [issues]… So as much as they wanted to play [Tuesday], I know they'll be just as excited to play on Wednesday."
The Terriers come into the contest riding a doubleheader sweep at Army (12-17, 2-4 Patriot League) on Monday to claim their first-ever Patriot League series victory. On the day, senior outfielder Jayme Mask went a combined 3-for-6 and had four RBI, while freshman infielder Brittany Younan led the offensive charge with four hits.
In the circle, sophomore pitcher Lauren Hynes shined, earning both wins in the doubleheader. She allowed just three earned runs between the two games, pitching a combined 14 innings.
Weather and field conditions permitting, the Terriers hope to get their first home game of 2014 behind them on Wednesday when they face off against the struggling Huskies.
So far this season, not many things have gone right for UConn. The team sports a measly .233 batting average overall, with six of its regular starters batting under .250, and four hitting below the Mendoza Line of .200. Collectively, Connecticut has driven in just 68 runs on the year.
The one redeeming member of the Husky offense is sophomore Valerie Sadowl who leads the team in nearly every hitting category. She has compiled a .348 average, .594 slugging percentage, .403 on base percentage, 24 hits and four homeruns in 2014. The Husky bats will hope to rally behind her if they want to have any chance of getting something going against the Terriers.
On the flip side, the Terriers' offense this season has been nothing short of stellar. Combined, the team has driven in 140 runs behind a .318 average, leading the Patriot League in both categories. BU's offense, led by senior outfielder Jayme Mask and her monstrous .436 average, will be looking to pounce on opposing pitching on Wednesday, as the Huskies are dead last in team ERA in their American Athletic Conference this year with a bloated 5.16.
As for the strategy, Gleason said the coaching staff has a simple philosophy for Wednesday's contest.
"We just really play the game," Gleason said. "There could've been a lot of nerves … at Army this weekend in our first Patriot League series, [but] they never really showed that to me and just continued to play the game like we have. … I can just imagine that that's what we'll do tomorrow and that's been our focus all year, and that's what our coaching staff preaches every day."