Since the start of the season, the Boston University softball team has stayed consistent no matter the opponent, something that has been critical since the start of the Terriers' games in the conference portion of the schedule.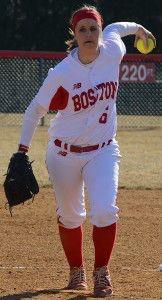 In their first year in the Patriot League, the Terriers (19-14, 4-2 Patriot League) have established themselves as a threat to win the conference.
"I talk about it all the time but this team really does not care where they play," said BU coach Kathryn Gleason.  "We focus on what we're doing in all three facets of the game."
The only series or tournament that BU has been on the losing side of was the Santa Clara Bronco Invitational, where the team went 1-4, with two of those losses in one-run games.
In their last series, the Terriers were able to take two of three from Patriot League preseason favorites Lehigh University. In the final two games, the offensive exploded for a total of 14 runs.
"To come back from having one hit in game one, to having 10 in game two and I believe 11 in game three was great for our confidence," Gleason said.
Prior to that series, BU again took two of three from the U.S. Military Academy in their first-ever series in its new conference.
In each series thus far, the Terriers dropped the first game before rallying to capture each of the last two.
Hynes battling
Having to come through for a team is a thing that players have to go through over the course of a season, but rarely is that weight as heavy as it is right now on sophomore pitchers Lauren Hynes.
With injuries to the Terriers two other pitchers, sophomore Melanie Russell and freshman Makinna Akers, Hynes has had to pitch every single inning of the Terriers' past six games.
"We do have a backup plan and there was talk of using it over the weekend but nothing solid," Gleason said.  "With Lauren, I asked her to just give us a chance and give us everything she had and I think she did that."
For the season, Hynes' ERA stands at 4.01 with 122.1 innings pitched. In the weekend series, the sophomore pitched all 21 innings and allowed just a total of 10 earned runs over the course of the three games.
In 19 starts in 2014, Hynes has thrown 11 complete games. Gleason said the sophomore's success has helped motivate the rest of the squad.
"I think it's a huge inspiration to her team," Gleason said of Hynes's efforts.  "Lauren was going to give it all she got and she just asked her team for support.  Everyone knows right now who we are and where we're at and everyone's just got to step up."
Clutch hitting
Throughout the season, an area at which the Terriers have excelled at is hitting with runners in scoring position.
As a team, the Terriers are hitting .343 in this situation and are led by senior outfielder Jayme Mask who has a .533 average and 24 hits with runners at second or third.
"We changed up the lineup over the weekend to give us a little spark, I think it'd been the same for 10-12 games," Gleason said.  "Jayme gives us a spark no matter where she is and what she does at the plate is just dependent on the situation during the game."
Mask also excels with the bases loaded, getting hits in three out of the seven opportunities she has had. Junior outfielder Mandy Fernandez has also added two hits in her three plate appearances with the bases full.
"It's definitely their approach and mindset at the plate that we've been talking about," Gleason said about the offense. "We've been talking about their mindset all year from pitch to pitch and we're lucky just to have runners on base to begin with."
Not only have Mask and Fernandez excelled in their opportunities, but senior shortstop Brittany Clendenny has 13 RBI with runners on third base and less than two outs in 17 opportunities, hitting an impressive .765.
Even though the Terriers are confident in their timely hitting, they still need to master the other portions of the game to be truly successful, something Gleason is confident they can do.
"It's all part of the process and we're certainly getting there," Gleason said.