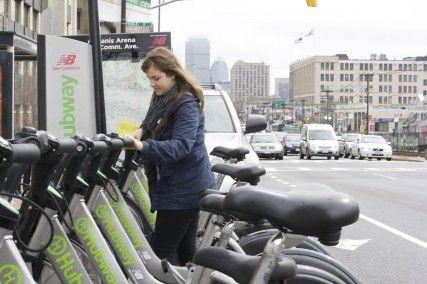 Despite recent reports that many bike-share companies are going out of business, Hubway, Boston's bike-share program is prospering with high ridership.
Hubway, now four years old, opened this season on April 2 with 140 stations and 1,300 bicycles. Ten more stations will be added in 2014 and will be spread out throughout Boston, Cambridge, Brookline and Somerville.
Reports that similar companies like Citi Bike in New York were shutting down were met with retaliation from those in the bike-share business. Eric Bourassa, transportation director of the Metropolitan Area Planning Council for the greater Boston area, said these claims are exaggerated.
"My understanding is that many similar programs are actually doing very well, they've had a few little issues here and there but not many are shutting down," he said. "We have very good ridership and usage of the system, as [do many other cities]."
But Bourassa and Citi Bike both acknowledge that bike-share companies are fairly new businesses that face an array of challenges, even though bike-share programs are becoming more integrated in city life. One of these challenges is Hubway shutting down every winter to spare operation costs when ridership is too low.
Bourassa said a big difference between Hubway and New York's bike-share program is their form of funding, which has caused New York some difficulties.
"The model that they're using is having a huge corporate sponsor give them a lot of front money [which is] subsidizing the infrastructure of the program and some of the operation costs," he said. "But the sponsor isn't covering all the operation costs and I don't think New York has put any local money into it."
On the other hand, many local businesses and institutions have come together to help fund Hubway.
"There was a $2 million grant to begin this program," Bourassa said. "The revenue that comes [from ridership] is enough to cover a lot of the operating costs … the municipalities have partnered with area businesses and institutions [to cover the rest.] One criticism is that [New York has] overly focused on just one big corporate sponsor instead of trying to pursue lots of sponsors."
Hubway's sponsorship from many different businesses, including Harvard University, Beth Israel Deaconess Medical Center and Massachusetts General Hospital, contribute a lot of funding, which similar companies with just one large corporate sponsor lack.
"It's been a wild success," Bourassa said. "The biggest criticism is that people want more stations. Most people support it and see it as an extent of our public transportation system. We should think of bicycle share systems the way we think of city bus or subway systems, and therefore it should be widely subsidized or funded."
Several residents said they are happy to see an alternative mode of transportation prospering in a city known for being innovative and forward thinking.
"I see people riding Hubway all the time, so it's not a surprise that it's become a successful industry elsewhere," said Thomas Eng, 41, of Boston. "In a city as crowded as this, people would probably go for any type of cheap and convenient transportation that gets them around as an alternative to cars and getting stuck in traffic."
Josh Brandt, 32, of South Boston, said other cities probably have just as much ridership as Boston and need to model their business after Hubway.
"Other systems should follow Boston's lead by shutting down in the winter, it doesn't make sense to be open then because I doubt people are riding," he said. "It's probably dangerous to ride in bad weather, so they shouldn't encourage that."
Timothy Finley, 35, of Boston, said he is happy local businesses are putting in an effort to support the bike-share program.
"It's cool that people around the city are donating to this cause because it's a really nice and eco-friendly form of transit," he said. "Although it could get to a point where there may be too many riders, especially if they're not being taught how to ride alongside cars before they get their membership."