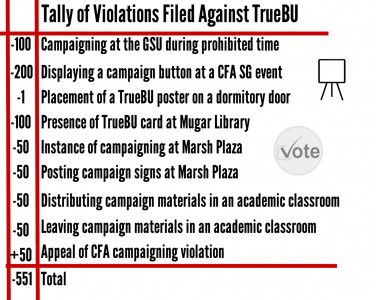 Eighteen complaints of violations of the Boston University Elections Code have been directed at both TrueBU and BU's Push to Start, two slates competing in the Student Government executive board elections.
The complaints filed with the Student Elections Commission leave TrueBU with 551 violation points, which will discount 1.5 days of voting for the slate when election results are announced Wednesday, according to the SEC. BU's Push to Start has not accrued any violation points, the SEC said.
The SEC will divide the total number of votes cast in the election by 14 — the number of days voting has been open to eligible students — and again by the number of slates competing in the election plus one to account for independent candidates to quantify one day's worth of voting.
"It was hard for us to see things that could have made the election an uneven playing field," said BU's Push To Start Presidential Candidate Richa Kaul, a College of Arts and Sciences sophomore. "It's very frustrating to have purposefully run a completely clean campaign and to see violations from the other side."
CAS junior Salma Yehia, running as TrueBU's vice president of finance, said complaints upheld by the SEC were a "huge setback" for her slate.
"I personally don't think it is fair for us to take votes away from students," she said. "The student body, who voted for us, we're going to tell them no, your votes do not count, because of these accusations?"
Of the 13 complaints directed at TrueBU and the five targeting BU's Push To Start, the most damaging upheld by the SEC concerned TrueBU presidential candidate Alexander Golob, a College of Fine Arts sophomore. Golob was allegedly wearing a pin in support of TrueBU and advocating the slate at a CFA Student Government event. As a result, TrueBU originally incurred 200 violation points.
TrueBU later appealed the SEC's decision, stating "no one on the slate was talking to anyone about the campaign or voting" and that the TrueBU pin was not intended to promote the slate, but was worn inadvertently. The SEC later reduced the the infraction to 150 violation points.
Golob currently serves as the student body president of CFA.
"That's obviously advantageous," Kaul said. "You're at a college government function, you're campaigning and you're associated with the administration of the college government function."
College of General Studies sophomore Austin Kruger, currently serving as CGS student government president, was accused of actively campaigning for BU's Push to Start. Both he and members of BU's Push to Start, which he said he does endorse, denied Kruger's official affiliation with the slate, and the SEC dismissed the allegation against Kruger Tuesday.
"He was actively campaigning for Push to Start," Yehia said. "We have multiple witnesses. However, they did not get a chance to listen to our witnesses, which I don't find very fair."
In a witness testimony later redacted by the SEC, Kruger, who said he originally intended to run for SG executive board on a separate slate, was accused of guaranteeing endorsements to Kaul in exchange for a position among her staff.
"I haven't, to my knowledge, broken any SEC rules," Kruger said. "It's a little insulting to these student leaders across campus assuming that they're following me as some sort of leader. They can make decisions for themselves, and I don't think that me saying,  'support whoever,' would influence their decisions that greatly."
Kruger said he has no plans for involvement with SG next year.
TrueBU incurred 100 violation points for allegedly campaigning in Marsh Plaza, one of several highly trafficked areas on campus designated as a no-campaigning zone.
"We made sure that whenever we stood inside the plaza we were just taking a rest or we were not actively campaigning," Yehia said. "We would step out from Marsh Plaza, from resting, and move forward and tell students to vote for us, and that's where active campaigning started — when we were on the cobblestone, which is not Marsh Plaza property."
BU's Push to Start candidate for Vice President of Internal Affairs Jamie Ellis said campaigning in Marsh Plaza would give TrueBU a distinct advantage over her slate.
"There are highly frequented areas on campus, and the campaigning locations on campus have been pretty strictly laid out by the SEC," said Ellis, a College of Communication junior. "Our campaign team has followed those guidelines. And so we have, in a sense, missed out on campaigning and exposure that could have been gained in those areas."
BU's Push to Start was accused of plagiarizing a facet of TrueBU's platform promoting stronger career and internship resources for international students, a complaint later dismissed by the SEC.
"Everything we have on our 30-page [platform] and on our website is copyrighted and we have labeled it our intellectual property," Yehia said. "It's easy to reduce points on our part and say that we supposedly posted a postcard without permission, but it's not easy to rule on something very big and very concerning … something such as plagiarism may not be addressed just because it's a bigger issue that the SEC has not been faced with before."
Members of BU's Push to Start denied plagiarizing any material featured in their platform or on their website.
"When two teams are running on the same campus, they probably notice similar things that need to be changed," Kaul said. "It's not plagiarism by any means, it's simply similar ideas. To mark it as plagiarism was just a far reach, and the SEC agreed with us."
Several students said they were frustrated by the complaints filed by and against both slates and their supporters.
"Campaigns bring out the worst in people and, to be honest, we didn't want to launch any complaints," said CAS freshman Hamilton Millwee, TrueBU's chief staff member. "Our complaints were based in fact, and things that actually mattered. Things that we believed got PTS [BU's Push to Start] unfair numbers of votes. None of the violations against us were on that level of misconduct. If we took this seriously, it was for the students."
Kaul said it was difficult for members of both slates to view complaints filed with the SEC as insignificant.
"I can see why, if I was not involved, I may think that these were petty," she said. "At the end of the day, it probably could hurt some students' perceptions of student government. But what would almost be worse is if these complaints weren't filed and these things weren't made fair."
The SEC, a student group dedicated to ensuring fair undergraduate SG elections, previously penalized slates for violating election policies through a system of fines, subtracting votes for serious infractions on a case-by-case basis, said CAS senior Chris Towner, the SEC's vice chair of rules.
"Technically, you could just keep making violations," Kaul said. "If you weren't worried about money, you could go up to 900 violation points and just pay out of pocket and have committed violations that helped earn you votes. The best way to defer people from making violations was to take away votes because that's what slates care about the most."
Though both slates praised the SEC's efforts to ensure fair SG elections, they expressed concerns that the amount of votes subtracted by the SEC due to violation points may not be proportional to those gained through unfair practices.
"I think it has been made more difficult for them [the SEC] because of the nature of the complaints," said TrueBU vice presidential candidate Sandra Soto, a sophomore in the School of Education. "These are things SEC hasn't put in the rulebook because of how different campaigns have been in the past."
Kaul said her slate would appeal decisions reached by the SEC that may have inadequately penalized TrueBU.
"With 550 violation points, you only lose 1.5 days of voting. So that's like 140 votes. In the grand scheme of things, that's nothing, whereas the actions that you took very well could've gotten you more than 140 votes," she said. "I think that calls into question the validity of a vote count for a slate that may have broken the rules."
The results of the SG executive board elections will be announced Wednesday at 5 p.m. in the George Sherman Union Academy Room.
Adrian Baker contributed to the reporting of this article.