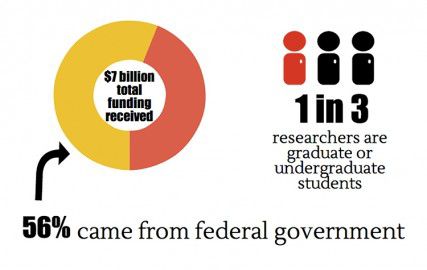 Research at higher education institutions such as Boston University can have tangible economic benefits that impact employment, business and manufacturing across the country, according to a study published April 3.
BU Vice President and Associate Provost for Research Gloria Waters said the research funding BU receives can help fuel the economy.
"At Boston University we receive about $350 million in external funds across the two campuses," she said. "This research not only provides answers to important questions that will benefit society, but also adds to the economy of the region. There are different estimates of the multiplier effect of research, but a conservative estimate is that every dollar put into research results in two dollars of benefit to the economy."
The study, published in the journal Science, used data from the American Institutes of Research and nine universities belonging to the Committee on Institutional Cooperation to gather information about the short-term economic impact generated from federal research funding.
Julia Lane, senior managing economist at the AIR and a coauthor of the study, said federal research funding partly contributes to the economy due to an increased demand for researchers in the job market.
"Science employs people, and they aren't just faculty," she said. "The primary groups are students, who we can think of as being the research workforce for tomorrow, and staff researchers. A lot of money is also spent on equipment and supplies."
Waters said it was important for the public to acknowledge how research positively affects the economy.
"If the public understands not only the benefits of research in terms of providing answers to important problems that will benefit society, but also the implications for the economy of a region, they are more likely to support the allocation of funds to research," she said.
Executive Director of the CIC Barbara McFadden Allen, who also coauthored the study, said universities actively create economic activity both as an educational institution and on a national scale through scientific research.
"We're able to really shed some light on the actual process of launching and managing a scientific process as an enterprise in and of itself," she said. "It is actually fundamental to the operation of a research university."
Several BU department heads said university research was not only important to bolstering economic activity, but also provided practical solutions to problems within their fields.
College of Arts and Sciences computer science department administrator Christopher DeVits said external funding from the federal government, private foundations and industry partners allows faculty and students to continue research and seek out new ideas.
"It's hard to overstate the importance of ongoing research in a constantly evolving field like computer science," he said. "Topics like security, privacy, data management among others are front and center in the news today, and our faculty and students, due in part to the financial support provided by external funding, are at the forefront of research in these area."
CAS Chemistry Department Chair Lawrence Ziegler said university research provides a trained work force that can have significant impacts on the economy.
"Universities are hotbeds for creating knowledge," he said. "This knowledge is disseminated in a public way often through publications, talks and direct collaborative research efforts with industry as well."
CAS Physics Department Chair Karl Ludwig said that science research is an investment that leads to the development of new technology and medical breakthroughs.
"Science costs money," he said. "It underlines virtually everything we see around us and experience at this point. Technology has been developed through scientific processes. We're actively generating these now and other news ideas. It's a foundation of our future economic progress."