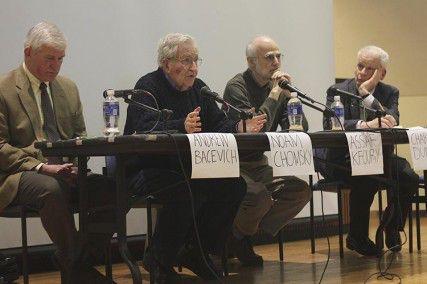 Two Boston University professors joined a conversation with Massachusetts Institute of Technology Professor Noam Chomsky, a renowned linguist and political commentator, for a panel Thursday to address making positive change in the Israeli-Palestinian conflict.
More than 100 students attended the panel, organized by the Arabic Society of Boston University, Thursday night in the School of Law auditorium.
Andrew Bacevich, a College of Arts and Sciences professor of international relations and history, and Assaf Kfoury, a CAS professor of computer science, also participated in the panel. CAS Professor of international relations Charles Dunbar moderated the conversation.
Kfoury said one of his goals in speaking on the panel was to encourage students to be skeptical of the information they receive about the Israeli-Palestinian conflict from news sources.
"As any educator, it's important that students develop a critical sense of what they hear and make judgments based on information that is closer to the objective reality," Kfoury said. "I'd like people to question whatever is being given to them through the media and through other professors based on fundamental principles such as justice, liberty [and] solidarity among the people."
The Israeli-Palestinian conflict should be of interest to BU students because the topic is a universal issue, Kfoury said.
"We need to teach ourselves to be advocates for these principles and fight against any form of injustice," he said. "It's not something to be passive about. These are issues that should be important for all of us."
Bacevich said the conflict is a source of instability in the Middle East, which American students should understand.
"I thought [the] turnout was good, but less than I had expected," he said. "Professor Chomsky cuts a high profile, and I had thought he'd attract a larger crowd."
During the talk, panelists spoke about the influence the United States has in creating a peaceful resolution between Israel and Palestine.
Bacevich assessed the ability of the United States to force such a peace agreement as minimal, but said the country should be evenhanded in its treatment of Israel and Palestine.
Chomsky argued the United States should have a stronger influence in the conflict.
"Israel will continue to do exactly what it's doing with U.S. support," he said. "There's no reason for that [behavior] to end unless U.S. support ends."
CAS senior Mason Bushway said he found it interesting that both Bacevich and Chomsky advocated for a change in the United States' position on Israel, despite their varying views on how much influence such a move would have.
"We may not be all-powerful, but what is happening now in Israel is only made possible by our involvement, and that in and of itself makes us extremely powerful players in this debate," Bushway said.
Amina Egal, a College of General Studies freshman, said it was important to have talks such as these addressing the Israeli-Palestinian conflict because it allows Americans to be more involved in the issue.
"It's a really difficult issue [and] something we've been trying to figure out for decades," Egal said. "A possible strategy would be American citizens speaking up more about the issues abroad, because we usually take a more complacent view … To have speakers like this come to our school and speak about these issues, it's definitely eye-opening and making us aware of how involved we should be."