The Boston University softball team will be looking for its second consecutive victory on Tuesday when it takes on the University of Massachusetts-Amherst at BU Softball Field.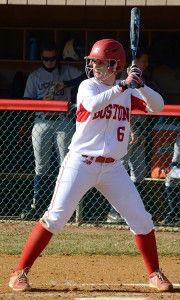 After ending a four-game losing streak on Sunday with an 11-1 win over the College of the Holy Cross, the Terriers (20-18, 5-4 Patriot League) are excited for their next opportunity to play.
"I think we're in a good place and we recovered well on Sunday," said BU coach Kathryn Gleason. "Playing every other day and dealing with the weather and the injuries we had, I think we really bounced back on Sunday."
In the win, the Terrier offense came through despite being mired in a bit of a slump. Freshman third baseman Brittany Younan was the one leading the charge, collecting three hits, three runs scored and an RBI coming from the second spot in the lineup.
Senior first baseman Chelsea Kehr and her classmate, catcher Amy Ekart were also major contributors to the attack. Kehr finished the contest with two hits and two runs driven in while Ekart had one hit, but that one was a two-run home run that helped the Terriers cap off a five-run first inning. Even sophomore pitcher Lauren Hynes chipped in with a hit and an RBI.
The team's batting average now stands at .310, which is tops in the entire Patriot League. BU is also first in the conference total hits, doubles, triples, RBI, total bases, slugging percentage and on-base percentage.
But the real story of the weekend was the return of two pitchers, sophomore Melanie Russell and freshman Makinna Akers. The two were sidelined for a few weeks due to injury, causing Hynes to do all of the pitching for an extended period of time.
"It was great to get Melanie Russell and Makinna [Akers] back in the rotation and back in the right direction."
Hynes stepped up and carried the weight of the pitching staff on her back to the tune of 13 complete games and 141.1 innings pitched.  With the return of these two pitchers, Gleason said Hynes will get some rest.
"We're not expecting both of them [Russell and Akers] to come in and pitch complete games, but to go to pitching by committee," Gleason said.  "We'll do whatever we can to win and if that means pitching by committee then we'll do that."
As for the Minutewomen (10-15), they arrive at BU having won two games in a row where they have scored 27 runs, one of which included a 17-run outburst against St. Bonaventure University.
Leading the Minutewomen are shortstop Quianna Diaz-Patterson, who owns a .420 batting average with a team high 34 hits, and second baseman Taylor Carbone who has the team lead in RBI with 20.
"UMass struggled early and now they've really entered a really good stretch," Gleason said.  "They've won four straight in the Atlantic 10 Conference and I think it's a big in-state rivalry with them and we'll be ready for them tomorrow."
There was no game between the Terriers and UMass last year due to cancelations on two separate occasions, but the Minutewomen have won five out of the last six meetings.
That one win was significant for the Terriers, as they claimed a 10-4 victory in the NCAA Regional Tournament.
Now, both teams having a winning record in their respective conferences, which is especially important for BU due to the lack of familiarity they had coming into their first season of the Patriot League.
"I think this year, the second year, was going to be exciting because of the new conference and the eight new players," Gleason said. "I think we're just more comfortable this year, personnel-wise and as a team and that's showing in games."
While most of the Terriers' remaining games pit them against conference opponents, they still have several games against in-state opponents.
Not only do they play the Minutewomen again, but they also play the University of Massachusetts-Lowell twice and face Harvard University in the middle of a six-game home stretch.
Before they can get there, BU will face the scorching offense of the Minutewomen, which has produced 31 hits in the last two games, posing a threat for the BU pitching staff.
The Terriers as a team struggled during the four-game losing skid, but Gleason said she believes the team will endure slumps and get better because of it.
"This team has been a very cohesive, tough group since the beginning," Gleason said.  "They've accepted and embraced everything we've gave to them and with every challenge, I think they grow.  I really enjoy every day with them."