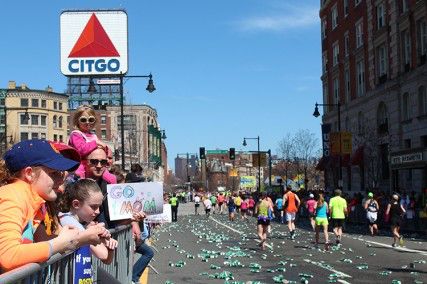 One year after the bombings at the Boston Marathon finish line killed three and injured more than 260, marathon runners, spectators and other members of the community joined together to celebrate Marathon Monday, while keeping the deceased and injured in their hearts.
The Boston community planned a slew of events the week prior to this year's Marathon, affirming a dedication to remembering Krystle Campbell, Lu Lingzi and Martin Richard, the three who died at the Marathon bombings, and Sean Collier, who died during the manhunt that followed a few days later. The commemoration culminated in a tribute event that took place April 15, exactly one year after the 2013 Boston Marathon.
On the day of the 2014 Boston Marathon, the solemn mood of a city remembering a tragedy transformed into one of love and unity. The marathon route, which ran from Hopkinton to the Boston Public Library, was filled with family members, friends and spectators, cheering on the registered runners, who represented 95 countries from across the globe
Fabio Martins, 36, came from São Paulo, Brazil to participate in this year's Boston Marathon, his third in the United States. With his wife and two kids cheering him on from the sidelines, Martins said this marathon was a unique experience
"[Boston] is special," he said. "Everyone talks about the population and the crowds here, and it's just really nice. I'm happy to be here. I'm probably too much happy.
In addition to the cultural diversity of the runners, this year's marathon also saw two marriage proposals at the finish line, thousands of Boston Strong signs and the first American to win the Marathon since 1985, among a variety of other record-breaking events
Adding to the spirit of strength and excitement, Patrick Downes and Jessica Kensky, two newlyweds who each lost their left legs in the bombings last year, crossed the finish line together in wheelchairs, with the crowds cheering in excitement from behind.
In Kenmore Square, where many Boston University students gathered to watch the marathon runners speed by only hundreds of feet from campus, spectators wore Boston Strong shirts and waved American flags. With a Boston Red Sox game occurring simultaneously, hundreds of fans migrated between Fenway Park and the marathon route.
Christine Marino, 22, of Quincy, was a medical volunteer at the finish line of last year's Marathon. She decided to attend the Red Sox game this year instead, but she wanted to cheer on the runners and show her support before walking to Fenway Park.
"I'm not afraid and that [last year] doesn't keep me from volunteering," she said. "The Marathon is both emotional and fun for me, especially this year. All the people here cheering [show] the unity within the city. Runners come from other cities, and people come to support each other."
Ken Johnson, 24, of Cambridge, works in the Kenmore Square area and said he was happy to see the amount of people who chose to participate in the Marathon this year. Johnson, who grew up in the Boston area and spent last year's Marathon a few blocks from the finish line, said the confusion experienced at the site of the bombings was nothing like he had ever seen before.
"This year is going well, is put together and is less crazy," he said. "[The Marathon] is very Boston, and it's part of the city."
Many students from colleges and universities all over the city chose to gather near BU's South Campus, where Marathon participants run through Brookline on their way to the heart of Boston. Several students said they chose to watch the Marathon from this location because it felt safer than the congested crowds of the finish line.
Trevor Hiler, 20, of Sudbury, is a student at University of New Hampshire, who attended the Boston Marathon for the first time this year. He said the experience was even better than he expected, and the large police presence was a comfort to him.
"After everything that happened last year, I wanted to be here, not only with my girlfriend but with all of her friends and with everyone celebrating," he said. "I knew that as exciting as everything had been last year, this year would be even better. Boston is a city with a point to prove, and this year, we want to do that."
Nick Eliades, 24, of Back Bay, said he appreciates the increased security at the Marathon, but he still does not feel entirely safe. Rather than cheering on the runners from Heartbreak Hill, where he used to go as an undergraduate at Boston College, he chose to cheer the runners on from a location closer to his home.
"This year is crazier because people are more grouped together with all the increased security, and also just because people want to celebrate the fact that we are all able to be together again after everything that happened last year. People are intent on showing that we are strong enough to overcome it and strong enough to keep going."
Meanwhile, several miles away, spectators were packed arm-to-arm on Boylston Street, cheering for everyone, from family members to strangers, as runners approached the finish line outside the Boston Public Library.
Joan Haugen, 48, of Southborough, stood about a block from the finish line with her 14-year-old daughter and two 11-year-old sons. Cheering for her husband, who was completing his second Boston Marathon, she said she was overwhelmed with a diverse intensity of emotions.
"Everything from nervousness, excitement, anticipation." she said. "… Most of all, what I feel is pride and just a love for the city of Boston. This just shows what we can overcome. I'm just so proud to call this our home."
Haugen moved to Boston with her husband 18 years ago. They moved to the Midwest for five years after having their children, but ultimately, they decided to move back to Massachusetts.
"There's just something about it [the city] that gets under your skin and just feels like this is where we belong," she said. "I just can't escape from it."
Bridget Bartlett, 25, of New York City, cheered with family and friends next to the Lenox Hotel, approximately a block from the finish line, for her brother and nephew, both running in the Marathon.
Bartlett's brother Peter, who finished with a time of 2:26:59, only 18 minutes after first-place Meb Keflezighi, was not planning on running any more marathons but wanted to be a part of this year's Boston Marathon.
"It was very important for him to come run Boston, in light of the tragedy but also for all the hope and community here," she said. "[He ran] just to have the solidarity and to have the support for something that we believe in so strongly and to fill this spot with pride and love against the backdrop of last year."
Steven King, 44, of Spanish Fork, Utah, first ran in the Boston Marathon 10 years ago and returned this year to honor those lost in the bombings. As he approached the finish line, he found his wife, standing in a crowd of people by Lord & Taylor, and he ran over to give her a kiss before finishing the race.
"We [my wife and I] came out for five days, and it's been like no other marathon we've participated in," he said. "The only reason I came this year is because of last year. It's the first time running not just for yourself, but for Boston."
Mina Corpuz, Stephanie Pagones and Kelsey Newell contributed to the reporting of this story.