Although Boston University graduate student Lu Lingzi was not present for the 2014 Boston Marathon, runners commemorated her spirit by participating in her honor.
Seven BU affiliates were selected to run in the name of Lu, who died in the 2013 Boston Marathon bombings. The Lu family was awarded 15 spots in the 2014 Marathon by the Boston Athletic Association, and the Lu family designated seven of the positions to BU affiliates. Each person was chosen by a body of officials from organizations such as BU's Student Government, the Office of the Provost and the Dean of Students Office.
"We should all be honored, as a community, that the family so graciously thought of us to represent Lingzi in the marathon," said Dean of Students Kenneth Elmore. "They could have done this in so many other ways, and they decided to make slots available to this community. This is a showing of a love and this is the epitome of high grace that they would come to us and make this offer."
While Shuheng Lin, a fifth-year graduate student in the Graduate School of Arts and Sciences, did not know Lu personally, she said the passionate life she lived inspires her each day. She said she respects Lu for teaching at primary schools back in China.
"Lingzi was the joy to her family and possessed so many qualities I admire," Lin said. "She was a talented musician who carried herself with grace and was very confident about what she wanted to achieve in life at an early age. I recently had the chance to read some of her journal entries, and through them I saw a talented writer who had a lot of heart and passion."
Lin, who finished with a time of 4:56:20, said she ran to help provide closure to Lu's parents in the wake of the tragic loss of their daughter.
"I look forward to seeing Lingzi's parents at the finish line and giving them the biggest bear hugs," Lin said prior to the race. "It's not going to be easy for them on that day, but I am really hoping that her parents find some closure in the fact that moments before terror struck, Lingzi was surrounded by the most cheerful and positive crowd."
College of Arts and Sciences Physics professor Andrew Duffy, a long-time participant in the Boston Marathon, said the annual tradition has shaped his life.
"It took me three tries to qualify for Boston," Duffy said. "During my first Boston Marathon in 1995, I met Anne, the woman who would become my wife, who was also running. That led to me later that year getting a job at BU and moving to Boston. So, the Boston Marathon literally changed the course of my life. I've run it four times, volunteered a few times, been a spectator quite a few times."
This year, Duffy ran in the memory of Lu, whose spirit he said he hoped to keep alive during the Marathon. Duffy completed the race in 4:05:17.
"In running for Lingzi, the seven of us have intertwined our life stories with Lingzi's, and we now have the privilege and responsibility of helping to keep her spirit alive," he said. "That's the most important thing."
Kilachand Residences Area Director Jennifer Carter-Battaglino had originally planned on coaching the selected running team, but she was surprised to find herself among the chosen runners.
"When the Lu Lingzi family provided numbers to BU, I offered to coach anyone who received a number, and I also applied for a number as well," she said. "I was super excited when I found out that I actually got one."
Running this marathon for both Lu and BU makes the 2014 Boston Marathon that much more meaningful, Carter-Battaglino, who finished with a time of 4:10:48, said.
"In her memory, having the honor of representing her and having the honor of representing her and her family has made this year running in this marathon more special than running in the past," she said before the race. "It is extra special to represent Lingzi and BU. My goal is to be out there with everyone else and run strong and stand strong with everyone and to repent Lingzi and keep her memory alive."
Selected runner Dan Mercurio, director of marketing and strategic planning for BU Athletics, said meeting Lu's family solidified his motivation or running in Lingzi's name.
"All seven of us got a chance to meet her parents when I was at dinner with her family, and we got a chance to learn more about her, which was really inspiring," he said. "Just the strength to be studying abroad where English wasn't her first language, we could clearly see why she was incredible as she was when we were talking with her family."
Although the team only had a short training period, support from the BU community has pushed them to try their hardest to finish, Mercurio, who completed the race in 4:01:46, said.
"It's been tough because of the weather," he said. "This year was awful, a lot of snow, a lot of ice and a lot of cold winter … I'm not an elite runner — none of us are — so to finish would be a big thing. The BU community has already banded together to support us … We are not going to let these kind of acts affect the way we live, and we are going to unite to push on."
Sargent College of Health and Rehabilitation Sciences alumnus Ryan Shea, who graduated in 2011, said he was honored to run the marathon to celebrate Lu and represent the BU community. Shea completed the race in 4:39:21.
"I did not know Lu Lingzi … but one way she inspired me is her ability to come all the way from China to attend a school like BU," Shea said.  "I can't imagine leaving my family and country, and I believe it takes a strong person to do that. It is inspiring to run for Lingzi, especially as part of the BU team, because I feel connected to each and every person who attends BU. We are a family, and it's great to be able to run for her family in her memory."
CAS and School of Management junior Yujue Wang (5:03:04) and School of Public Health fourth-year graduate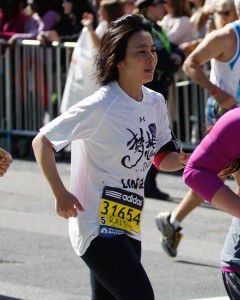 student Baiyun Yao (4:14:34) were also members of the BU team running for Lu Lingzi.
Elmore said by participating in the Boston Marathon under Lu's name, the seven runners are living pieces of Lu's memory.
"They honor her by participating," he said. "They will be wearing a special jersey that has been made for them, and the world will see them out there running on her behalf. The jerseys will say 'dream' on them in Chinese and also in English."
While fun was still had at the 2014 Boston Marathon, Elmore said he hopes members of the BU community would take a moment to remember those who, like Lu, were lost in the tragedy.
"I hope that everyone has all of the fun that they can have, I just hope that they pause just for a minute … to reflect about love, about life, about dreams and about the fact that we lost a member of our community last year," Elmore said. "Pause for a moment, but have all of the fun you can possibly have."