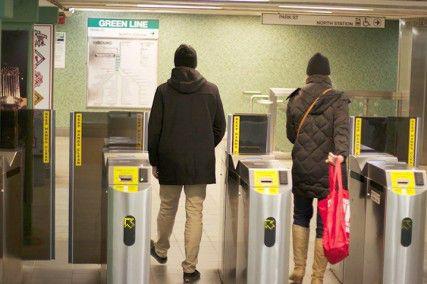 In response to a 5 percent fare increase proposed by the Massachusetts Bay Transportation Authority in March, approximately 75 members of the community met at the State Transportation Building Tuesday to share their concerns with MBTA and Massachusetts Department of Transportation employees.
The fare proposal, which will take effect July 1 if passed, will raise CharlieCard fares across the board. The rapid transit fee for students, currently at $1.00, will be raised to $1.05, and the local bus fee for students will be raised from $0.75 to $0.80. Adult rapid transit fees will be raised from $2.00 to $2.10 and adult local bus fees from $1.50 to $1.60.
The attendees at the public hearing were given the opportunity to speak to several employees, including MBTA General Manager Dr. Beverly Scott, MBTA Chief Financial Officer Jonathan Davis and Andrew Whittle, a member of the MassDOT Board of Directors. Forty-four attendees signed up to speak.
Throughout the evening, community members highlighted problems they have had with MBTA service, on routes and in stations. Speakers requested that MBTA employees find other ways to fix these problems rather than charging passengers more for the same quality of service.
Scott said they want to take everyone's concerns into consideration when proposing changes to MBTA service, but many of these alterations are only possible with fare hikes.
"We'd love to make those changes," she said. "But you can't build bricks with hay."
Rosalyn Johnson, 54, of Dorchester, is a single parent of four children and is living on a low income. She told the community she buys a combination MBTA bus pass every month for her family, and she cannot afford to pay the fare increase.
"I cannot accept this. I cannot afford this," she said. "I hope that you consider this proposal because it is a shame that people are starving here that can't get any extra help, and they rely on the bus and the train and the commuter rail. I hope you all think about what you're doing because it's hurting communities."
Mark Paré, 28, of Dorchester, spoke about halfway through the hearing, and he said the current system is not being framed with the entire community in mind, and the MBTA is often not held accountable to the decisions they make.
"Affordable, accessible public transportation is a human right," he said. "The system of public transportation in this city, this state and this country is an embarrassment compared to other industrialized nations in the world."
Paré said the passengers are often treated as puppets within a greater system, but the MBTA service will only be improved by understanding the essence of the system, from the producer to the consumer.
"These are just symptoms of a larger problem," he said. "That larger problem is very much a political question and very much an economic question. What it has to do with is who is making these decisions, who is deciding how this money is all allocated and who is writing the rules of the game we're all playing?"
Several attendees said they went to the hearing to learn more about the implications about the fare hike and share their other concerns about the quality of MBTA service.
Zack Gebhardt, 24, of Hingham, said he would have liked to see the officiators respond to the speakers' concerns, but he understands they didn't have the opportunity to prepare any answers and be held accountable to them.
"A lot of the people's responses were pretty short-sighted, just issues with their specific bus line or their specific service, and they weren't concerned with how the whole system works," he said. "It's how does the MBTA decide, not why they do it."
Dick Bourbeau, 69, of the South End, said the fare increases made in the past have hammered senior citizens, making it harder for Boston's older residents to use their MBTA on their fixed budgets.
"Who decided arbitrarily that the senior fare has to be half of the full fare?" he said. "No one will answer that question. Right now, once they determine what the relationship of senior fares should be to the full fare, then we should play equitably, until someone decides [to have] no more increases for the seniors, time to cap them."
John Bennett, 48, of South Boston, said he does not agree with the fare hike because he thinks the MBTA is putting money toward unnecessary technological enhancements, rather than fixing the problems with routes and service.
"I don't agree with any more expenditures of money for these glass and chrome and granite palaces that they're building that they're calling stations," he said. "My analogy is … if your junker [car] needs a break job and you have $450, do you go and get a break job or do you go buy tinted windows and a new stereo?"