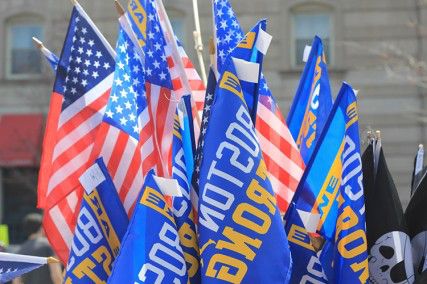 In the wake of the Boston Marathon, three companies are vying to trademark Boston Strong, a citywide motto born out of last year's marathon.
Two companies have applied for the rights to use the term on specific products. New England Coffee and Tea Company, based in Malden, wants to reserve Boston Strong for all coffee, tea and coffee-based beverages. Cathedral Art Metal Company, Inc., based in Providence, R.I., is trying to use the slogan on any bracelets and other jewelry items.
Boston Strong Bostonstrong.com LLC is also battling to call the brand their own, but they are requesting a much wider range of products and services on which they want to use the Boston Strong mark. They are looking to use the Boston Strong motto to reach out to disaster relief organizations, fundraising campaigns and other global causes, their application stated.
"[The mark will be used for] customized printing of company name and logos for promotional and advertising purposes on the goods of others. Custom design of wearable apparel, paper goods, based on personal selections made by the customer; imprinting messages on wearing apparel, accessories and mugs; advertising through all public communications means; and printed paper labels, decals," the application stated.
Roberta Clarke, associate professor of marketing at Boston University, said the brand of Boston Strong might be more successful when it is not trademarked because the motto is supposed to be about the optimistic message, rather than the profits.
"If a single company tried to own and use it, I don't think that would be wise," she said. "It might be resisted by the public who views Boston Strong as community and [how it] signifies Boston standing up for deeper reasons. For example, if Coca Cola came out and said they're Boston Strong, I don't think people would react to that well."
The United States Patent and Trademark Office previously denied the Boston Beer Company's application to trademark Boston Strong in the summer of 2013. The rejection letter stated Boston Strong was intended for the survivors of the bombings.
"The slogan represented 'the victims of the bombing, now rebuilding their lives; the law enforcement efforts during the manhunt; the decision, by athletes and organizers, to run the Marathon in 2014,'" the letter stated. "It 'began in the immediate aftermath of the marathon bombing havoc as nothing but good intention to unify the city and the relief effort.'"
Many residents said they are unhappy with the companies who are trying to trademark Boston Strong and said it represents more than a franchise.
"It sounds like they're trying to make a quick buck on something popular," said Tom Booth, 25, of Brighton. "It's unfair to the community. Boston Strong is something that brings us together and some people making money off of it isn't right. The spirit of it doesn't have a trademark [for a] corporate market. It's something more of a feeling than something you can put a dollar sign on."
Colleen Buckless, 25, of Allston, said Boston Strong should never belong to just one company because it belongs to those affected by the events of the 2013 Boston Marathon bombings.
"It belongs to the city," she said. "The city could use it without additional publicity. It shouldn't be used by different organizations. If used in a right way to promote the way it came about, probably. But just for commercial reasons, I don't think it's appropriate."
Jessica Terk, 41, of Boston, said Boston Strong is meaningful to people all over the world and should not be turned into a profit-focused company.
"It's not about copywriting. It's a about a feeling," she said. "It's a sentiment [about] people. The term is about empathy, humanity, strength and support for others. It's not necessarily something that should be for profit. They pull on the heartstrings. I'd hate to see something so organic that came out of tragedy and fostered through optimism be trademarked."
Mina Corpuz contributed to the reporting of this story.