After a stretch of five straight home games in the first half of the season, the Boston University men's lacrosse team traveled to Easton, Pa. on March 15 to defeat Lafayette College 12-7.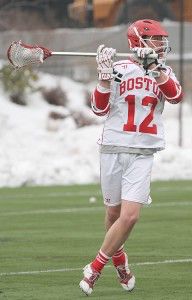 In their last game on April 19, the Terriers (2-11, 2-6 Patriot League) were again victorious on the road in a 9-8 victory against the College of the Holy Cross.
The statistics from BU's home and away games do not differ greatly. On the road, the Terriers' scoring margin is minus-3.83 goals per game, while at home that figure is minus-3.57 per game. Similarly, BU only scores 0.24 more goals per game on the road than it does at home.
"I think [the team's winning on the road] is just a coincidence," said BU coach Ryan Polley. "We've played well at home. Lehigh [University] was ranked, Colgate [University] was ranked and [the U.S. Military Academy] was ranked. We've played some tough opponents at Nickerson.
"Canisius [College] was our second game, and we weren't quite ready to win yet. I think it's just a coincidence that we've won on the road, because we've actually played fairly well at home and we just weren't able to secure victories."
One constant in BU's two wins is the play of freshman midfielder Sam Talkow.
In the game against the Leopards (2-11, 1-7 Patriot League), Talkow won 64 percent of the game's faceoffs and picked up a game-high eight ground balls. Against the Crusaders (3-11, 1-7 PL), the rookie again won a majority of the faceoffs, this time going 12-of-21, and also tied the game-high by gathering 5 ground balls.
Talkow excelled in his role in both those games, giving the Terriers possession and allowing his teammates to create opportunities on offense.
Terriers prepare for last game against Duke
The Terriers will host No.2 Duke University on May 4th in both teams' last regular season game.
The Blue Devils (12-2) are getting set for its matchup with No.4 Syracuse University in the Atlantic Coast Conference semifinals this Friday.
BU already garnered experience against the top level of Division I men's lacrosse in a rough 15-6 defeat at No. 1 Loyola University-Maryland on April 12.
Moreover, the Terriers will take comfort in the fact that Duke's only two losses have come on the road, although BU has yet to win a game at Nickerson Field.
The Blue Devils excel offensively, as they are second in the nation in scoring with 14.36 goals per game. They demonstrated that trait most thoroughly versus the Orange (9-3) on March 23, when went on a dominating roll to win 21-7.
Duke also has one of the greatest attacking threats in the country in senior Jordan Wolf. The senior is third in the country in scoring with 3.31 goals per game, and fifth in points with 4.79 per game.
"Exam week's right after [the game against] Duke and [the players] are going to be tied up with that," Polley said on preparing for the matchup. "So we're seeing where we are in terms of how fast we are and how strong we are and how conditioned we are, and that way they have a baseline for the summer and how we hope to improve.
"We're doing that this week, and then next week, starting either Saturday or Sunday, we'll start preparing for Duke."
Schaal displays all-around skill
In BU's slim victory over Holy Cross this past Saturday, freshman attack Adam Schaal showed his continued ability to contribute in multiple areas. Schaal only took two shots in the game, but the Collegeville, Pa., native made efficient use of them, scoring one goal to go along with an assist.
The rookie has contributed to the Terriers' offense in a similar way all season by demonstrating his skills as both a shooter as well as a playmaker. Schaal has 10 goals this season — fourth on the team — in addition to 11 assists, the second most on the team. Schaal is also second on BU in total points with 21.
"[Schaal]'s our primary ball-handler right now, and he's doing a nice job," Polley said. "He's kind of stepped up his game.
"He was more of a role player for us at the beginning of the season and then [freshman attack] Pat Myers went down with his injury and Adam's really stepped up and kind of been the quarterback of our offense"
The most impressive statistic of Schaal's though, may be his shots on goal percentage, .741, which leads the team. The attack's efficiency in shooting the ball helps the Terriers make the best of valuable possessions on offense.
"He's done a nice job being balanced," Polley said. "Scoring a little bit but also assisting, and he's really controlling the tempo of our offense."