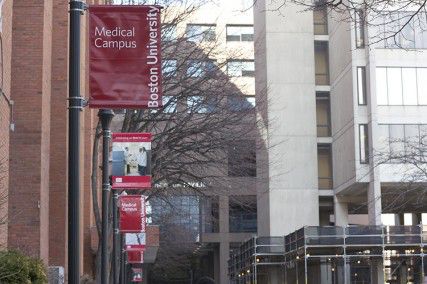 With a generous $12.5 million gift from an anonymous donor, Boston University's School of Social Work will open the Center for Innovation in Social Work and Health, officials announced Friday.
The CISWH, which will be located on the BU Medical Campus, will combine the disciplines of social work and medicine in order to gain an understanding of how the two topics must work together to create ideal healthcare systems, said SSW Dean Gail Steketee.
"This new center will focus on interdisciplinary goals with a focus on how the profession of social work can play critical roles in developing an equitable, affordable, high quality and cost effective health care system," Steketee said. "… All of our health disciplines, including social work, are beginning to work together to make this dream a reality in the coming years. This will mean re-conceptualizing primary care to include preventive efforts for the public's health, as well as direct services for individual and family physical and behavioral health care."
Although the center is located on BUMC and will work primarily for graduate students, it will also provide opportunities for undergraduate students, particularly those in the Undergraduate Research Opportunities Program, Steketee said.
"The center will provide several fellowships each year to doctoral and masters' students in social work, public health and potentially other fields," she said. "In addition, the center will welcome undergraduates, especially those within UROP whose interests align with faculty at the center."
The CISWH will also work closely with the Center for Global Health and Development, whose expertise in the urban environment of underprivileged countries renders them a valuable partner, said CGHD Director Jonathon Simon.
"On the urban agenda, we have a lot to contribute and learn from each other," Simon said. "The CGHD works with underprivileged communities outside of the United States. Much of the work of CISWH is with that same population here within the U.S. — those in need of social support and social services … Social work puts such a strong focus on the urban environment in the United States, and one of the themes for work at the CGHD is the urban environment in low-income countries."
Simon said the economic knowledge from the CGHD would be a crucial tool in analyzing social policy for healthcare within the CISWH.
"The whole issue is bringing rigorous economic analyses to social policy choices, so that we're spending the limited social investments that we have during a time of declining investments in the social sector," he said. "We need to spend them as effectively and efficiently as possible. The CGHD has a very strong economics program that works on these issues. Clearly the applied social sector of economics is a place where the two centers can collaborate."
A director has not yet been appointed to CISWH, but Steketee said there should be one in place by early 2015 who possesses a large variety of credentials across numerous disciplines.
"The director will occupy an endowed professorship within the SSW and will work with faculty from the CGHD, and from BU SSW, School of Public Health, School of Medicine, Dental Medicine and the department of economics," she said. "We expect that center faculty will also work with colleagues from the Schools of Communication, Engineering, Management and other fields."
Steketee said social work and medicine go hand-in-hand because both career paths require an element of compassion.
"Social workers are trained in clinical skills to work with individuals, families and groups of people, and they are also trained to evaluate the larger picture, the neighborhood, the community, and the social policies, that influences the availability of essential care and services to meet people's needs," she said. "Thus, social workers are uniquely positioned to lead inter-professional efforts to ensure that center goals are met."