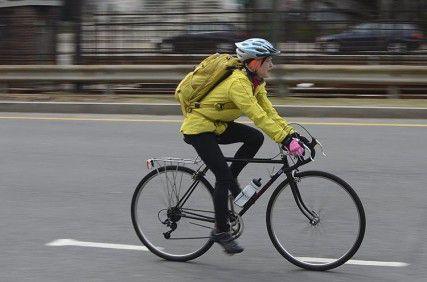 In an effort to reduce the number of accidents involving bikers and pedestrians, the Massachusetts Department of Transportation is launching a new safety awareness and enforcement program.
The Bicycle and Pedestrian Safety Awareness and Enforcement Program will provide $461,851 in federal highway safety funding, which will support partnerships with local officials, police departments, MassBike and WalkBoston. These funds will go to getting police officers more involved in pedestrian and bicycle issues and an awareness campaign.
According to the Monday press release, this is in response to MassDOT's Healthy Transportation Policy Directive, which is attempting to increase the amount of non-motorist transportation, and the State Highway Safety Plan, which has a goal of reducing the number of fatalities and injuries by 20 percent in the next five years.
"The new MassDOT safety program is incredibly important," said David Watson, executive director of MassBike. "It marks the first time Massachusetts has made a significant investment of federal highway safety funding targeted specifically to bicyclist and pedestrian safety. Bikers and walkers are far more vulnerable than motorists and need additional protection."
This new program will begin in May in 12 select Massachusetts towns chosen according to the high number of non-motorist crashes and high proportion of trips made by walking or biking.
The towns involved are Brockton, Cambridge, Fall River, Haverhill, Lynn, New Bedford, Newton, Pittsfield, Quincy, Salem, Somerville and Watertown. Feedback during the program will allow MassDOT to identify what infrastructure improvements can be implemented throughout Massachusetts, and will then possibly make those changes in Boston in the future.
"We're excited to be working with MassDOT, the Department of Public Health, MassBike and all of these communities," said Brendan Kearney, communications manager for WalkBoston. "Pedestrian and bicyclist fatalities represent 15 to 20 percent of all Massachusetts traffic fatalities. We are pleased to see MassDOT taking steps to increase the safety of walkers, runners and bicyclists, which will help [triple] the number of walking, biking and transit trips by 2030."
Although a lot of progress has been made so far, with bike lanes and paths, he said there is much more to be done, particularly in educating and enforcing the policies.
MassBike has contributed to a safety pamphlet which will be distributed as a part of an outreach campaign, will also be training police officers on the laws related to motorist interactions with bikers and will adapt truck driver training to include bicyclist and pedestrian safety.
"The new safety program is a big step in the right direction, and will launch initiatives that need to grow and continue in the long-term to help the public shift from a motorist-only viewpoint to a multi-modal viewpoint," Watson said. "Everyone needs to be more aware of the people sharing the road with them."
Many residents said this was a worthwhile program, especially since Boston is a city with countless pedestrians and bikers.
"Just walking around, I see so many near-crashes," said Lydia Castro, 59, of Boston. "Sometimes it's the bikers doing something wrong, sometimes it's the cars, but either way, more education on what the rules are would be extremely helpful."
Catherine Janzen, 63, of Back Bay, said she sees stories about people being hit by a car while biking or walking far too frequently for her to feel safe.
"Right now, I don't think Boston is a safe city to bike in," she said. "I'm constantly hearing about people getting hit or killed. Part of it is just so many people being on the road at once, but hopefully this will change that."
Ben Abrams, 28, of Allston, said he was weary of increasing the number of bikers and pedestrians so drastically, but if everyone is abiding by the laws then it should be a smooth transition.
"Tripling the number of bikers and walkers is a huge leap," he said. "But at the same time that would be taking cars off the road. It's really all about the education and people knowing the rules. That needs to be the emphasis."