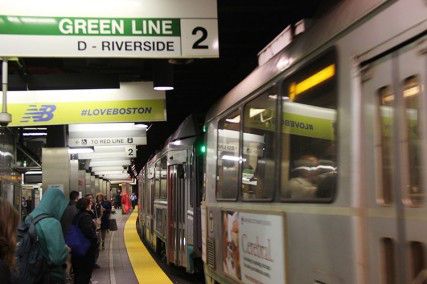 To reduce the confusion for passengers about where trains will arrive at Park Street station, westbound D and E trains on the Green Line will berth at designated areas starting Wednesday, according to the Massachusetts Bay Transportation Authority.
D and E line trains have usually looped around at Government Center, but that center was closed for reconstruction on March 22 and will be closed for two years. To account for the closure of the Government Center station, westbound D and E Line trains have looped around at Park Street, making it difficult to know which tracks will serve the Riverside train, said MBTA spokesman Joe Pesaturo.
"We are simplifying the system," he said. "Our expectation is that the change will help us provide Green Line service in a more efficient and effective manner."
The change will be in effect for the next two years while Government Center undergoes renovation.
"This type of switch does not occur frequently," Pesaturo said. "The last time that berthing locations were adjusted was decades ago."
Stephanie Pollack, a professor of practice in public policy and urban affairs at Northeastern University, said this adaptation will be useful to riders struggling with the changes and is a necessary response to the closure of Government Center.
"MBTA knew all along that after Government Center was closed that they would have to make sure people were getting where they need to go," she said.  "From my understanding, the T instituted this service because passengers who normally wouldn't be at Park Street [are] having trouble understanding. Anything that helps them is good because [MBTA] doesn't want people to stop using public transit."
While the shutdown of Government Center is an inconvenience, it is for the best in order to provide worthwhile service to riders, Pollack said.
"As painful as it is, it's better to stretch out the project so that when they reopen they're ready," she said. "A lot of people who get off at Government Center to go downtown are within walking distance. There are so many T stations in close proximity like Park and State Street, so it doesn't really affect people as bad."
Pollack also mentioned several other changes the MBTA could make to improve service to customers, but said this simple change will make a big difference in the fluency of the trains.
"Some train stations have apps that tell you exactly where to stand on the platform so you're right there," she said. "I hope this will be helpful and something people will want to do more. The T is pretty full, not just during rush hour anymore, so anything that helps customers and gets people on and off of the trains is good. When the trains have to wait it slows everything down."
Several residents were pleased with this adjustment and said it would make their travel on the T much smoother.
"I take the T all the time and even I get confused at Park Street sometimes," said Sandra Logrande, 46, of Dorchester. "There are a lot of different trains coming to just a few tracks, and sometimes there is more than one train at a time on one track. More changes would need to be made for Park Street to be completely organized."
Claire Jaques, 24, of Allston, said this change would be helpful but hopes for even more improvements.
"This'll help reorganize after Government Center closed, but there are a lot of other issues the T had even before that," she said. "Trains are almost never on schedule and, especially at Park Street, the stations can be sort of confusing. Hopefully more changes will come."
Sean Murray, 25, of Back Bay, said he hopes this is just one of many improvements.
"It seems like a very small change for just one of the problems the T has," he said. "The T is a lot of people's main way to get around, so I think they should be making things run a lot smoother in many different ways, not just changing these two lines at Park Street."