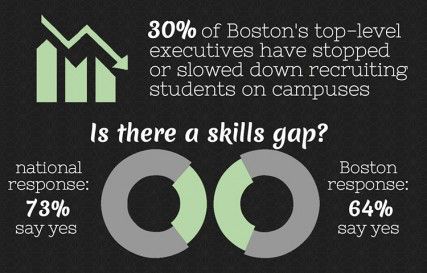 Top business executives are hesitant to hire recent college graduates due to a lack of applicable skills, according to a survey released by Northeastern University Tuesday.
This survey was the third part of an "Innovation Imperative" polling series administered by Northeastern researchers. The poll was conducted in February through phone interviews with C-Suite executives and business leaders in the United States. The resounding discovery was that employers were disappointed with the lack of necessary skills that recent graduates possess.
"Most business leaders believe the U.S. education system lags behind both developed and emerging countries in preparing students for the workforce, and virtually all steadfastly believe innovation is crucial to remain globally competitive," the study said. "Business leaders resolutely believe there is a skills gap in today's U.S. workforce and a substantial majority contends that most college graduates lack the most important skills needed to succeed."
Boston showed a relatively negative outlook even compared to the rest of the country in this survey. Only 60 percent of executives from Boston said they hire recent graduates, compared to 78 percent nation-wide, and only 73 percent said they hire young professionals who graduated between one and five years ago, compared to 85 percent nationally.
Since the Great Recession, 30 percent of Boston businesses have either reduced or completely stopped recruiting at universities, compared to only 17 percent nationally.
Additionally, only 46 percent of Boston executives said the U.S. higher education system is doing a good or excellent job in preparing students for the workforce, and 64 percent agreed there is currently a skills gap.
"These findings underscore a critical call to action for all of us in higher education to innovate," said Joseph Aoun, president of Northeastern, in the Tuesday press release. "Business leaders—who are key partners for colleges and universities — want higher education to be more experiential and want us to instill entrepreneurial qualities in our graduates."
Ian Mashiter, strategy and innovation professor at Boston University, said many of the industries in Boston, such as tech and life sciences businesses, need more experienced people that can hit the ground running.
"This means that they are looking not just for bright graduates but bright graduates with real skills that can immediately be used effectively," he said. "They don't have time to train people so if experienced talent is available they will gravitate in this direction."
There are many ways universities can ensure their students are not only graduating with an education but with work experience that will land them a job, Mashiter said.
"Colleges need to continue to enhance the experiential part of their curriculum," he said. "Giving students access to real life experiences within the classroom and encouraging and facilitating internships and co-op programs are important because they have become an important part of a student's résumé."
Several residents said they are disappointed with these results, but understood the reasoning behind them.
"It's unfortunate because it's like a cycle of not being able to get hired which keeps you from getting hired in the future," said Marcus Edwards, 23, of Allston. "You're going to college, and while you're there you can't get a job because you don't have enough experience. But how are we supposed to get experience if we're constantly getting rejected because we don't have experience?"
Karla Kennedy, 33, of Dorchester, said the system definitely has its downsides, but there are ways students can gain experience without being hired.
"The job hunt is definitely a struggle," she said. "But what can help a lot is universities offering experience within their walls or through their connections. For example, students should work with professors on research or get an on-campus job or volunteer. They're easier to get when you're lacking experience, but still look good on the resume."
Sean Gouldson, 41, of Beacon Hill, said it is important for universities to make their schools worthwhile, pertaining to the changing job market.
"Students are paying an extraordinary amount these days for an education," he said. "So it's the school's responsibility to make sure that degree means something. The schools need to adapt their curriculum so that having a degree also means you have some real-world experience."