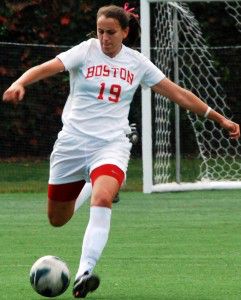 Just a year removed from capturing a Patriot League title and advancing to the second round of the NCAA tournament, expectations are high for the No. 22 Boston University women's soccer team. But, for BU coach Nancy Feldman's squad, that's just fine.
"Every year's a new year," Feldman said. "Past success certainly motivates us to try and continue having winning years and championship years, so from one year to the next, there's a motivation of younger players to take the baton and carry it and represent and have their time. It is this group's time."
In its opening four games, BU (3-1) has picked up right where it left off. The team started out the season with 2-1 home victories over La Salle University and Boston College and then traveled down to South Carolina this weekend, where it took a talented No. 12 University of South Carolina team to double overtime before falling 1-0 and edged out the College of Charleston 1-0 Sunday afternoon.
While this year's squad only returns four starters from last year's championship team, Feldman, who is in her 20th year at the helm of the program, said that her team is eager to step up to the challenge.
"We're a new team," Feldman said. "We have a lot of young players as far as experience. There's a little bit less known about this group than last year's, which was kind of a mature group with seven seniors starting. Some of the players haven't played a lot of minutes in their careers because they're new players or young players or they're older players who've had injuries or just waiting behind some of the older kids.
"We had a good preseason. There's a lot of good energy. There's a lot of good spirit. Now we're just trying to put it together and become a unit out there on the field and have a style of play and imprint that style. It's kind of a little bit of a re-development. Where we finished last year is where we'd like to get to as far as being a complete unit, but that takes time to develop that. What we're looking for as a coaching staff is just progress every day."
One of the most glaring absences on the pitch is that of All-Patriot League Second Team goalkeeper Andrea Green. As a senior last season, Green helmed a staunch Terrier defense and averaged 0.33 goals against. Thus far, senior Alyssa Parisi and sophomore Bridget Conway have each split time between the goalposts. Parisi played all 90 minutes against La Salle (1-2) and South Carolina (4-0), and the two each played a half against the Eagles (3-1). Conway recorded her first career start Sunday and earned the Terriers' first shutout of the season.
"Both of them have been watching and learning over the years and working hard every day," Feldman said. "They've hit the ground running. They've done a great job, and they've come up with some big saves. They've been sure, and they've been steady, and their distribution has been good. And they're gaining experience each day, which is going to make them better because you can't get better as a goalkeeper only by training. You have to have that game experience in your system. I'm glad we've been able to get both of them some game experience."
Like last year's team, this season's Terrier squad has the benefit of a strong bench unit. Sophomore forward Erica Kosienski, a substitute, was the team's leading scorer during the 2013 campaign. Thus far, substitutes have played a vital role in the team's two wins at Nickerson Field, and when temperatures in Charleston reached over 90 degrees Sunday, Feldman was able to keep her team fresh with players from her bench. Feldman said that having solid players all across the board helps the team in a multitude of ways.
"First and foremost, it creates an environment at practice where there's a high standard of training that you need to be successful," Feldman said. "If you don't have a high-level training environment, then you're not going to perform well in games and you're not going to grow and develop. In weekends like this where you're playing two games, we were going to try and use all 20 players, and we even had our backup goalkeeper prepared to go on the field as a field player.
"We needed everyone because it was so hot down here. The bench is going to get you a win like [Sunday] when you have players that step up that don't necessarily get a lot of minutes but are ready to play minutes when called upon."
BU came from behind in both of its wins at Nickerson Field and nearly held on against a highly ranked Gamecock team. This ability to stay focused and determined in tough games is something that Feldman said she hopes her team can build upon.
"What we've liked is their spirit," Feldman said. "What we've liked is their determination and their fitness levels. There's a reason we're 3-1 and not 1-3…There's a toughness about this group and a determination about this group that can be special. Now we just have to contain it through the grind of the season."
Thursday, the team will take on Providence College on the road before heading back to Nickerson Field to begin a five-game home stand. Last year, the team was undefeated on its home turf, something that Feldman said is also a goal for this year's team.
In terms of improvement, Feldman said that as the season progresses, she will look for the team to tighten the hinges defensively and offensively and become a complete unit.
"We haven't completely found our style and imprinted it," Feldman said. "Defensively, we've worked hard, but we can be even better as a unit, and we can be more purposeful in attack. That's where we're going to have to be if we want to separate ourselves from other teams in the conference and play into the postseason. But that takes some time, and we have time to get better at it every day. It's a work in progress, but these guys are eager to get going. They've seen what it takes to be successful. We can go places this year."
[rawr]
[/rawr]