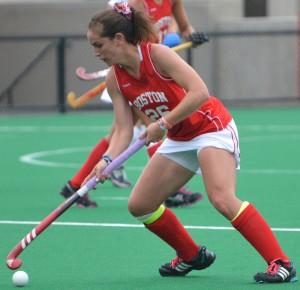 The Boston University field hockey team enters its 2014 campaign on a mission to take care of some unfinished business after last season's loss in the Patriot League Tournament final.
The Terriers (1-1) relied on many new faces last year on its way to a second place finish in the conference. Sophomore forwards Amanda Cassera, Sara Martineau, Taylor Blood; midfielders Ellie Landsman and Hester van der Laan, as well as fullback Bea Baumberger Altirriba all saw significant time in the starting lineup as freshmen en route to a respectable 13-7 record.
"We're just focused on getting them to become the best that they can become both individually and collectively," said BU assistant coach Tracey Paul.
This year's sophomore class will carry BU as it looks to win its first conference title as a part of the Patriot League. Following a Patriot League Rookie of the Year season, Cassera will look to lead the team in goals (eight) and points (16) once again. Meanwhile, Patriot League Second Teamer van der Laan will also look to continue to produce on offense after tying for second on the team in points (13) last year.
With the Class of 2017 stealing the show last year, BU's upperclassmen will have something to prove going into the final chapters of their respective careers. Senior goalkeeper Valentina Cerda Eimbcke is coming off of a top-notch season that merited her Patriot League Goalkeeper of the Year Honors. Eimbcke sported a 1.32 goals-against average and recorded six shutouts last year.
Protecting Eimbcke in front of the cage is a pair of upperclassmen in junior fullback Rachel Coll and junior midfielder Sofi Laurito. A Greymouth, New Zealand native, Coll missed three games due to an injury last year. However, she put on a defensive clinic in the 17 games she started, contributing to an opponents' goals-scored average of 1.35.
As much as Coll is defensive minded, Laurito brings the jack-of-all-trades mentality that brings the team together. Last year in just 13 starts, she tied for the team lead in goals with eight, four of which were also game-winners. On the defensive side, Laurito's quickness and agility caused headaches for opposing attackers, resulting in a multitude of caused turnovers.
"We just want our defenders to play good hockey," Paul said. "The expectation for everyone on the field is the same. We want them to put forth their best effort, play with their hearts and play with their heads."
As old faces lend a steady hand throughout the year, BU will also unveil a promising freshman class. Led by fullback Allie Renzi, these new Terriers will have the chance to step in and take some of the minutes vacated by 2013's graduated seniors Madeleine Hackett, Ysi Schieb, Nell Burdis and Anne Fruitema.
"The incoming freshman class has a lot of character in it," Paul said. "There's a lot of talent there and a chance for them to contribute in their four years here.
"Allie Renzi has been playing every minute of every game so far as our right back, and she's done a great job. With the others injured, we haven't had the chance to see them perform in game action yet."
BU's biggest roadblock this season will once again prove to be American University, who ended the Terriers' season prematurely last year in the heartbreaking 3-0 Patriot League Tournament final defeat. The Eagles return four seniors, including midfielder Carly Atchison, an All-Patriot League Second Teamer who led the conference in assists with 11. American (1-1) also brings in an influx of new talent, with an incoming freshman class of 10.
Alongside concerns about conference opponents, the Terriers will also be wary of their non-conference schedule. BU will travel Friday to New Hampshire to face Stanford University. Just a week later, it will make the short trek across Commonwealth Avenue to face cross-town rival Boston College.
Early in the season, however, the Terriers have shown they have the capability to play up to the level of their opponents. In the season opener versus Northwestern University, BU played a top-tier Big Ten school right down to the wire, dropping a 3-2 decision in double overtime. The Terriers established themselves even further on Sunday with a 4-3 victory over Ohio University on the road.
"We go one game at a time," Paul said. "So we're only focused on Stanford, and we're not worrying about Boston College right now. We've just continued to do what we've done throughout the preseason, which is looking at our past performances and working out tactically and technically the things we need to do to win."