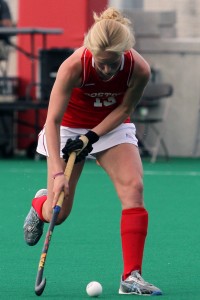 With two games already under its belt, the Boston University field hockey team has a lot to look forward to this season.
Despite splitting decisions, a tough double-overtime loss against Northwestern University on Friday at home and a hard-fought victory against Ohio University on the road Sunday have showcased a sense of toughness within the Terriers (1-1) so far this season.
During its tilt against the Wildcats (2-1), BU found itself down a goal twice in the contest before sophomore midfielder Hester van der Laan tied the game up on both occasions. The Terriers took the game to two overtime periods and created a handful of chances, but in the end, Northwestern came out with the win.
Against the Bobcats (0-2), the story was quite different. Down 3-2 with 15 minutes remaining, junior midfielder Sofi Laurito notched a pair of goals that helped spur the Terriers to the win in true comeback fashion.
Based on the team's performance this past weekend, BU coach Sally Starr had a lot to say of her squad's willingness to work hard on the field and continue to get better.
"They're a team that's very much about being a team and a family," Starr said. "They're really supporting each other, but they're also really pushing each other very hard on the field.
"It's a team that I just really feel has got better at every practice of preseason. We're making improvements in every competitive opportunity that we have, and I think it's a team that's just going to get better and better as the season progresses if they continue working as hard as they're working and being as supportive of each other as they are."
Young leadership propels team
Last season, BU relied heavily on its underclassmen to power its offense, and this year, the theme has persisted.
With just two seniors on the roster and only one playing as a starter in goalkeeper Valentina Cerda Eimbcke, it is up to the younger players to leave their mark on the scoreboard.
Of the six goals the Terriers have scored thus far, four have come from sophomores—van der Laan with two, while forwards Amanda Cassera and Sara Martineau each have one—with Laurito accounting for the other two scores. Junior fullback Rachel Coll also has the team's only assist so far this season.
With so much responsibility placed on underclassmen, there have been many opportunities for other players to step up and take on leadership roles — something Starr has noticed is quite prominent among this year's team.
"What really jumped out about this team was their ability to find a way to win [against Ohio], and they actually played their best hockey in their last 15 minutes without a senior on the field," Starr said. "That really speaks volumes about the leadership that we have. It's young leadership, but it's very good leadership.
"Everybody stepped forward to find a way to win that game, and I'm really proud of that type of mindset."
The return of Kerrin Sperry
While many thought they had seen the last of Kerrin Sperry in a Terrier uniform when she graduated last spring, the former women's ice hockey goaltender is once again donning the scarlet and white. The grad student and North Reading native has joined Starr's ranks as a forward for the field hockey team.
"Last winter she came and saw us and said, 'Hey, I'm going to be at BU for a fifth year. I played field hockey in prep school and I loved it, and I would love the opportunity to play my fifth year here.' So what I told her was to take two weeks off at the end of the ice hockey season last year and then come and see us, and she did that," Starr said.
Sperry has not seen much playing time in the first games of the season, but Starr noted that her commitment to improving as a player and her experience as an athlete have been incredibly valuable to the team.
"She's someone who's getting better and better," Starr said. "We gave her kind of a tryout during the spring to see how she could do.… She brings a lot of intangibles to the team, incredible work ethic, that senior leadership and maturity, and she's someone that's going to get better each week as well and see more playing time as she continues to develop as a player."