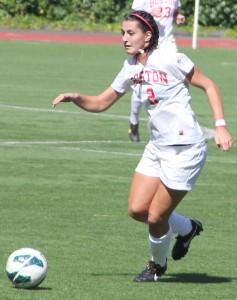 The Boston University women's soccer team returns north after a pair of consecutive non-conference matchups in Columbia, South Carolina. The trip brought mixed results after it began with a 1-0 loss in double overtime to No. 9 University of South Carolina Friday and ended with a 1-0 win over the College of Charleston Sunday.
"I wouldn't say that I was completely satisfied with our performance [against Charleston], but I was satisfied with our effort and our grittiness," said BU coach Nancy Feldman. "So far that looks to be a strong quality of this team. We still have to learn to be better with possession and more purposeful in attack."
After starting the 2014 campaign with two wins, the Terriers (3-1) are hoping to compile another winning streak after a disruption by the Gamecocks (4-0) in the first stretch of the season.
"You have to play the best competition because it brings out the best in you," Feldman said. "That's what was important about this trip, that we played a strong SEC team and a ranked team. I think we showed a lot of resilience in that game."
The result was the second straight time the two teams have gone into double overtime, after tying 0-0 at Nickerson Field on Aug. 30, 2013 despite two extra periods.
Junior pair leading charge on offense
Following a season in which the Terriers were led by the efforts of their senior class, Feldman is vetting her team for new leadership. Regarding offense, she may not need to look further than the junior pairing of forward Jenna Fisher and midfielder Rachel Blauner.
Fisher and Blauner lead the Terriers in points with four and three, respectively. While they sit together at the top of BU's stats charts, their current paths towards a featured spot on the BU roster took very separate avenues. Both Fisher and Blauner came onto the scene as freshmen, making key appearances off the bench. Then Blauner, who quickly achieved a starting role at the start of her sophomore season, suffered a season-ending injury after just two games.
Fisher, however, stepped into a valuable role for the Terriers for her entire sophomore year, primarily as a bench player, but also starting in seven games. The Longmeadow native finished the campaign with two goals and three assists, as well as contributing key minutes during BU's postseason run.
"Day in and day out, no one outworks Jenna Fisher," Feldman said. "We're starting to see that quality in Rachel [Blauner] on a consistent basis."
The veteran pair is finally together again – both permanent starters – and both making their mark in key situations: Fisher, with the late game winner in the 2014 season opener against La Salle University, and Blauner with the lone goal against the Cougars (2-2).
"They're both standard setters in the way they go about training," Feldman said. "They're going to take their games to another level because of the work they put in."
As much as Feldman appreciates the hard work of her juniors, she said the seniors are always the first players she looks toward for leadership.
"I always look at our seniors to be core players," Feldman said, referring to seniors such as forwards Taylor Krebs and Ana Cuffia, midfielders Jamie Turchi and Katherine Lim, and defender Kai Miller, among others. "That group should have the most experience. Those are the players that need to step up for the seniors that left. And they are. It doesn't happen overnight. Yes, Jenna and Rachel [are leaders], but I expect our more mature players to be our core players."