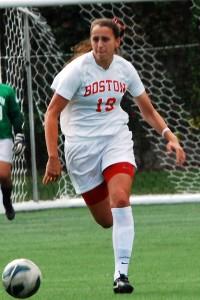 A successful start to the 2014 season has the Boston University women's soccer team in good position going into its road match with Providence College Thursday.
The Terriers (3-1) boast wins over La Salle University, the College of Charleston and Boston College, with their only loss at this point coming at the hands of No. 9 University of South Carolina in a 1-0 double-overtime thriller.
The Friars (1-1-2) enter their matchup against the Terriers on an upward trend, having won their most recent tilt against the University of Massachusetts-Amherst, 2-1, in an overtime match. Before its first victory of the season, Providence struggled but showed signs of improvement when it took Northeastern University to double overtime for its second tie of the season on Aug. 28.
"They're a very physical team, and they're very good aerially," said BU coach Nancy Feldman. "They play very direct, so they don't get in a lot of trouble with overpossessing in their half. They really press forward and put the pressure on your team by playing in the opponent's half of the field. They're a much different team than someone like South Carolina."
With an upperclassmen-heavy roster, the Friars have the potential to improve upon their 6-9-3 mark from last season. Fifteen of Providence's 26 active players are upperclassmen, and 12 of those 15 are part of the junior class.
Leading the charge amongst this talented group is forward Catherine Zimmerman, who has paced the Friars' offense thus far. Hailing from Madison, New Jersey, Zimmerman leads the Friars in both attempted shots with 20 and goals with two.
"Zimmerman is a very good attacker, and she's probably going to take 75 percent of their shots," Feldman said. "We have to make sure she doesn't get a lot of looks on goal."
In the backfield, the Friars are anchored by sophomore Hannah Wear and junior Allison Mills. As a freshman, Wear made 18 appearances for Providence, including 16 starts. The South Salem, New York, native has started all four games for the Friars this year. Mills started all 15 games in which she appeared last season, playing a big role in a defense that put up four shutouts.
"They don't put themselves in the position to lose the ball in bad areas," Feldman said. "They're tough defensively, and they're very aggressive. That combination leads to the other team getting few chances in attack."
Defensively, the Terriers have been led all season by senior defender Kai Miller. Miller has been central to BU's success at limiting opponents to a .081 shot percentage. Miller was named the Corvias Patriot League Defensive Player of the Week Tuesday after BU allowed just one goal against the Gamecocks (4-0) and Cougars (2-2).
"It's just the way she attacks the game," Feldman said. "She's incredibly competitive. She's strong. She has great brains and anticipates things really well. She's also calm in the moment. She never puts herself out of position by being overaggressive. She's a very steady defender and a great leader at the back."
The Carpinteria, California, native started all 23 games as a junior last season, contributing to a backfield that shutout a program-record 16 teams. For her efforts, Miller received All-Patriot League First Team honors.
"Kai's been a standout player since she arrived on campus," Feldman said. "She's one of our most experienced players and one of our most experienced defenders. Kai has a lot of pride, and her pride is in her defending. We're very lucky to have her this year, and we've been lucky to have her for the past three years."
With Miller keeping watch on Zimmerman, the Terriers will have a chance to limit the Friars' attack and take chances on the offensive end. However, with drastically different systems between the two teams, Feldman will rely on BU's game plan as a whole to give them the true advantage.
"We've got to be able to deal with their direct play, and we got to be able to deal with their aerial game," Feldman said. "Our plan is to manage and neutralize their attacking style. Then we just have to keep the ball down on the ground and open the field up, and play a little bit more of our side-to-side style. So we have very different styles, and in order to win the game, we have to execute our style."