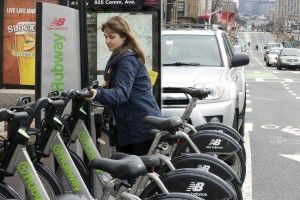 Hubway, Boston's city-wide bike rental service, will soon be simplifying how the company displays usage costs on its website in an effort to make the system easier for users to understand.
"We're replacing the lengthy usage fee list on our website here with a simpler, easier-to-read and understand image," said Benjy Kantor, marketing manager of Alta Bicycle Share, Inc., the operator of Hubway.
Instead of listing the total cost of every possible trip, Kantor said, the new graphic will only display the additional usage fees for rides over 30 minutes: $2 for trips that are 31 to 60 minutes in length; $4 for the next 30 minutes; and $8 for every additional 30 minutes.
Using a Hubway bike requires a membership, which can be purchased for one year, one month, 72 hours or 24 hours. Additional charges are incurred for rides within 24- and 72-hour windows, depending on their duration.
The graphic is not yet completed, and a date has not yet been determined for its release, Kantor said.
Susan Fournier, a School of Management professor of marketing, commended Hubway for its efforts to improve how it communicates its prices to customers.
"This sounds like through research – or maybe it's even anecdotal – they've learned that people don't understand the gives and the gets in the relationship, and they need to try a new way of stating them to clarify," she said. "I think that's great."
Fournier said that in all commercial endeavors, it is important for businesses to convey their message to customers in clear and easy terms.
"When you launch a product, if it's confusing and your value proposition isn't being communicated, and people either don't use the service in the first place or they use it and then they feel misled and they don't understand why they're getting charged, those are all really high barriers to the success of the brand," she said.
Even in a niche market such as bicycle rental, nuisances such as an unclear price model can turn away some customers who might otherwise be interested, Fournier said.
"Pricing is always a deterrent," she said. "I appreciate that some people are into this, and they even have values that say, 'I'm saving the planet and this is better for the world.' But we're all not limitless in our economics."
For this reason, Fournier said Hubway's streamlined usage cost chart will help increase ridership and better coincide with the company's image of convenience.
"Ease and simplicity definitely seem to fit with the nature of this product. You want to pick up a bike, you want to drop it off," she said. "Even if it's just a pricing thing that feels a little complicated, on the surface that sounds so easy – it's going to take five minutes – but it's still an extra something in your day. And therefore it's against the essential promise of simplicity."
Citi Bike, New York City's bicycle rental system, unveiled similar changes, though it is too early to tell if it has affected membership, said Dani Simons, director of marketing and external affairs for NYC Bicycle Share, Citi Bike's operator.
"We redid the information panel on the front of our station kiosks to make them easier to understand for all users, especially those unfamiliar with bike share and non-native or non-English speakers," Simons said. "We hope at the very least it will make the experience of renting a Citi Bike a little easier and more intuitive."
Companies such as Hubway and Citi Bike face some challenges, as bike sharing is still a new concept in the United States, she said.
"It's been around for less than four years in the U.S. in this form," Simons said. "Anything we can do to make the pricing and how to use the system easier to understand is important, and then that information spreads by word of mouth and observation over time."
Dexter George, 44, of Roxbury, said Hubway appeals to him as a means of transportation rather than leisure, though he believes the pricing system is something of a hassle.
"It's confusing. They need to simplify it or have something like a flat rate," George said. "If you're not paying attention, they're getting away with it."
Joey Harrell, 22, of Fenway, only recently moved into Boston and he said he is considering using Hubway until he is able to purchase a bicycle. He said the pricing system was confusing, and many Hubway users likely do not use the bikes for more than 30 minutes at a time.
"That's kind of touristy if you were to take a two-hour bike ride. That's a lot of biking," he said. "If you're keeping track of your time, you can just take breaks every 30 minutes."