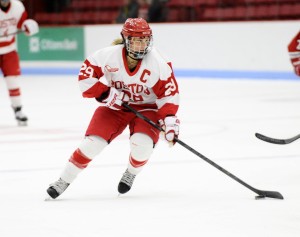 6 – Cedric Hankerson, Men's basketball sophomore guard – With the departure of dynamic players such as D.J. Irving and Maurice Watson Jr., the Boston University men's basketball team will have to rely on a group of younger guards to carry the scoring load this season. While he only averaged 14.6 minutes per game last season, sophomore guard Cedric Hankerson looks to be a potential breakout player for the Terriers in 2014-15. The Miami native—who opted to join the Terriers over scholarship offers from Virginia Tech University and Oklahoma State University—was named to the Patriot League All-Rookie Team after ranking fifth on the team with 6.0 points per game while shooting 38.8 percent from beyond the arc. Now due for a big boost in minutes, Hankerson should be an exciting presence in the Terrier backcourt in 2014-15.
 5 – Jill Horka – Women's lacrosse junior midfielder – The Boston University women's lacrosse team made a big impression in its first foray in the Patriot League, advancing all the way to the conference title game in 2014. Horka was a key factor in BU's promising campaign last season, leading the team in goals (29), draw controls (46) and caused turnovers (24). For her efforts, the Westborough native was named to both the All-Patriot League First Team and the Patriot League All-Conference team.
4 – Erica Kosienski – Women's soccer sophomore forward – Kosienski was the definition of a super-sub last season for the Terriers, leading the team in goals (eight) despite not starting in any of the team's 23 matches. Kosienski consistently rose to the occasion in clutch situations out on the pitch, notching a team-high seven game-winning scores. Kosienski—the reigning Patriot League Rookie of the Year—will once again be the catalyst on offense this season for a Terrier squad that was favored to repeat as Patriot League conference champions in a National Soccer Coaches Association of America preseason poll.
3 – Melanie Russell – Softball junior pitcher – The Boston University softball team might have lost pitcher Whitney Tuthill to graduation last year, but that did not mean the team was short on dominant pitching in 2014. Russell headed a strong Terriers' pitching staff that guided the team into the Women's College World Series. In her first year after transferring from the University of California-Davis, Russell pitched to the tune of a 13-5 record and a team-best 2.11 ERA, which earned her All-Patriot League First Team honors. She permanently etched her name into the BU history books when she threw the program's eighth-ever perfect game against Bucknell University on May 3. The Terriers should expect more of the same in 2015 from the staff's ace.
2- Jack Eichel – Men's hockey freshman forward – The numbers and accolades speak for themselves when it comes to incoming freshman Jack Eichel—one of BU's most heralded recruits in the program's long history. Last season with the United States National Under-18 Team, Eichel recorded 87 points (38 goals, 49 assists) in 53 games— the fourth-highest total in team history. Possessing a devastating mix of speed, playmaking ability and an accurate shot, Eichel is currently slated to be one of the top two picks in the 2015 NHL Draft. While stardom looks to be on the horizon for Eichel, the 17-year-old's focus this year will be to provide a big boost on offense for a BU squad looking to rebound from a disappointing 10-21-4 showing last season.
1- Marie-Philip Poulin – Women's hockey senior forward – One of the world's best hockey players will return from a season hiatus to once again take the ice at Walter Brown Arena. Poulin earned her second gold medal at the 2014 Winter Olympics in Sochi, Russia, giving Team Canada the overtime victory with game-tying and game-winning goals. Her BU career has been nearly as stellar—Poulin owns the single-season record for assists (36), is tied for second with linemate Sarah Lefort in points in a season (55) and second in career assists (73), just two behind former Terrier Melissa Andersen for the lead. BU women's hockey won the Hockey East and made the NCAA Tournament without Poulin last season. With several top players returning, Poulin is one of the final pieces in the puzzle for absolute dominance in collegiate women's hockey.