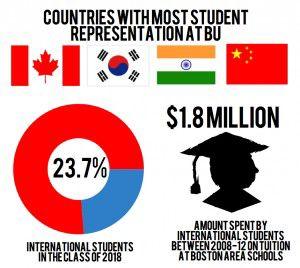 With a record-breaking number of international students housed on Boston University's campus for the 2014-15 academic year, the incoming freshman class includes 900 international students, amounting to about 23 percent of the Class of 2018 and representing 72 countries.
International undergraduates currently enrolled at BU represent a fraction of those in the Greater Boston area, recently named the third-most popular college destination for international students in an Aug. 29 report by the Brookings Institution.
"The value of our students' education is enhanced and broadened from interacting and learning with people from different backgrounds, through exposure to diverse perspectives and cultures and in sharing learning and social environments with people who come from around the world," said BU spokesman Colin Riley.
Higher education is one of Boston's largest exports, trailing only New York and Los Angeles, according to the report. Between 2008 and 2012, international students spent $1.8 billion on college tuition at schools in the Boston area.
The Class of 2018 had about 3 percent more students enroll as an international student than the Class of 2017, which had about 20.6 percent, according to statistics by BU's Undergraduate Admissions Office.
Vice President and Associate Provost for Global Programs Willis Wang presided as chair of the ad hoc Committee on International Student Experiences and Institutional Impact, which in June submitted a set of recommendations to BU's university provost on how to better serve BU's international student body.
"We can do more in terms of helping undergraduate students in particular, but all students – especially those where English may not be their first language – helping them understand even before they get here how different an American classroom could be, from classroom participation expectation, to group team efforts, to just the different dynamic that one can't fully appreciate unless you've actually been here," Wang said.
The committee's plan also encouraged BU faculty and administration to facilitate heightened engagement between domestic and international students, as well as to provide more support for faculty members in addressing the needs of international students, Wang said.
"It's pretty tough for many students. If you're young and you're from another country, first time going overseas, you come here, you have no family, no connections," he said. "We can do more to provide that social network that can support certain students."
Both the city of Boston and BU generate significant profits from the influx of international students in the Greater Boston area, said Michael Manove, a professor of economics at BU.
"International students pay full tuition – they do not receive aid – so they benefit the university financially," he said in an email. "Naturally, they end up spending money in the city."
The city of Boston may also be rising in popularity among international students through word of mouth, Manove said.
"After these students graduate, it seems likely that many go home and say positive things about Boston University and the city of Boston," he said.
Manove said he consistently enjoys having international students in his classes and that regardless of their motivation to study in Boston, he is glad they continue to choose to move to the city.
"From my experience teaching EC 101 [Introductory Microeconomic Analysis], I have the impression that the average international student in economics is more capable and more studious than the average American student," he said. "This may be because international students face more competition when they apply for admission – only very good ones get in."
As BU's international student population continues to grow, the university is working to overcome several challenges they are beginning to face, said John Hall, College of Communication professor and assistant director of the COM Writing Center.
"What we are finding is that the mission of our Writing Center is changing," he said. "For the most part, we are oriented towards native English speakers. Upwards of three-quarters of our visits have been with non-native English speakers in the last year. It means that you are operating in different ways than perhaps you originally conceived."
Hall said he recently hired two native Chinese-speaking tutors to assist the large population of Chinese students who frequent the writing center.
"They [international students] do learn from the Writing Center, but it's a slow process," he said. "The undergrads learn pretty quickly in terms of learning English, but it still takes a lot of effort on their part. They have to come in many times, maybe more than we even allow."
Yushan Liu, a first-year COM graduate student from China, said acclimating to the demands of her coursework in the United States has been manageable, but not without its challenges.
"I'm quite clear about where I can seek help, and the professors are very helpful in terms of academics," she said. "They give me quite a lot of advice, and I know I can talk with them more about classes."
However, Liu said, BU could improve the resources it offers international students for aspects of college life other than academics.
"It takes some time to get used to all the facilities here, and there's no explicit guidance out there for us, only a website," she said. "The [international student] orientation is more about academic things."
CAS freshman Xinyu Chen said though it has been difficult to commute to her classes, her prospects for employment in Boston and the quality of academics BU offers make her decision to study in the United States worthwhile.
"The United States can provide us with better educational opportunities than China, my hometown," she said. "If possible, I want to stay here. The salary is much higher than in China, and there are more job opportunities."