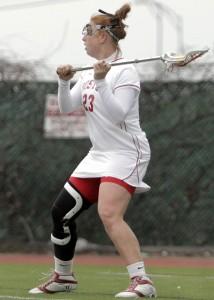 The Boston University women's lacrosse team will have plenty of reinforcements on hand for its second foray into the Patriot League conference, as the Terriers announced their Class of 2018 Thursday.
Nine players — hailing from seven different states — will join a BU roster that already features 21 letter winners from last year's squad. The new class is comprised of five midfielders, two attacks, one defender and one goalkeeper.
Midfielder Sarah Andersen will be a valuable addition to the team, as the Coronado, California, native is also able to take on the role of defender out on the field if needed. During her senior season at Coronado High School, Anderson garnered both U.S. Lacrosse Academic All-American and U.S. Lacrosse All-America Honorable Mention accolades.
Midfielder Alexa Cambi left quite the legacy at Longmeadow High School, leading her team to the Massachusetts state championship game during both her junior and senior seasons. During those two years, Cambi was twice named as a U.S. Lacrosse All-American. In an interesting case of foreshadowing, Cambi's last game of her high school career was at Nickerson Field — the home of the Terriers.
The Terriers will gain another versatile player in midfielder Caroline English, who can also play attack. English recorded 100 goals over her last two seasons at Fallston High School in Fallston, Maryland. During her senior year, English, Fallston's second-leading scorer, helped lead her team to the state title game while also earning the title of U.S. Lacrosse Academic All-American.
Tabbed as "a player to watch" in the New England Lacrosse Journal as a junior and senior at Cohasset High School, midfielder Maddie Curley was named to Gatehouse Media's "Super Team" during her final high school season after receiving the nod as a South Shore League All-Star.
Rounding out BU's list of new midfielders is Madison Learned, who earned Offensive Player of the Year and First Team All-State accolades during her senior campaign at Souhegan High School. During the 2013 season, the Amherst, New Hampshire, product was named to the New Hampshire/Vermont state team.
One of Learned's teammates at Souhegan High School — attack Mickenzie Larivee — will also join the Terriers this season. Larivee, who earned team MVP honors last season with Souhegan, collected First Team All-State honors during all four years of her high school career.
Hailing from Alexandria, Virginia, attack Avery Donahue helped lead St. Stephens and St. Agnes School to the Independent School League's AA Division championship four years in a row while also winning three-straight state titles. Donahue was also named an Under Armour All-American during her junior campaign.
The lone defender in the Class of 2018 is Maria Guerra, who was a four-year varsity starter at Hatboro Horsham High School, serving as a captain during her junior and senior seasons. During her final high school campaign, the Philadelphia native helped her team post an undefeated record in team play.
Goalkeeper Christine Laible joins BU after a successful tenure at West Essex Regional High School. During her junior and senior seasons, the Roseland, New Jersey, native earned Second Team All-Conference and All-League honors.
Armed with an impressive new group of players and a strong set of veterans, the Terriers will look to build off of a strong 2014 season that saw BU advance all the way to the Patriot League title game before falling to Loyola University-Maryland, 18-7.