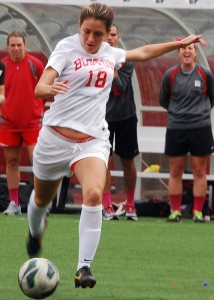 A late set piece goal from senior midfielder Jamie Turchi proved to be the difference maker in the Boston University women's soccer team's thrilling 2–1 road win over Providence College Thursday night.
"Certainly being able to score goals and come back in games, we have to have a belief that we can do it," said BU coach Nancy Feldman. "When you do it, it reaffirms the belief that we can do it. So that's a good thing. That [belief] is a personality trait of this team that is showing itself in the beginning of the season, and we hope it continues because it's not a bad trait to have."
The first half of play saw a multitude of chances for the Terriers (4-1), who outshot the Friars (1-2-2) 6–3, but the team could not find the back of the net. Although Providence put up three shots, none of them reached senior goalkeeper Alyssa Parisi.
Senior forward Ana Cuffia finally broke through in the 54th minute off of a corner kick opportunity. Her original service was deflected by the Friar defense, but the senior was able to collect the rebound and send it past goalkeeper Kristyn Shea for her second score of the season.
"Ana Cuffia certainly played with an edge," Feldman said. "That's what we've practiced on corners, when it's partially cleared how to create a re-serve, and she got herself in a good position for that."
Despite gaining an advantage on the scoreboard, Feldman's squad kept up the pressure on the Friars. Freshman forward Christina Wakefield was subbed into the game immediately after Cuffia's goal, and BU continued to earn scoring opportunities in an attempt to build onto the slim lead.
However, the Friars would earn an equalizer just 10 minutes later when senior defender Kai Miller gave up a hard foul in the penalty box on Friar forward Courtney Maguire, resulting in both a yellow card on Miller and a penalty kick that was then converted by forward Catherine Zimmerman.
BU refused to lose its composure, quickly getting two good looks at goal from junior forward Jenna Fisher and senior forward Taylor Krebs as well as a corner kick. Finally, in the 89th minute of play, Cuffia once again proved vital off a set piece, connecting with Turchi on a corner kick, putting the visitors up 2-1.
Feldman praised the play of Cuffia and the way she was able to come out of her comfort zone to help her team succeed.
"In addition to the fact that she put in two good services, and even a couple more, she played with an edge tonight," Feldman said. "When Ana, who is a very talented player, when she has that little bit of edge and gets a little bit out of her comfort zone, she is a very effective player, and she, for the most part, has brought that. She wasn't playing with that edge a little bit last weekend, but we talked about it, and to her credit, she refocused. It's really a sliver of a difference, but it's a world of difference."
Things got tense in the final minute of play, but Parisi made her only save of the game to ensure the victory for the Terriers. Although Feldman was happy with the way her team performed under pressure, she said that there is still room for improvement as the season progresses.
"They trust themselves, and they trust each other," Feldman said. "We weren't perfect. There's a lot of work to do. I would say we're not as composed as we could be or as good as we need to be to be a championship team. I think we're going in the right direction, but we are going to need to be even more composed than we were tonight. But it's a process, and we're getting better at it, and there's still lots of improvement in that area.
"What I like about this team is if we make a mistake, they dig in and try to correct it. They try and move on. I just want us to try and get better and be able to be composed under pressure and know when it's time to clear. That's still a work in progress."