When people passed by the new Nelson Mandela mural on the corner of Clifford and Warren streets in Roxbury and realized it was "Kwest" and "Deme5" who painted it, the two local artists suddenly became two hometown celebrities.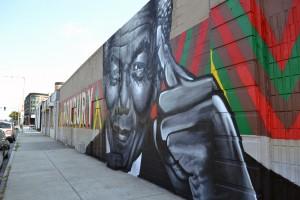 With five straight days to work and a couple dozen cans of paint, Thomas "Kwest" Burns, 41, and Ricardo "Deme5" Gomez, 39, set out to create something revolutionary for Roxbury. And after applying their final touches on Thursday, it seems they accomplished just that.
During the 45 minutes I spent talking to Burns and Gomez in front of their mural Saturday, dozens of locals stopped in their tracks to thank the two artists for what they created. While some simply nodded their heads in gratitude, others pulled out their phones to take pictures or even stopped their cars to get out and shake their hands.
Among all the praise and attention, Burns and Gomez, Boston area natives, were humbled by the magnitude of what they were able to create for their community on the once decrepit-looking abandoned storefront.
"A.R.T.I.S.T.: A Revolutionary Tool Inspired by Superior Talent," Burns said after an elderly woman threw her hands up at the mural, ecstatic at the sight of Mandela. "We're inspired by everything here…the old, the mad, the happy, the sad, the decrepit…we hope this mural inspires them right back."
As two homegrown artists, Burns and Gomez both paint so they can make money, feed their families and then paint some more. The two artists would not have been able to showcase their talent on such a wide scale – a 100-foot by 15-foot scale, to be exact – had it not been for a new arts initiative created by the City of Boston and the Boston Art Commission.
Pop Up! Dudley Connections is a new, month-long project that encourages the implementation of creative art pieces around Dudley Square, said Karen Goodfellow, director of the Boston Arts Commission.
According to the Boston Arts Commission's website, the project is meant to bring people and their communities together through art while celebrating the culture and personality of the city. Simply, this project is meant to inspire people and make them feel good – just as Mandela, the first black South African president, did before he passed at age 95 in December 2013.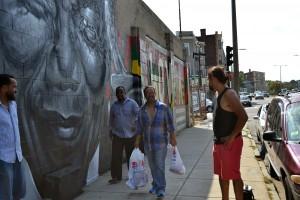 Gomez, who created the image, said he wanted to "show Mandela some love" because he "showed Roxbury some love" when he visited Boston in 1990 shortly after he was released from jail for his involvement in the apartheid. Centering the mural on Mandela was also an easy choice, Gomez said, not just because of the positivity he represents, but because of the positivity his symbol is able to invoke in those around him.
"He's sending a message with his finger on his forehead: 'let's be smart,'" Gomez said, mimicking the icon and placing his own finger on his forehead. "He dealt with all these hardships in his life, so he knows what he's talking about."
In a neighborhood plagued with hardships and over represented in the media's crime logs, Roxbury has more to it than what people from the outside know, Burns said. In creating this mural, the artists hoped to remind people of the talent and passion that modestly exists all over the town.
"You only hear about the crime and the shootings in [Roxbury]," Burns said as he passionately increased his voice. "There's so much more than the shootings…There's music! There's food! There's people! There's art! Did I say the music and food?"
Gomez and Burns, both fathers of two, said the reputation their neighborhood gets is unfair and hyped up by the media. As someone who covers a lot of crime in the area, it was an uncomfortable, yet necessary reality check for me to see how frustrated these two artists were about the negative coverage the city gets.
"Look, the crimes happen," Burns said, slipping past my defense.
"But it's not the only thing that happens!" Gomez interrupted, pointing back toward the mural. "Just look at what people here can create…and it's not just here. It's all over the neighborhood."
Later on, I jumped in the car with Burns and his other friend, and they drove me to Bartlett Yard, site of the former Massachusetts Bay Transportation Authority station Bartlett Bus Yard, where graffiti artists from all over the world flew in to color on the walls last year. Although Gomez was only given a small spot to work with after the international artists were given precedent on the space, his image of an Orange Line train flying off the wall still managed to catch all the attention on the wall muddled with graffiti.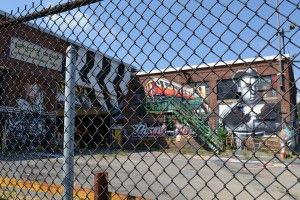 It's funny what you can find only 10 minutes away from Boston University's campus.
"So, what's your next project?" I asked.
Without skipping a beat, Burns laughed, "Ummm… paint the moon?"