To me, "Swing Time" is one of those places in Boston that makes me forget I'm in a bustling city.
To the Massachusetts Convention Center Authority, "Swing Time," a project opened in the beginning of September, is an innovative project intended to help transform the Seaport District into a technological hub through real estate and architecture.
To Kaya, the artists' 3-year-old daughter, the project is simply dubbed "Mommy's and Daddy's swings."
In the temporary park space adjacent to the Boston Convention and Exhibition Center, 20 illuminated swings float out of tandem with each other at the end of D Street. The seemingly simple and graceful design, created by husband-and-wife team Eric Höweler and Meejin Yoon, of Höweler and Yoon Architecture, is representative of the simple and graceful motivation behind it — a responsive art piece that would entice people to take a pause from their day and interact with others.
"As adults, we sometimes forget how to play, and we forget that we are supposed to play," Höweler said while gently rocking back and forth on one of his swings and trying to hold his squirming daughter still at the same time. "We think that play is delegated to the playground, which is unfortunate because you want playfulness to be all over the place."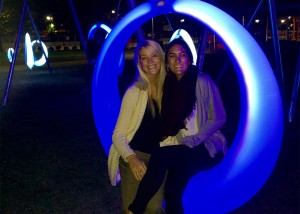 When I visited the project site last week, there was Kaya, floating on her stomach on one swing, pushing herself with her tiny legs like it was a tire hoisted up with rope in someone's backyard. Another swing held a couple with their legs entangled, on another swung my friend Bonnie, and next to her, a Harvard graduate student. Such is a testament to how these sophisticated "social machines" attract a diverse group of people.
In an attempt to re-brand the Seaport District into the "Innovation District," the MCCA commissioned this project to play up the "tech-y" and "geeky" side of Boston by attracting technology companies to the area. Höweler said these swings create a sort of "microcosm" of the worldwide trend of everyday things getting smarter.
"You see smart phones, smart roads, smart grids," Höweler said. "Environments are getting smarter, and this is a basic manifestation that…seems to be the future of architecture and things."
But, if anything, it seems Höweler and Yoon just created a modern day playground consisting of futuristic tire swings.
The 20 floating swings create an interesting disconnect between expectation and reality, in which people don't think something delicately swirling with color will be able to support their weight. This effortless-looking façade, however, took a lot of effort to actually execute, Höweler said.
Swing Time (2014) – long from HYA on Vimeo.
LED lights within the swing are controlled by a custom-made micro-controller, which indicates the swing's activity level, Höweler said. When the swings are stationary, they emit a soft white hue, reminiscent of an angel's halo just floating a few inches from the ground. As the swing starts to gently move, it becomes varying shades of purple and blue, and the faster it swings, the deeper pink it becomes.
"With the change of color, people are rewarded with some interactivity," Höweler said, as my friend Bonnie desperately shook her swing in the background to get it to turn a deeper shade of pink. "It's a mechanism for getting people to respond to social activities."
Some could argue that the futuristic look of "Swing Time" challenges Boston's authenticity because, after all, the beauty of the city exists in its old buildings and traditional landscapes. But as someone who is typically against such gentrification, I found that "Swing Time" actually accentuates one of my favorite parts of Boston — and that's its sense of simplicity and serenity.
I know that "simple" and "serene" are strange words used to describe Boston considering its urban setting, but there are a lot of places in this city that make people — or me, at least ' stop for a minute, close their eyes and appreciate where they are and how lucky they are to be there.
For me, and many others, I assume, Kaya's Mommy's and Daddy's swings are one of those places.