[rawr]
[/rawr]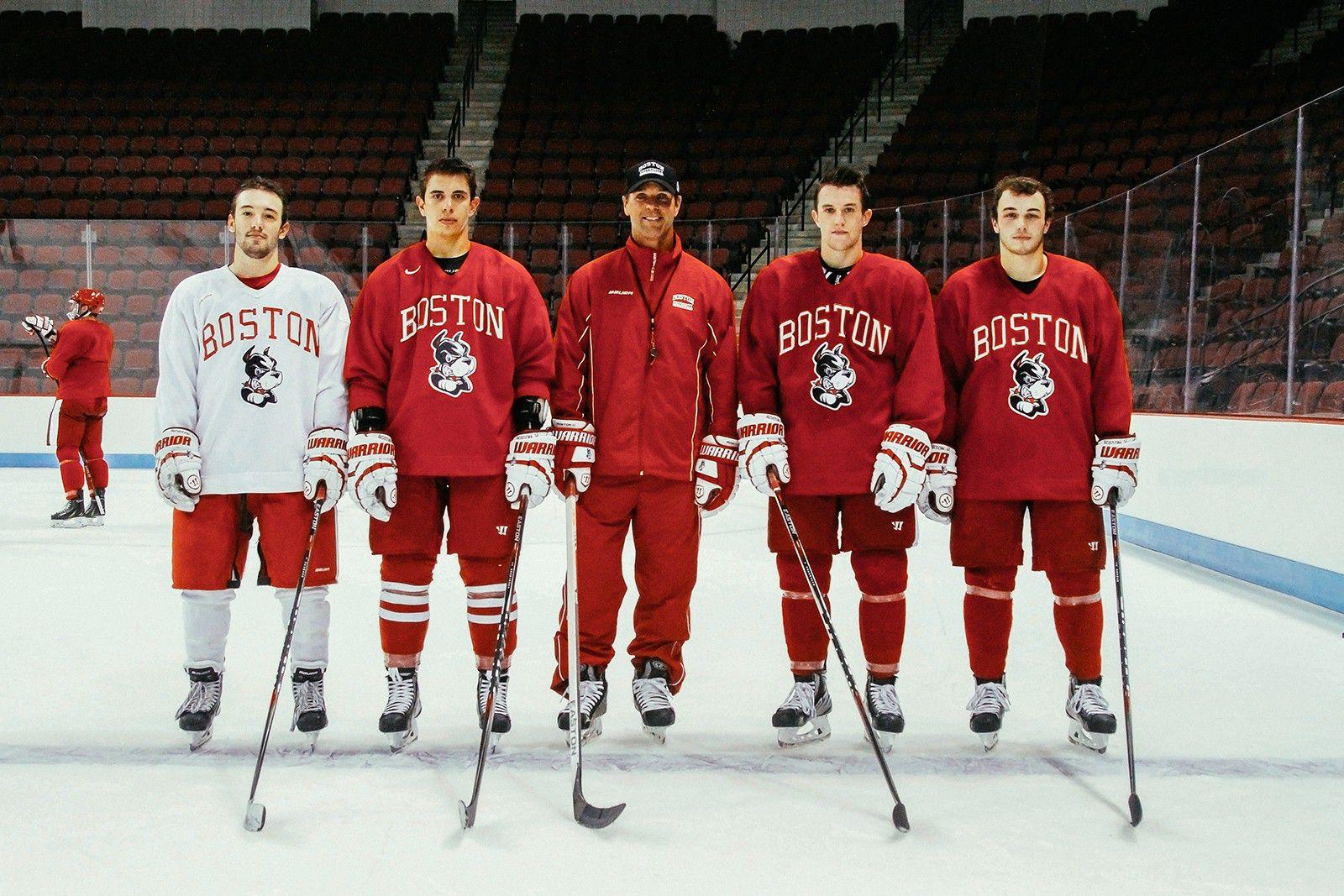 At the conclusion of a 10-win season and a first-round exit from the Hockey East Tournament, the 2013-14 Boston University men's hockey team was displeased. Words like "demoralized," "crushed," "frustrating," "disappointing" and "deflated" were thrown around by coaching staff and players as the season faded out. To put it succinctly: Very little went right for the Terriers last year.
"Obviously, anytime you go through the year we had last year, nobody wants to go through that again," said BU head coach David Quinn. "But especially at a place like BU, when our standards are so high, and with expectation levels so high. One of the things the captains did is when the season ended, they came up to me, and we talked about, you know, maybe more slogans and a purpose."
Thus, the offseason mantra "Never Again" was born.
"They certainly have shown that they mean business," Quinn said of his team. "They're not just saying it. It's not just some silly slogan. The way they've approached the off-ice conditioning, the way they've approached their skates in the few times we've been able to be on the ice with them, just their approach to everything related to hockey and to what is going to allow us to become better, is a great example of what we're talking about.
"Their work ethic, their enthusiasm throughout the summer, leading up to this…certainly you get the sense that they understand what it's gonna take to never have to have something like [last season] happen again."
Headed into a 2014-15 schedule that features prime matchups against national contenders and always-competitive Hockey East opponents, No. 20 BU needs all the motivation it can get.
"I could see why people would think it was kind of a negative connotation, but we talked about it with Coach," said junior captain Matt Grzelcyk. "We just felt that, especially implementing during the summer, when you're going out to a workout and you see 'Never Again,' it gives you a little extra motivation to push forward. It was obviously a tough feeling last year, so you never want to feel that feeling again. It just kind of left a sour taste in our mouth, and hopefully we use it as motivation towards getting some wins this year."
At times last season, marred by injuries to key players, the Terriers played shorthanded, which Quinn said he believes was most detrimental to the team.
"We just didn't have enough bodies. Depth wasn't what we needed it to be. Certain games we played 17 skaters," he said. "All the stars aligned to have the type of season we had last year."
But depth should not be an issue this year. With Quinn now in his second season as head coach, BU returns 10 of its top 11 scorers from last season, including sophomore forward Robbie Baillargeon. Baillargeon had 27 points last season, which earned him a spot on the Hockey East All-Rookie Team. Junior forward Danny O'Regan will also return. He showed promise his freshman season, tallying a team-best of 38 points, but played the latter half of the 2013-14 year with an undisclosed injury from the World Junior Championships, holding his sophomore point total to 22.
Senior assistant captains Evan Rodrigues and Cason Hohmann will look to bounce back after down seasons. From their sophomore to junior seasons, Rodrigues had a 20-point drop while Hohmann saw a 15-point decline.
On defense, BU brings back a healthy Grzelcyk, who dislocated his shoulder during a practice in early January. Junior Ahti Oksanen has played all of his regular-season games at BU as a defenseman, but will likely see most of his playing time at forward this year. In a preseason matchup against St. Thomas on Saturday, playing left wing, Oksanen netted four goals for the Terriers in their 12-1 thrashing of the Tommies.
After platooning with Sean Maguire for his first two seasons, junior goaltender Matt O'Connor will likely fully control the net this year. Maguire is not on the roster this season due to medical reasons, leaving O'Connor as the only player with extended collegiate experience in net. Graduate student Anthony Moccia and freshman Connor LaCouvee will back up O'Connor, who finished last season with a 2.89 goals-against average and .920 save percentage in 22 appearances.
But the focus leading into this year, primarily, has been on BU's highly touted freshman class. Projected top-two NHL draft pick, forward Jack Eichel, stands in the spotlight, with other solid recruits including forward A.J. Greer, forward J.J. Piccinich, defenseman John MacLeod, defenseman Brandon Fortunato and forward Chase Phelps, who are also expected to be major contributors.
It's a class that has received plenty of media attention — particularly Eichel, who has been featured in SBNation, The New York Times and USA Today, among others. College Hockey News and Over The Boards deem the 10-man freshman class the best recruit group in all of college hockey this season — quite a bit of pressure for a young group, especially considering two of them, Eichel and Greer, have yet to turn 18.
But their coach is not too worried about pressure.
"It's BU. Having a great class is nothing new to us," Quinn said. "The timing of it after the season we had last year, maybe puts a little more of a spotlight on the class, but we've always had great classes here. This is nothing new to BU hockey."
Associate head coach Steve Greeley also noted the Terriers have a great sense of poise despite their youth.
"I like our maturity," Greeley said. "For a young team, we've been mature so far. Our freshmen have done a good job of kind of adapting pretty quickly. When we get into Hockey East play, it's a whole 'nother animal, but I think our upperclassmen have done a good job of making our freshmen feel like they're important players right away, and they are.
"I think, as a team, you hit 2014-15, it's a new season and we forget about last year pretty quick. [Saturday] night, we played 10 freshmen, and they weren't here for [last season]. It's on, we're looking up, and I think that's kind of how we feel about the program right now."