[rawr]
[/rawr]
One look at the jersey. That's all it took.
Staring at the scarlet and white mesh in the road locker room floods Shannon Doyle with memories: her first goal as a Terrier, collecting a seven-game point-streak, winning the Hockey East title for the first time and playing in the 2012-13 National Championship game.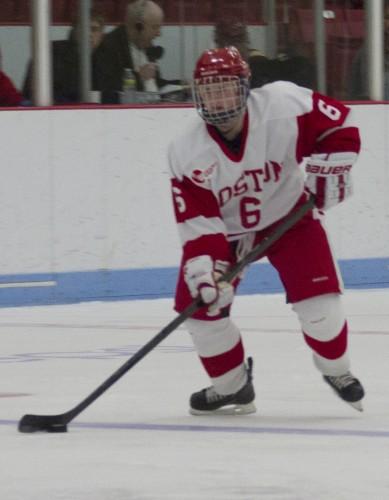 But most of all, missing her senior season.
This is a new year though, and Doyle knows it. She has worked too long and too hard to squander this chance. Her last chance.
Finally, she pulls the jersey over her head.
"You ready?" asks teammate Sarah Lefort.
Doyle responds with a nod as she grabs her stick and rises to her feet.
"Welcome back, buddy," Lefort says before she joins her teammates leaving the locker room.
Doyle remains one more moment to take a deep breath before she too exits the locker room to the cheering Ridder Arena crowd.
It's game time.
When the Boston University senior defenseman last took the ice in a BU uniform, it was for a chance at the 2013 NCAA title against the University of Minnesota. Of course, the game did not go as planned for Doyle and the Terriers. They lost 6-3 to U.S. Olympian Amanda Kessel and the Golden Gophers.
However, at the end of the season, Doyle was ready to bounce back. BU still had a wealth of talent and looked poised to make a deep NCAA Tournament run once again for her senior year.
But for Doyle, those dreams of hockey glory alongside her former classmates would never come to fruition.
Not long after the title game, Doyle was diagnosed with a torn labrum in her hip, an injury that requires surgery and a long road to recovery.
"My injury wasn't one where you can say it happened at one particular moment," Doyle said. "It was just the wear and tear that I had accumulated playing over time. My junior year I had the labrum tear, and I played all year with a lot of pain."
Doyle's junior season remains one of the best by a BU defenseman in program history, despite her nagging injury. The Colgate University transfer posted a conference-leading 89 blocked shots for a team which allowed a mere 2.40 goals per game. Not only did she pace the Terriers on defense, she also notched career-highs in points (24), goals (six) and assists (18).
Perhaps her biggest contribution to the team, however, came in the Hockey East Tournament, where she had a point in all three games and blocked 11 shots. For her efforts, Doyle was named a Hockey East First Team All-Star.
Following her diagnosis, Doyle evaluated her options. She would not recover in time to play during the 2013-14 season, but she still yearned to play for the Terriers and avenge the title-game loss. With a year of academic eligibility remaining, Doyle opted to return to BU and ensure that she would get the chance to compete once again in the 2014-15 season.
With surgery set for Sept. 18, 2013, Doyle played the waiting game. After a successful procedure, it took a few more weeks before she was cleared to begin light workouts.
"It was a really slow, long process," Doyle said. "I wasn't allowed to walk for two weeks because I was on crutches, and so it was a while before I moved up to biking and even longer until I could use the treadmill. I had to do everything in a pool first too, so that I wouldn't overtax my body."
Unable to contribute on the ice, Doyle used her injury as an opportunity to develop as a leader. She continued to attend every practice and game in support of her teammates and coaches. According to BU coach Brian Durocher, Doyle serves as "a coach on the ice," and while she remained sidelined, she embraced this coach label more than ever.
"That's something that's remained consistent with the program," Durocher said. "When people are injured, they still spend a lot of time around the team. She was still a presence in the locker room, in the gym, around the practice and I'm sure in and around the dorms and campus as well. She definitely chipped in as much as she could."
In this leadership role, Doyle dedicated herself to bringing her team together as a cohesive unit.
"While I was out [due to injury] and on campus, I definitely focused on helping my teammates and learning more about them," Doyle said. "It was really different going to practices, games and lifts and not participating. But at the same time, it gave me the chance to learn so much more about my teammates, how they interact with each other, what's important for them and what makes them tick.
"You learn a lot about your teammates during those times when you're not focusing on yourself."
As she polished her intangibles within the context of the team, Doyle also undertook her rehab assignment. While she had restored her hip physically through prescribed workouts, it was yet to be determined how it would perform when she returned to the ice.
"I did a lot of conditioning because I really focused on getting physically back into shape," Doyle said. "I didn't start skating again till about March because of all the conditioning I had to do to strengthen my hip first."
Finally, just one test remained for Doyle — getting back into game shape. For debilitating injuries, not only does this entail a full physical recovery, it also requires some mental tuning after being away from the game for a long period of time.
But Doyle's competitiveness never left.
"I really didn't get back into game shape until the end of the summer because I just didn't have the chance to play," Doyle said. "But early on in the fall, I played for two camps run through Hockey Canada, and I basically played 12 games between them. That really helped me to get my game legs back and prepare me for the season."
With the season upon her, Doyle will look to bring it all together. Over a year of running, rehab, learning and preparation will all coalesce as she looks to regain her all-conference form for her final season as a Terrier.
Doyle's aspirations for the 2014-15 campaign stretch well beyond her personal goals. Her ambitions for the team take precedence, as she looks to make the trip back to the NCAA Tournament, and this time, return with a title.
"We want to show up every game and play to our ability because we know we're talented," Doyle said. "We are a veteran team, but we have a freshman goalie and younger goalies around her. So as leaders, we're just trying to support the underclassmen as much as possible. We're definitely a talented bunch, and we have high expectations for ourselves."
As Doyle took the ice against St. Cloud State University for the season opener Friday, she was no longer consumed with nostalgia. Instead, as she took her place on the Terrier blue line in preparation for the opening faceoff, she only had one concern — making her last chance last.