[rawr]
[/rawr]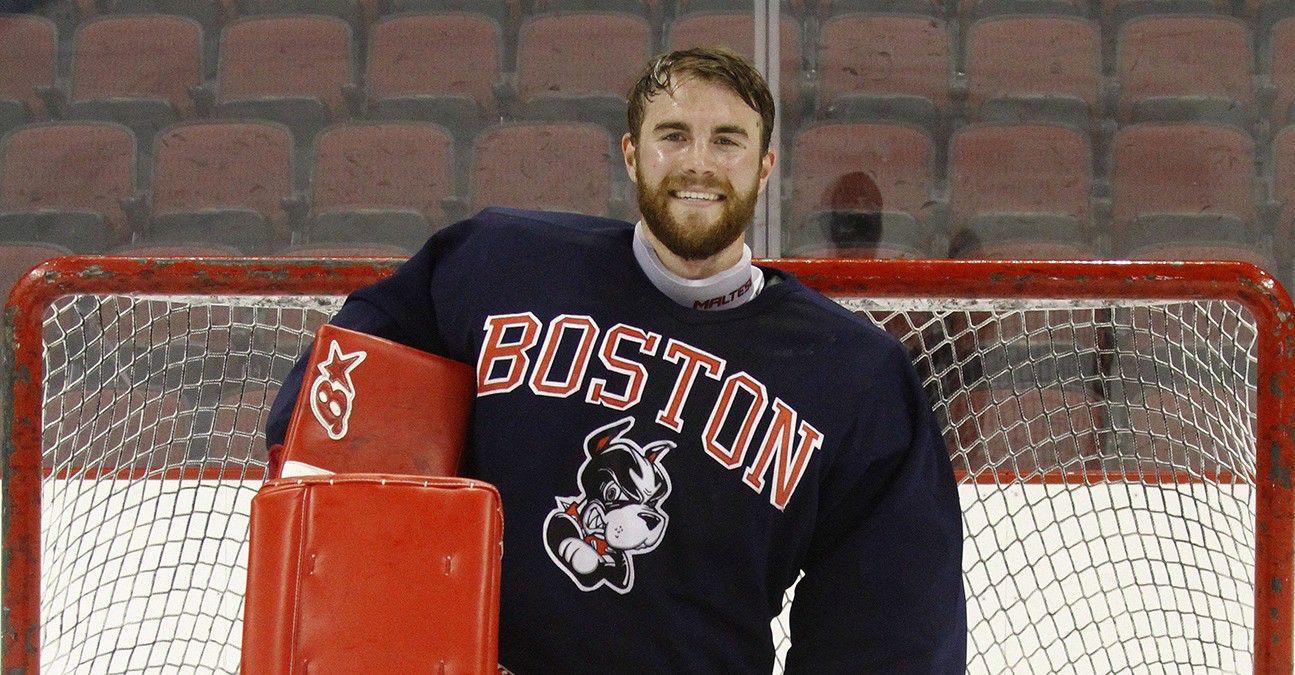 It was March 23, 2013. The Boston University men's hockey team was fighting for its postseason life in the Hockey East Championship game at TD Garden. The Terriers would have clinched a berth to the NCAA Tournament with a win over the University of Massachusetts-Lowell. A loss would mean the end of a legendary 40-year career for BU coach Jack Parker. It was undoubtedly the biggest game of the year.
Unfortunately for then-freshman goaltender Matt O'Connor, he could only watch the game from afar.
He suffered from a punctured lung earlier that month, which forced him out of the lineup. His season was done. And while fellow goaltender and classmate Sean Maguire stepped up for the Terriers in both the semifinal game against Boston College and in the championship against Lowell, BU's year was over as well, denying Parker a chance at a fourth national title.
"It was really sad to not be a part of the team," O'Connor said. "But unbelievable performance by Maguire. And I think that speaks to having two great goaltenders. The way he led the team freshman year was incredible down the stretch, beating BC in the semifinals."
Two goaltenders started that year competing for the starter's spot. One got hurt. You could not fault the Terriers if they had a feeling of déjà-vu.
During the 2008-09 season, BU boasted two freshman netminders: Kieran Millan and Grant Rollheiser. The two talented goalies vied for equal playing time early on in their respective careers.
Rollheiser suffered injuries in his first and second year. That allowed Millan to take the role as starter and become BU's all-time winningest goalie with 81 victories. Rollheiser played just 31 games with the Terriers. O'Connor very well could have suffered the same fate as Rollheiser.
But a year and a half later, O'Connor is still part of the team, and an integral one at that. He successfully recovered from surgery and has been on the ice ever since. BU's assistant coach in charge of goaltenders, Mike Geragosian, said the adversity O'Connor had to deal with actually benefited the young netminder.
"He's a hard-working kid. He's a good kid," he said. "I'm proud of his attitude toward my teaching and his attitude as a teammate. I think when you get a second chance like Matt, you take advantage of them and be the best you can every day."
This year especially, O'Connor will get the opportunity to make the most of that second chance. In a twist of fate, Maguire was the one who put an unexpected wrinkle in BU's goaltending tandem, as the Powell River, British Columbia native will miss this entire season due to medical issues.
In Maguire's absence, the Terriers added freshman Connor LaCouvee late in the recruiting process. They still have graduate student Anthony Moccia as a third goalie for another season. In essence, there is a backup plan for Maguire.
"I think when you get a second chance like Matt, you take advantage of them and be the best you can every day."

— Mike Geragosian
But if one thing is certain heading into this season, there will not be a strict platoon in place like the two previous years for the Terriers — the job is now O'Connor's to lose.
Just like when he was asked if he had any doubts about coming back from injury, O'Connor had a simple answer for whether he felt any pressure going into the season as the starter: No.
For him, an increased role in the lineup has no bearing on how he approaches the game and what he wants to do on the ice.
"Expectations are the same as they've always been — nothing's changed," O'Connor said. "I have a lot of goals this year, including shutouts and raising my save percentage. And I think I got a great year to build off of last year. Even though we didn't have the success as a team, it gave me a lot of work. And I think I kept the team in the game a lot, and that allowed me to grow as a goaltender and a leader."
Statistically, O'Connor finished last year in the middle of the pack among Hockey East goalies in save percentage (.920) and kept BU in position to win many nights. A team filled with injuries on defense and inexperienced freshmen did not make things easy. There could be much focus on the negatives of last year's historically bad 10-win season. Geragosian, however, said O'Connor is using the hard time as fuel for the 2014-15 season.
"He's experienced having a difficult season, not personally, but playing on a team that maybe wasn't as skilled as the kids we have this year," he said. "It was a great experience for Matt if you can get through moments like that. 'I play real good and I can't win. I can't have a bad night. I can't give up an easy goal. I don't have that cushion this year.' I think that makes you stronger."
O'Connor was never able to become the team's primary backstop when Maguire was in the lineup. The two goalies split time down the middle for two seasons. The last time O'Connor was any team's consistent No. 1 goalie was with the Youngstown Phantoms of the United States Hockey League. That was four years ago.
He was tall and skinny back then. Now, of course, he is still tall, standing at 6 feet 5 inches. But according to his coaches, he is stronger physically, and more importantly, he has even better composure on the ice.
"Well, I think it's a good timing for Matt. He's stronger, he's physically stronger, he's mentally stronger, and he's in a good position now to step up and play more games," Geragosian said. "Certainly in his future, whether it's the American Hockey League or the NHL, he's going to have to play a lot of games…Matt came in as kind of a skinny kid and didn't have the leg strength and complete endurance to maybe go every night. Him being three years older, and his physical frame, he's only going to get bigger and stronger."
Getting mentally tougher is arguably just as important to O'Connor's game as his on-ice ability. Through his first two years donning the scarlet and white, the Toronto, Ontario native has at times stood on his head. Other times, he's gotten in his own way.
He won two games in one week's time against two No. 1-ranked schools during his freshman year. His sophomore year saw him stop 55 shots against the University of North Dakota, then defeat Cornell University almost singlehandedly when the Terriers were outshot 39-11. But there have also been the down games. Twice last season, he gave up four goals in blowout losses to the University of Maine.
"He's kind of had a tale of two seasons within each season that he's been here," said BU head coach David Quinn. "I know that he's looking forward to kind of making the next jump as an elite goalie. I think he's shown flashes of being an elite goalie at our level and his challenge is to do it night in and night out."
"He's obviously a mature kid in so many ways, but his maturity level on the ice, you can see it getting better and better. I feel very confident that he's going to make the next step."

— David Quinn
Competing against goalies like Thatcher Demko from Boston College and Jon Gillies of Providence College, steady play will place O'Connor among the upper echelon of goaltenders in the league. With improvements to his game, Quinn said O'Connor will get there.
"I think it's the key to every player at this level. It's the mental side of it," he said. "It's the biggest difference between the guys who play pro hockey and guys that don't is being able to do it night in and night out, consistency. He's obviously a mature kid in so many ways, but his maturity level on the ice, you can see it getting better and better.
"I feel very confident that he's going to make the next step."
And Quinn is far from the only one jumping on the O'Connor bandwagon. Let's Play Hockey and the Herb Brooks Foundation named the goalie as one of the top 20 to watch for the Mike Richter Award, an accolade in its second year that honors college hockey's most outstanding goaltender each season.
Geragosian said, like Richter — who was one of O'Connor's role models growing up — O'Connor has a "focused demeanor." O'Connor said himself that he is indeed focused. The individual accolades are nice, though they are not what O'Connor is looking toward this season. His goals are more team-oriented.
"It goes without regard that we want to win a national championship," O'Connor said. "I think it's about time."