[rawr]
[/rawr]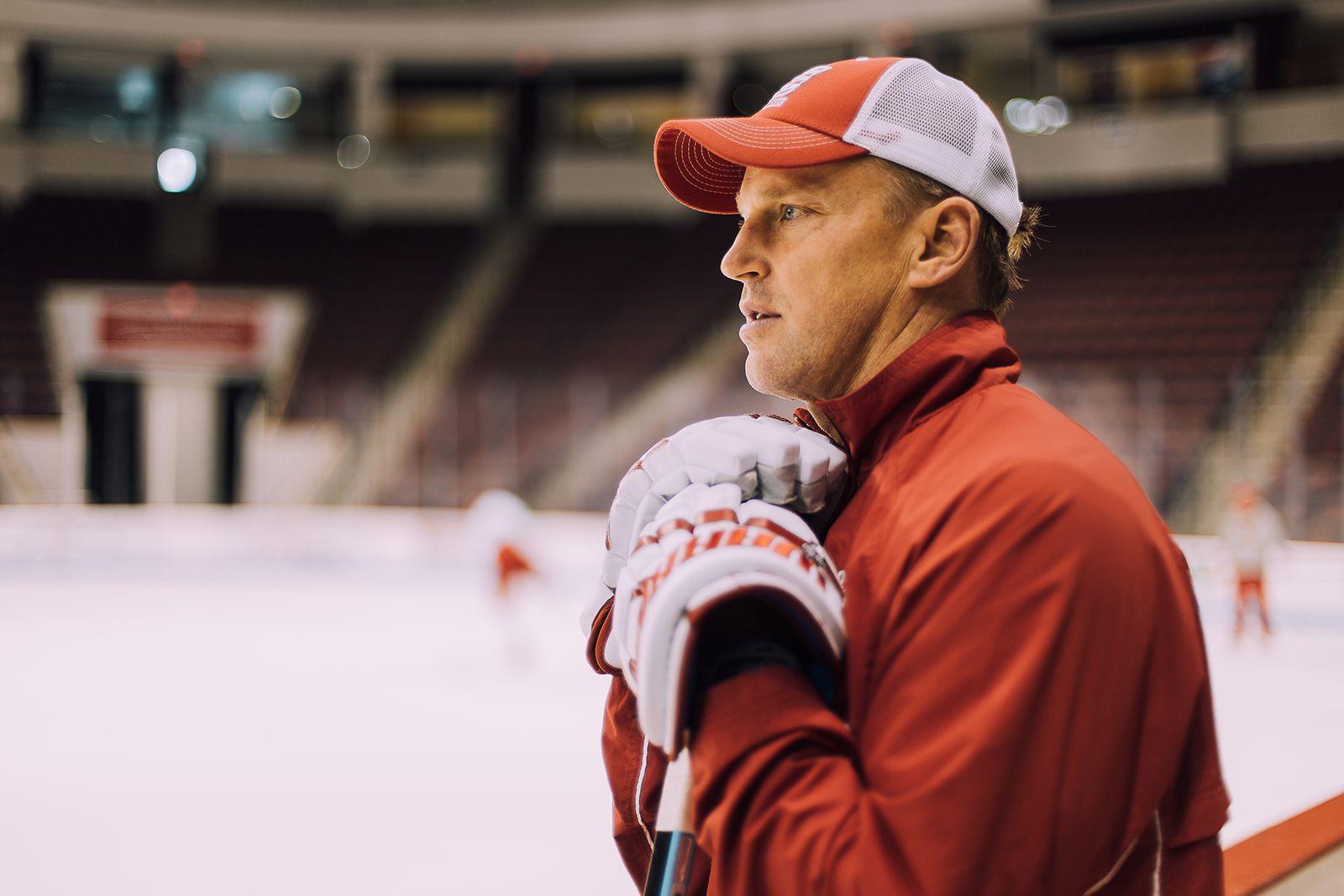 For 17 seasons, Scott Young terrorized opposing teams in the NHL, utilizing his quick skating ability and a dangerously accurate shot to score over 20 goals in eight campaigns.
Looking back, it would seem hard to believe that perhaps the biggest obstacle in Young's noteworthy hockey career was not an injury or the glove of a rival goaltender.
Rather, it was himself.
"Actually, I wanted to quit the first week that I was on skates," Young said. "I wasn't very good. My parents convinced me to stay on the ice for the rest of the week that they had paid for, and each day, I liked it a little bit more."
Young would stick with hockey, ultimately forging a career that saw the Clinton native accrue 342 goals and 414 assists with seven NHL franchises. While his accolades and numbers speak for themselves, that chapter in Young's career has been closed.
The 47 year old is now going back to his roots. Young was appointed as director of hockey operations for the Boston University men's hockey team in late April.
"I'm really loving this situation," Young said. "Working with these high-end athletes here at BU and being back at BU. Obviously, a lot has changed as far as Agganis Arena and the facilities, but the same pride and the same character is there that's expected of every BU hockey player, and I'm really excited. It's really been awesome to be back."
The new position has served as a homecoming of sorts for Young, who suited up in scarlet and white for two seasons in the mid-1980s. Prior to his arrival on Commonwealth Avenue, Young was one of the most highly regarded prospects in the country after a successful high school career at St. Mark's School in Southborough. He later joined future NHL stars Brian Leetch and Mike Richter on the U.S. Men's National Junior Team for the 1985 World Junior Championship in Finland.
While Young had multiple options and avenues open to him for the next step of his hockey career, the right winger ultimately opted for the Terriers, thanks to a sit-down meeting he had with former BU coach Jack Parker.
"Really, it was sitting down with Coach Parker in his office and listening to the way he coached and his passion for the game, and I just felt very comfortable with him, and I felt like he was the coach that I wanted to play for," Young said. "I wanted to be in Boston for sure, but that made my decision very easy."
Young made his presence felt from the moment he skated onto the ice at Walter Brown Arena, winning the 1986 Hockey East Rookie of the Year Award while playing alongside defenseman and current-coach David Quinn.
Young would ultimately play two seasons for the Terriers, notching 65 points in 71 games before joining the U.S. national team in order to participate in the 1988 Olympics.
When asked to reflect on his time with BU, Young said he was thankful for the discipline and focus that both Parker and the program instilled in him.
"I think the attention to detail that Coach Parker had, and I see the same in Coach Quinn, the attention to the little things that can make you a good NHL player," he said. "Neither coach is a coach that's just going to open the door and let the players play. Even if you're a high-end draft pick or top player, Jack Parker and Coach Quinn, they're going to teach you, they're going to work with you."
Upon his return from international play, Young signed a contract with the Hartford Whalers — the team that selected him 11th overall in the 1986 NHL Draft.
Young played on many talented teams during his career, hoisting the Stanley Cup both with the Pittsburgh Penguins in 1991 and the Colorado Avalanche in 1996 — becoming the only former Terrier to win a championship with two different teams. The skilled forward also forged an impressive career for himself with USA Hockey by participating in three Olympics — 1988, 1992 and earning a silver medal in the 2002 Winter Olympics in Salt Lake City.
After retiring in 2006, the Massachusetts Hockey Hall of Fame member served as head coach at St. Mark's from 2010 to 2014, helping the Winged Lions post consecutive winning seasons for the first time in 12 years.
As he has done throughout his lengthy hockey career, Young is once again ready to take the next step by rejoining the Terriers after a lengthy absence. Although he may not be able to directly coach the players as director of hockey operations, Young still has a large say in the overall direction of the program — a facet of the job that was important for the former BU standout.
"You deal with a lot of things behind the scenes," Young said. "A lot of the scheduling issues, a lot of working on schedules for years down the road. I am a part of a lot of the decision-making with the assistant coaches and Coach Quinn, so that's something that's important to me, to have some input in those meetings, getting practice ready and things like that.
"A lot of the little things — the travel arrangements, meals, a lot of little things that you want to take care of and take some things off of Coach Quinn's plate. He's got enough on his plate, so I want to relieve some of his duties, and that's something that I'm learning at this point in trying to take off as much as I can."
Since taking up his post inside the hockey offices of Agganis Arena, it has been a seamless transition for Young in terms of working with a coaching staff comprised of a former teammate in Quinn and two new faces — at least from Young's perspective — in Associate Head Coach Steve Greeley and Assistant Coach Albie O'Connell.
"It's been great. We're all in it together. We're a team, and we know that sometimes we all agree on things, sometimes we have different opinions, but we get along very well," Young said. "I didn't know Albie and Steve before, and getting to know them very quickly and respect them as intelligent hockey minds. We all learn from each other. It's been great."
There is much that the 2014-15 Terriers have to prove on the ice, with upperclassmen making up a little over one-third of the entire roster. Despite their youth, BU has reasons to be confident for the upcoming season.
Young, out of anyone, stands testament to that. He knows hockey talent when he sees it.
"The skill level is high," Young said. "With a lot of young players in our lineup, consistency is going to be something that we strive for and we'll see. It's tough when you come in and you're a freshman, but there's a lot of good returning players, and I think there's going to be a big jump from last year, and we're going to take it day by day."