[rawr]
[/rawr]
"How many of you have ever had a goal and not achieved it?"
It's a straightforward question. A relatable one, for most. It's a question posed by Anthony Moccia, the backup goaltender for Boston University men's hockey team. He's headed into his final season as a graduate student and has played a total of six regular-season minutes in his collegiate career.
On a Sunday evening in late September, Moccia addresses an auditorium filled with his friends, family, teammates and some complete strangers. "I Agree With Anthony," the event is named. The fliers have been all around BU's campus for weeks — red and black text, asking, very simply: Do you agree with Anthony?
About what, exactly, are these people agreeing with Anthony? His faith in God.
Prior to sharing the story of his faith and how it came to be, Moccia engages the audience with questions, asking each audience member to wave his or her hands if they agree with his statements. He gives a few sample questions to loosen up. Who likes sports? Who likes "The Lion King"? Who ate in the dining hall today?
But then it's time to get serious. Who here thinks that they're perfect? Anthony doesn't. He rattles off a laundry list of faults: He's stubborn, impulsive, impatient and sometimes arrogant.
Who grew up in a religious household? Anthony did. Who has thought, at any point in their life, that they didn't need Jesus? Anthony did.
And who has had a goal that they did not achieve? Anthony did.
---
Moccia was born in Medford, six miles away from BU. He was raised in an Italian Catholic family, went to church every Sunday and went to Catholic school. His family was always supportive of his hockey career; they've never missed a single game, Moccia says. They disregarded birthdays, Christmastime, Easter, summer vacations, family time, all to send Anthony to tournaments, games, practices, all to help him achieve his dream.
His dream was to play Division I hockey.
"I had a very understanding family who made those sacrifices because they knew it was important to me," Moccia says. "I was a hockey player. My identity was a hockey player. And that's all I ever really wanted to be."
"I was a hockey player. My identity was a hockey player. And that's all I ever really wanted to be."
For a while, his path to college hockey seemed smooth. In school at Cambridge's Buckingham Browne & Nichols, he was talking to a bunch of Division I schools, he was playing well, he was ready to get committed. He was on the fast track to achieve his dream.
Until his junior year of high school, when he sprained his left knee. He was benched for a few months. Schools began to stop watching him. Moccia hurt his knee again his senior year. His college commitment went out the window, he says. His dream, right with it.
"That was tough," Anthony says. "That was tough when my whole identity was in hockey. And at that point, it wasn't there. It was gone."
---
One Monday afternoon, after practice and before heading off to an evening class, Moccia stops briefly to recall his younger years. His Italian father had Moccia playing soccer at a young age. He played soccer until one of his good friends from his soccer team, David Geer, started playing hockey. If David was playing hockey, Moccia says, then Anthony was playing hockey.
Geer passed away a few years ago, and Moccia now has the initials D.G. written on the back of his helmet. He might not be playing hockey if it weren't for David. His identity as a hockey player might never have existed without David.
"When I was younger, I thought I was just playing hockey because I was just playing hockey," Moccia recalls. "But asking my parents, and going back, it was our family's decision, but also because David's family had playing hockey too.
"When he passed away, it just kind of shook me up a little bit, how life works in mysterious ways."
---
At Jacob Sleeper Auditorium in the College of General Studies that Sunday night, Moccia peruses over a set of crinkled, folded-up papers. He sets them down.
"Next question," he says. "Who here has ever had a goal and reached it?"
Moccia mentions the parable of the mustard seed. If you have faith even as small as a mustard seed, Matthew 17:20 states, you can tell a mountain to move, and it will move. Nothing is impossible.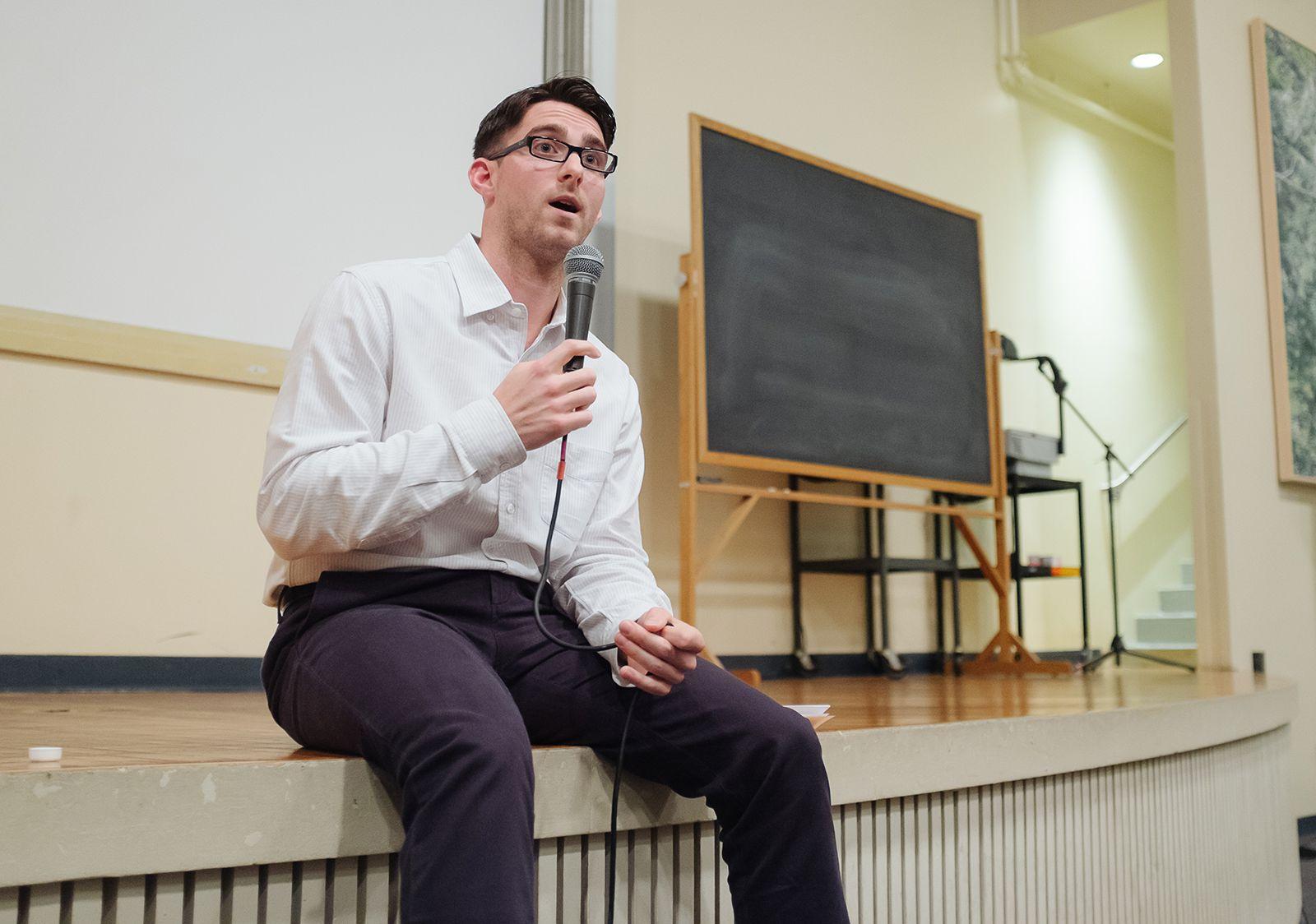 For Moccia, entering his freshman year at BU, his faith was smaller than a mustard seed. "But I prayed," he says. "And I prayed hard. And you know what? Something miraculous happened."
When he started out as a student at BU, Moccia got a call from then-head coach Jack Parker, who asked Moccia to try out for the team. Moccia played on the practice squad his freshman year, and he played hard all year. He was called into Parker's office at the end of the year.
"'I like my team,'" Moccia recalls Parker saying. "'I like my team with you on it.'"
Moccia remembers leaving Parker's office, in tears, in disbelief, calling his parents. He had achieved his dream; he was filled with pure elation.
But there was a catch.
"The next couple of days go by, this is the best time of my life, I'm so excited," Moccia says. "But it's funny how when you have a long-term goal, a lifetime goal, no one tells you that life's long.
"I woke up [one] day, and I thought to myself, 'Oh crap. What now?'"
---
What unfolded over the next few years was a spot for Moccia as a leader, a place as a role model on the team. Moccia's a fantastic student — he's working toward a Master's degree in public health, and he has been on the Hockey East All-Academic Team three years straight. He's "a guy that does everything right," his coach says. Moccia's respectful, sincere, genuine. He's one of the good guys.
He's helped out in the community, deepened his faith. He relaxes through Bible study and is an active member of Athletes in Action, an organization dedicated to strengthening and sharing the faith of athletes. Moccia realizes that hockey is temporary, that it goes away with age. He needed something bigger than just hockey in his life, he says, and he found a relationship with God.
Playing-wise, Moccia's never been in the spotlight at BU. His first career regular-season appearance came last season, his third year of dressing for the Terriers, against the University of Vermont on Jan. 25. He played for just less than four minutes, and saved the one shot he faced.
His second and only other career appearance was in BU's Beanpot consolation game against Harvard University on Feb. 10. In a total of 2:14 in playing time, Moccia was faced with two shots. He saved one of those shots and allowed a goal on the other.
"As an athlete, as a competitor, you always wanna play," Moccia said after practice one day. "But for me, the most important thing is that we win…it's just my job to embrace that role, to be the best leader I can on and off the ice."
A leader.
"Whether I help [my teammates] grow on the ice or off the ice, just help them with everyday life, how they handle themselves in situations where they're in the classroom or on Commonwealth Avenue, I just hope that they've learned respect," Moccia says. "It goes a long way in this world. I just hope that I can have a positive impact on them."
A positive impact indeed. His teammates' respect for him is evident — nearly the whole team is present that night as Moccia expresses his faith. And they have nothing but nice things to say about the veteran.
"He's a great guy and keeps us really focused on stuff off the ice," said Matt O'Connor, BU's starting goaltender. "Having a leader like that, and a guy that's so dynamic and is a really bright kid, he really keeps our heads high and allows us the extra kick."
Says BU head coach David Quinn: "I wish I could have Moccia here from now until the day I retire."
"I wish I could have Moccia here from now until the day I retire." — David Quinn
Anthony Moccia faces the audience of teammates, friends, family and complete strangers. He adjusts papers and talks about perfection. It's an impossible goal to reach, he reminds us. He and O'Connor want to stop every puck. But they can't.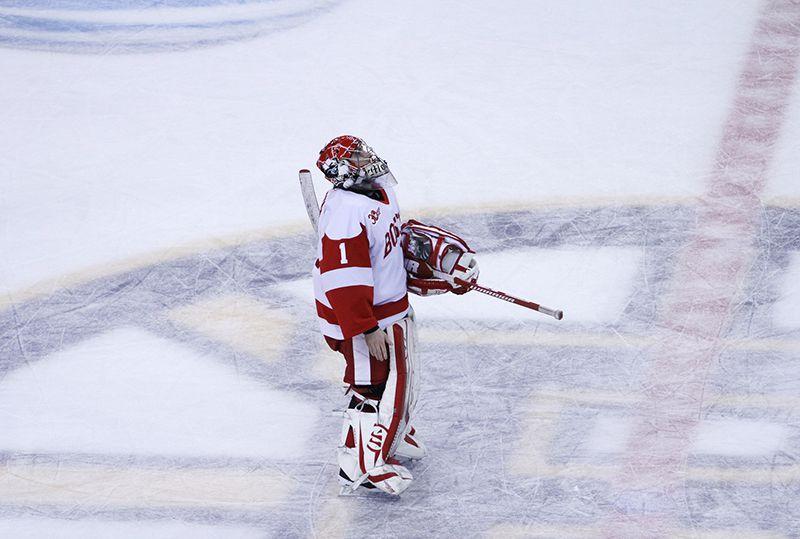 "It's funny. Hockey's a lot like life. And playing goalie is a lot like life, too. Because God doesn't want us to be perfect. Again, life would be boring. The game of hockey would be boring. God doesn't want me to stop every single shot. Because Matt would be mad, then I'd be playing all the games," he says with a laugh.
"But it's not about being perfect. It's about what happens when you let in that goal. That's what God cares about. God cares about what type of person are you gonna be after you let in that goal. Are you gonna stand up? Are you gonna stop that next one? Are you going to crawl into a ball and say 'no, I can't do this, this is too hard'? That's what God cares about."
He sits up a little taller.
"It's not about stopping all the pucks. It's not about making all the right decisions," he says. "It's about bouncing back from the bad decisions that you make and about bouncing back to stop that next one."